Miami Police share photo of Irma looters in jail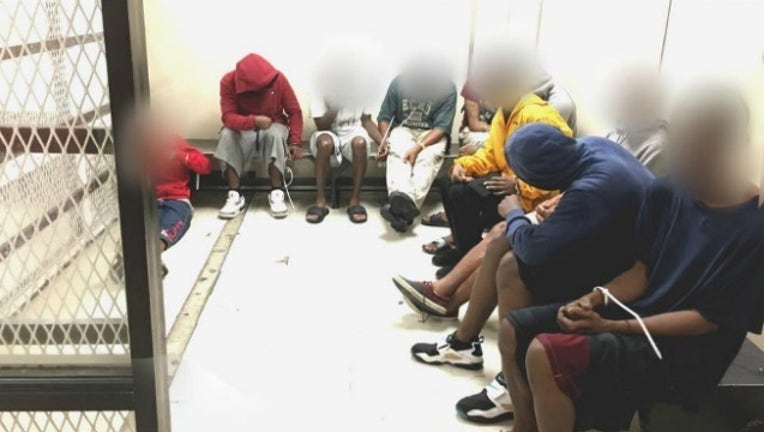 article
MIAMI - The Miami Police Department has a warning for anyone thinking about looting in the wake of Hurricane Irma. 
"Thinking about looting? Ask these guys how that tuned out" Miami Police said on Facebook, sharing an image of about ten people sitting in a jail cell.
Miami Police used the hashtag #stayindoors when they shared the photo.  
So far, Miami-Dade Police said 28 people have been arrested for burglary/looting. Officers are urging residents to report looting or any criminal activity by calling 305-4-POLICE. 
RELATED: Irma looters target Foot Locker
Irma once was the most powerful hurricane ever recorded in the open Atlantic, a Category 5 with a peak wind speed of 185 mph (300 kph). For days, forecasters had warned Irma was taking dead aim at the Miami area and the rest of Florida's Atlantic coast. But then Irma made a westward shift and lost some of its punch while crossing Cuba's northern coast - just before a crucial turn into Florida's Gulf Coast.
A weakened but still dangerous Irma pushed inland Monday as it hammered Florida with roof-ripping winds and gushing floodwaters that created hazards even for emergency personnel trying to help beleaguered residents.
More than 3.3 million homes and businesses across Florida lost power, and utility officials said it will take weeks to restore electricity to everyone.
No deaths in Florida were immediately linked to the storm. In the Caribbean, at least 24 were people were killed during Irma's destructive trek across exclusive islands known as the vacation playground for the rich. In Cuba, the storm swamped Havana's iconic seawall, pushing water nearly a third of a mile (half a kilometer) inland.
In one of the largest U.S. evacuations, nearly 7 million people in the Southeast were warned to seek shelter, including 6.4 million in Florida alone. In the coming days, Irma is expected to push into Georgia, Alabama, Mississippi, Tennessee and beyond. A tropical storm warning was issued for the first time ever in Atlanta, where many schools canceled classes.
MORE: Irma continues toward GA
The Associated Press contributed to this report.