Moody to succeed Bondi as attorney general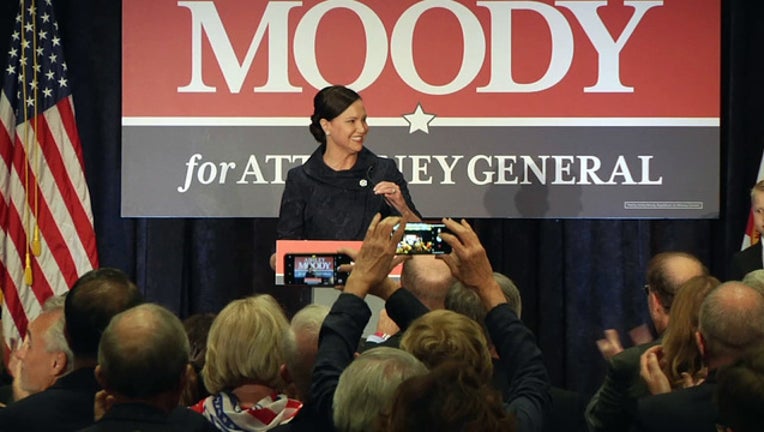 article
TALLAHASSEE (NSF) - Former Hillsborough County Circuit Judge Ashley Moody will replace her friend, term-limited Attorney General Pam Bondi, as the state's next top lawyer.
Moody on Tuesday defeated state Rep. Sean Shaw, a Tampa Democrat whose father was the first black chief justice of the Florida Supreme Court, in the contest for attorney general.
As of 10 p.m., Moody had captured nearly 52.5 percent of the vote. She called the outcome "an honor" while standing Tuesday night with her family and Bondi before supporters at the Renaissance Tampa International Plaza Hotel in Tampa.
"The preparation for this role really began a long time ago, beginning with my father, a judge who taught me that the strength and resilience of our society hinges on a fair judicial system," the Republican said. "Not only a fair judicial system, but one that is perceived as fair. And I will work towards that end every day as the attorney general."
Moody, 43, outspent Shaw $8.8 million to $4.1 million through their campaign accounts and affiliated political committees.
Despite the race garnering the most attention among the three Cabinet-level positions, voters got little chance to hear Moody and Shaw debate their differences. They held a single debate, which was only available to cable viewers in Tampa and Orlando.
Moody campaigned on a platform to build on Bondi's work, which means expanding the state's battle against the opioid epidemic and continuing a fight against the federal Affordable Care Act.
It remains to be seen how the Moody-led office will defend a state gun law enacted after the Feb. 14 massacre at Marjory Stoneman Douglas High School in Broward County.
Moody agrees with parts of the new law but has said she wouldn't have backed it because of a provision that raised the minimum age to buy rifles and other long guns from 18 to 21. The National Rifle Association has filed a federal lawsuit challenging that provision, with Bondi's office defending the law.
Shaw fully supported the law and said he wanted to work with the Legislature on further "common sense gun-reform."
As she did in her Republican primary, Moody stressed her prosecutorial experience in the race.
She also has called for keeping crime labs updated with the latest technological advances and opposed Amendment 4 --- which called for automatic restoration of voting rights for most felons who have served their sentences. Voters approved Amendment 4 on Tuesday night.
Shaw, 40, campaigned on a pledge to aggressively take on fraud in Florida, as well as policies of the Republican-led Legislature and even President Donald Trump.
A former state insurance consumer advocate, Shaw backed the Affordable Care Act, which is being challenged legally by Bondi and Republican leaders of other states. He also supports abortion rights and said he would push lawmakers to carry out constitutional amendments on land preservation and medical marijuana as voters intended.
Shaw told supporters Tuesday night "we came so close," but he said Democrats will have to review how they engaged with voters, particularly about Trump.
"Something is weird, and we have to figure that out," Shaw said. "The voters aren't wrong. You're wrong in talking to them, or we didn't do a good enough job convincing. Democrats around Florida, we're going to figure this out."