New year, new tax bracket? Mega Millions jackpot jumps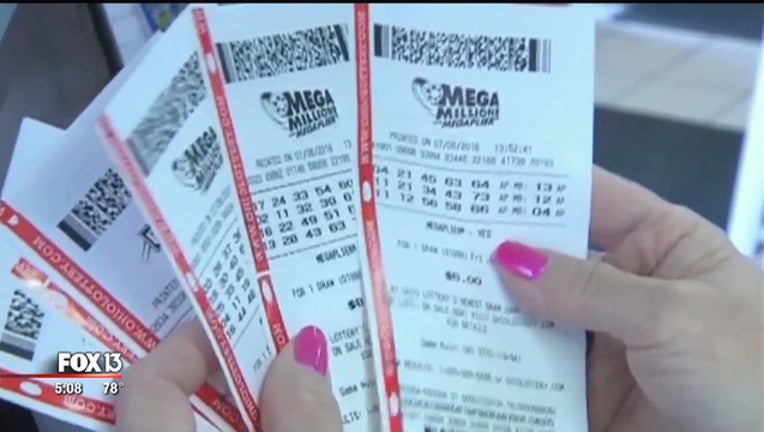 TAMPA, Fla. (FOX 13) - A lot of people are making their New Year's resolutions. And, for some, that resolution is to is to become a millionaire. 
Tuesday night's your chance with the Mega Millions jackpot up to $425-million.
This jackpot is the eighth largest in Mega Millions history after last Friday's drawing didn't come up with a winner. If you opt for cash, it's $254.6 million.
While it's a huge jackpot, $425 million is still only one third of October's record-breaking $1.5 billion jackpot. So far, the winner has not come forward to claim that prize. They have until April to do it. 
Tuesday at the Marathon gas station on West Kennedy Boulevard in Tampa, customers walked in and out of the store, resolving that 2019 would be their year and dreaming of all the ways they'd spend their mega fortune.
"I want to buy a sailboat and sail around the world the rest of my life and I don't want to pay taxes anymore," said Jorge Villarroel,
"Just do a lot of good for a lot of people," Don Egnor said. "Help a lot of people out. It's a lot of money. Can't spend it all myself. Children, grandchildren; just make everybody happy."
"Hey, it's my time, it's my season, 2019, millionaire status, don't forget," laughed Angel Forbes as she walked out of the store.
Of course, your odds of winning are slim -- 1 in 302 million. But, remember, someone in South Carolina won it all in October. If it can happen for them, it can happen for anyone.
So while, Monday night, we all counted down to midnight, tonight, lotto ticket holders count down to 11 p.m. That's when the Mega Millions drawing will take place.