Pasco County still underwater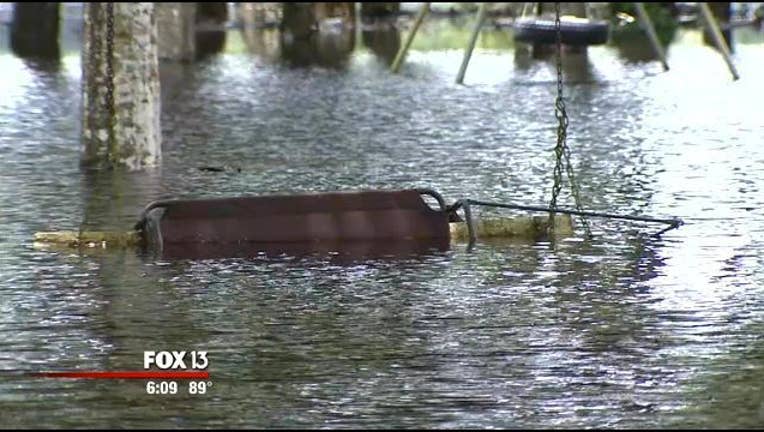 article
Pasco County homeowners, still recovering from devastating floods, braced for another round of rain expected to begin Wednesday and last through the weekend, along with more potential flooding.

Annette Doying, the county's Emergency Management Director, urged residents in areas that are still underwater to prepare for the worst.

"There's more rain coming," Doying said during a news conference Tuesday. "Prepare for this weekend's weather. I'm not trying to be over-dramatic but we're too wet."

The county is opening a Flood Recovery Center Wednesday in the West Pasco Government Complex at 7536 State Street. The facility will focus on assisting flood victims with essential needs including human services, elderly nutrition, veterans' services, the Salvation Army and the American Red Cross.

Residents who need repairs or relocation help can also get information at the recovery center.

"We have dozens and dozens of homes that we are aware of that are destroyed or have had major damage," Doying said, adding there are roughly 400 structures that have been impacted, including 38 homes destroyed.

The county has also issued a boil-water recommendation for all flooded areas and has offered to test residents' water for free at the environmental lab located at 8864 Government Drive in New Port Richey. Tetanus shots for flood victims are also available at a medical clinic at 10841 Little Road, also in New Port Richey.

Officials with the Federal Emergency Management Agency will survey the damage Thursday; county leaders are hoping for a federal disaster declaration.

Meantime, neighbors in Bass Lake, which is still partially flooded, still can't believe what they're dealing with.

"They're trapping gators. I've got water moccasins on my back porch living now. I've got dead fish everywhere. The stench is horrible," said Maggie Allesi, who hasn't been able to get to her home in more than a week because it now looks more like its own island. "There was like 10 days of hell. It was like the Grim Reaper creeping towards your house. As more rain came, it just kept coming, rising."

But somehow, Allesi considers herself somewhat fortunate.

"If we didn't have the resources of our motor home, where would we go? What would we do?" she said.

The Flood Recovery Center will be open from 11 a.m. until 7 p.m. Thursday. Homeowners who need relocation help are being advised to bring any essential documents, including deeds along with, mortgage and insurance information.

Renters should bring any important documents they have, including leases and insurance.