Second semester gets underway with more students back on campus
ST. PETERSBURG, Fla. - As Hillsborough County schools began the second semester Tuesday, with thousands of additional students returning to in-person learning, Pinellas County schools prepared to kick off its second semester a day later.
According to a Hillsborough schools spokesperson, more than 14,000 additional students chose to return to brick-and-mortar education.
"At the beginning of the year we had roughly 800 students on site, 400 kids e-learning," said Toby Johnson, Martinez Middle School's principal. "It's the same thing since day one: directions in the hallways, making sure that we focus on hygiene, washing your hands. Teachers have sanitizing stations outside of their classroom."
Several teachers who spent the first semester instructing e-learning had to return to classrooms as well.
Carrie Singh, an oncology nurse, said she chose to play it safe for the first semester and had both of her boys learn online. She feels much more comfortable now, she said.
"It didn't seem that it was spreading in the schools. All the positive cases were happening outside of the school. There is no more spreading in the classrooms. So that's what we wanted to see," said Singh, adding her kids couldn't wait to get to school Tuesday. "My third-grader didn't sleep last night, he was so excited. My kindergartner was very, very excited to finally see his teachers in person and he knew some of the kids in the classroom so they were both very excited to go back. They were good sports about it all and they stuck with it all. They didn't complain too much but having to do e-learning, but they were definitely ready to go back."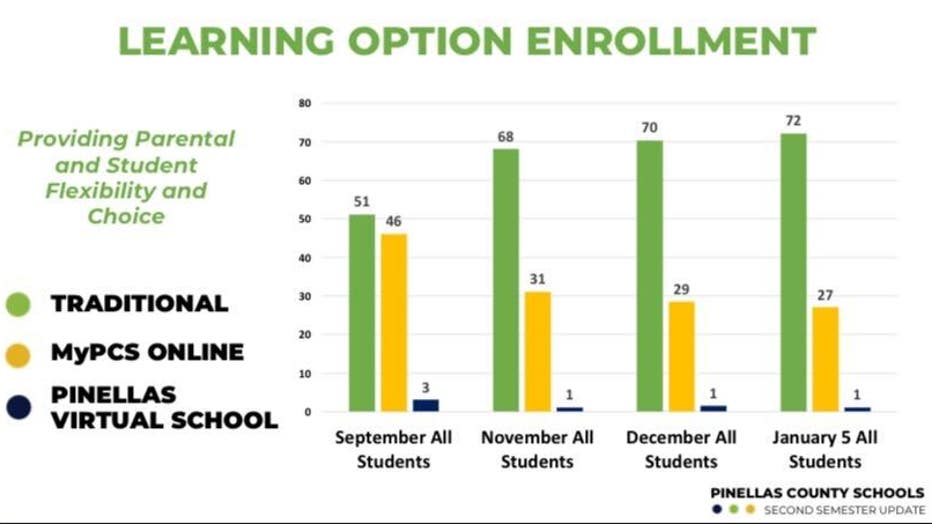 Pinellas County Schools Superintendent Dr. Michael Grego said the district gradually allowed students to return to class throughout the first semester.
"Whereas many school districts were going to be experiencing the tremendous influx of students in the second semester we're not," Grego said during a virtual workshop with district leaders. "That's because we've been allowing [need-based] students to...come back to our school buildings."
According to Grego, 70 percent of students were already in-person learning by December. That number barely rose this month and is up from about 50 percent in September.