Police department hopes pit bull K-9 will change perceptions of breed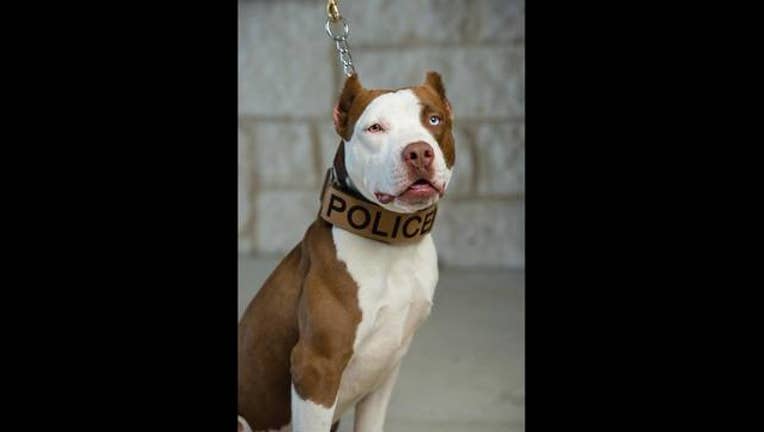 article
STAFFORD, Kansas (AP) - Police in central Kansas have a new drug detective: a pit bull who was rescued by a Texas organization and trained for law enforcement work.
Kano, a 55-pound (25-kilogram) puppy, completed his first drug bust Monday for the Stafford Police Department, the Wichita Eagle reported .
Kano trained with Universal K9, a San Antonio-based organization that rescues pit bulls and trains them for police work. The organization partnered with the Animal Farm Foundation to start a grant program to train rescue pit bulls to sniff out narcotics or explosives. The foundation works to secure equal treatment and opportunity for pit bulls.
"Anyone who watches him (Kano) work can and will see the drive this dog has, not only that but how incredible these dogs are," the Stafford Police Department posted on Facebook.
Officer Mason Paden is the handler for Kano, who was named after a character in the "Mortal Kombat" video game franchise due to the dog's facial markings. Paden said he knows some may be apprehensive of a pit bull on the police force, but said the breed is "misunderstood."
"Kano and I plan to get out there and help try to change the bad name that so many have given the pit bull," he said.
Universal K9 said more than 50 pit bulls from the organization are working in law enforcement. The trained pit bulls aren't biters, but "they are there kicking butts and taking names," said Brad Croft, the organization's operations director.
Paden said Kano loves to work. The police dog lives with Paden and his girlfriend, who have five other dogs.
"Kano has a strict set of rules when at home and at work," Paden said. "Kano knows when he comes out it's time to go to work."