Polk City victim attempts to steal back his stolen items; deputies search for suspects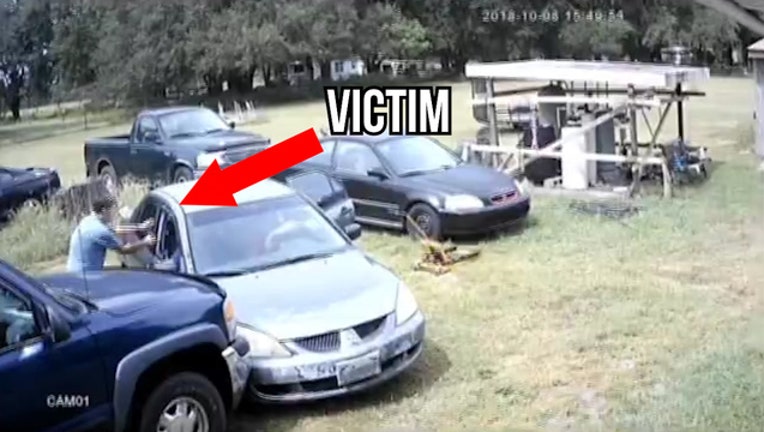 article
POLK CITY (FOX 13) - Polk County detectives are searching for two burglars who attacked a victim while trying to steal from him, they said.
A victim surprised two burglary suspects who were on his property Monday around 1:30 p.m. on Voyles Loop in Polk City. In surveillance video, the suspects are seen driving onto the victim's property, and started placing his items into the backseat of their vehicle.
The victim arrived home, pulled his truck up against their car and exited his vehicle. Polk County detectives said he tried to remove the keys from the suspects' car, but was unsuccessful. So, he entered the back seat to retrieve his stolen items. 
At this point, detectives said the suspects drove away with the victim still in the backseat, and began hitting him while trying to steal his cell phone. Authorities said the suspects suggested throwing the victim out of the moving car, but the victim convinced them that if they stopped, he would just exit. 
Detectives said the victim was uninjured, but they want to identify and locate the suspects. One is described as between the ages of 35 and 40 years of age, and 6'1 tall. The other male suspect is described as between the ages of 35-40, 5'10 tall with multiple tattoos on both arms. 
It's unclear whether the victim knew the suspects. Anyone with information is asked to call Detective Thomas at (863) 577-1600. Anonymous tips can be submitted to Heartland Crime Stoppers at 1-800-226-8477.