RNC preps: Behind the scenes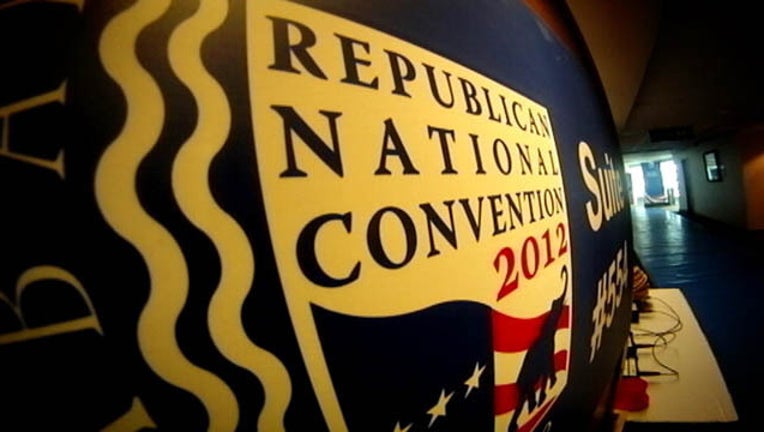 article
A sizeable army of men and women has spent the past six weeks totally transforming the Tampa Bay Times Forum into a world stage.
Carpenters, electricians, sound specialists, and lightning experts have flooded the arena from floor to ceiling, rapidly reshaping the sports venue into a red, white, and blue spectacle.
"I want something different," said RNC producer Phil Alongi. And, "This is it."
HIGH VOLTAGE
Ironically, the home of the Tampa Bay Lightning needed a serious jolt of electric to host the Republican National Convention.
Tampa's MJM Electric helped hook it up. Electricians added dozens of new power transformers that add the power equivalent of hundreds of homes. The surge was necessary to power thousands of news crews and construction workers who built and elaborate stage from scratch.
"We've done the Super Bowl, we've done other conventions," said MJM's Tony Grieco. "But this is special. This is the RNC!"
Much of MJM's work is temporary. But some of the biggest electrical upgrades are permanent, which could help the Forum lure other big shows.
HIGH WIRE ACT
Before the bulk of the sprawling wood stage went in, 225,000 pounds of equipment went up -– hoisted into the rafters. Metal chains dropped 97 feet to the floor, where technicians attached hundreds of spotlights, LCD screens, and speakers.

The complex, suspended array made the Lightning's massive scoreboard look like a Light Brite toy.

Lonnie MacDougall is among the experts who climb the dangling trusses, an aerial balancing act required to hook up the convention's many lights.

"You get a bird's eye view," he said, laughing off the feat.

Scott Crawford, of Kish Rigging, oversaw the whole process.

"We map it out," he said. Crawford said a team of 50 workers was involved in the operation.

"You never take it for granted," he continued. "It is very dangerous."
BLACK BLANKETS
Perched slightly higher than the rigging crew are waves of black fabric. These hidden blankets are designed specifically to absorb noise.
The Tampa Bay Lightning shared the cost of the new blankets, which are now a permanent fixture at the Forum. The team's construction chief, Ray Chandler, said the blankets won't make hockey and arena football games quiet, by any means. But they will improve sound clarity.
Chandler said of the Forum's previous acoustics were muddy.
"I couldn't understand [what was being said],"he said. But now, he hears an improvement.
"They're working," he said.