Sarasota's police chief to resign, effective Friday
SARASOTA, Fla. - After serving eight years as the Sarasota Police Chief Bernadette DiPino abruptly submitted her resignation Wednesday. She is set to retire at the end of her shift this Friday.
Sarasota's top cop voluntarily resigned Wednesday. DiPino, is a fourth-generation law enforcement officer, with 35-years of service.
DiPino was not available for an interview with FOX 13 News, but in a message to the community, she wrote that her retirement was a "bittersweet decision," and she is leaving feeling a sense of pride at what the department has accomplished under her leadership. DiPino says it has been an honor and a privilege, and she believes she is leaving SPD in good standing for the next chief.
In a statement, City Manager Marlon Brown says in part, "Through her leadership and dedicated efforts with community policing she helped reduce crime by nearly 40% and strengthened trust between residents and officers through extensive community outreach initiatives…"
DiPino's separation agreement with the city does not give any clues to the reason behind her quick exit, but states she can keep her badge along with one service weapon and will be paid out for 982.5-hours accrued, and will also receive a lump sum equal to a five months salary.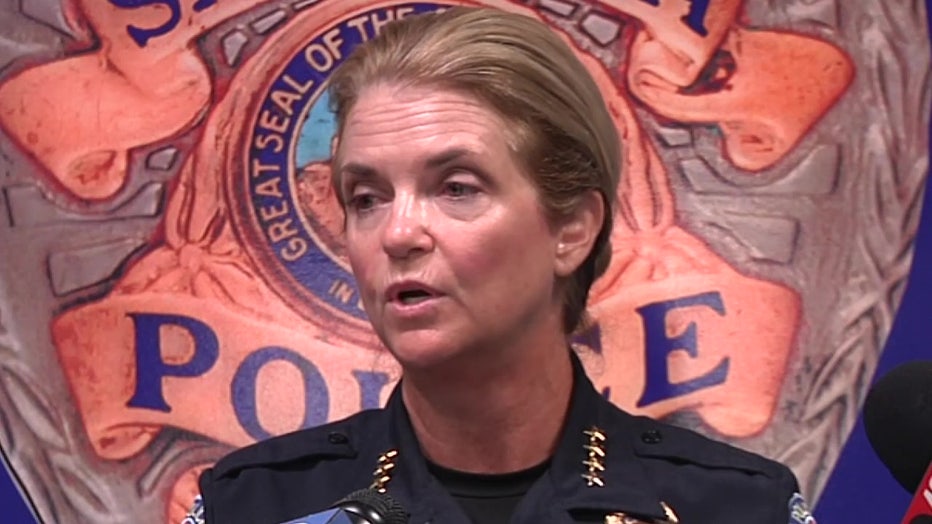 Late last month, an anonymous complaint from a Sarasota Police Department employee was filed against DiPino over an insensitive remark made about a man with a history of mental illness. According to the complaint, the chief asked if she could borrow someone's taser after the man yelled obscenities about SPD. It happened during a Sarasota Opera performance at the department back in November. 
PREVIOUS: Sarasota chief's offhand 'Taser' comment angers advocate for homeless
The whistleblower wrote, "This type of comment would be met with a harsh punishment if a patrol officer, or detective, had said this about a handicapped individual in her presence."
"We are happy that the agency is moving forward with new leadership, we think that this incident is another example that words matter of our elected and appointed officials in high positions like the police chief," said ACLU Florida President Michael Barfield.
It is not clear if this incident played a role in DiPino's decision to leave the force.
The city manager says he will immediately begin the process of appointing an interim police chief.
As for DiPino, she says she's looking forward to continuing in the law enforcement field in another capacity.
CONNECT WITH FOX 13: