Scott on transgender ban: Trump 'focused on the safety'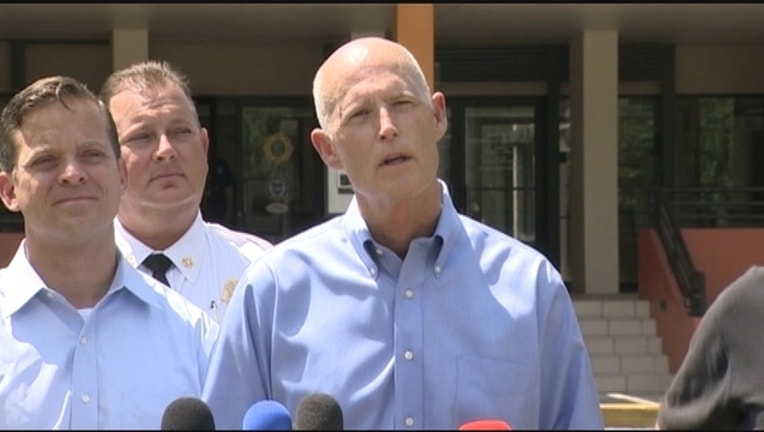 article
TALLAHASSEE, Fla. (NSF) - Gov. Rick Scott, a U.S. Navy veteran, said he doesn't want "anyone to ever be discriminated against," but deferred comment on President Donald Trump's plans to ban transgender Americans from military service.
Through a series of Twitter posts Wednesday, Trump said he wanted a prohibition to keep transgender individuals from joining or serving in the military, blaming cost and "disruption" as factors in his decision.
"After consultation with my Generals and military experts, please be advised that the United States Government will not accept or allow Transgender individuals to serve in any capacity in the U.S. Military," Trump said in a series of tweets early Wednesday morning. "Our military must be focused on decisive and overwhelming victory and cannot be burdened with the tremendous medical costs and disruption that transgender in the military would entail."
Scott, one of Trump's most ardent supporters, said Wednesday he was unfamiliar with the details of the president's policy.
"I do know the President's worried and focused on the safety of all Americans, and I do know that he relies on his military leaders to make decisions," Scott told reporters in Jacksonville after being asked about Trump's tweets.
The president's directive drew mixed reactions from across the state. Florida Democrats, noting the support for the LGBTQ community expressed by Trump and Scott immediately after the Pulse nightclub shooting in Orlando a little more than a year ago, blasted the ban.
"All those who meet the military's qualifications should be able to serve," said U.S. Sen. Bill Nelson, a Florida Democrat widely expected to be challenged by Scott next year.
Gay rights activists were even more outraged. 
"As a Navy veteran, I am appalled at this action," Florida Democratic Party LGBTA Caucus President Terry Fleming said in a statement. "The President has no understanding of our military or the extraordinary courage of those who serve and put their lives on the line for us everyday. We call on the administration to reverse this heinous decision immediately."
Meanwhile, Rep. Jay Fant, a Jacksonville Republican running for attorney general, backed Trump's decision.
"@realDonaldTrump is right for ban on transgenders in the military," Fant tweeted. "The military is a defense force not to be used 4 social experimentation."
Information provided by The News Service of Florida.