Sears to close another 46 unprofitable stores in November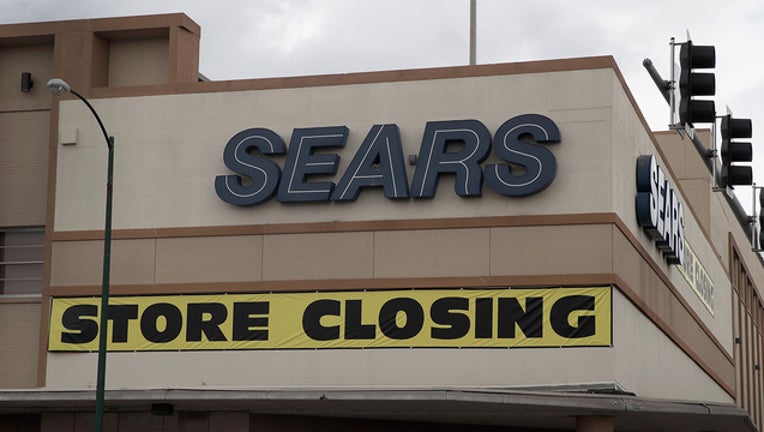 article
HOFFMAN ESTATES, Ill. (AP) - Sears Holdings Corp. is closing another 13 Kmart stores and 33 Sears stores as sales shrink and losses grow.
The ailing company said Thursday that liquidation sales at the 46 unprofitable stores marked for closure will start Aug. 30, and the stores will close in November. The company said it informed its workers.
The move comes as Sears is considering a bid from CEO Eddie Lampert's hedge fund ESL Investments to acquire its jewel Kenmore appliances from the company for $400 million. The company has put others of its famous brands on the block before.
In January, Sears had said it was closing 100 stores. It announced in May that it was closing another 100. As of May 5, it had about 894 stores, down from about 1,000 at the end of last year. The number of stores peaked in 2012 at 4,000, which included the Sears Canada division that was later spun off. In 2005, when Sears merged with Kmart, it operated 2,200 stores.
The latest closings underscore the deep-rooted problems at Sears, a onetime powerhouse retailer that survived two world wars and the Great Depression but has been calving off pieces of itself as it burns through money.
Here is the list of the stores closing in November, according to Sears: 
Kmart: 935 Sweetwater Road Spring Valley, CA
Kmart: 1075 Shaw Avenue Clovis, CA
Kmart: 3625 East 18th Street Antioch, CA
Kmart: 6310 W 3rd Street Los Angeles, CA
Kmart: 589 Bridgeport Avenue Milford, CT
Kmart: 301 College Square Newark, DE
Kmart: 3231 Chicago Road Steger, IL
Kmart: 11 South Kings HWY 61 Cape Girardeau, MO
Kmart: 2308 Highway 45 N Columbus, MS
Kmart: 605 Old Country Road Riverhead, NY
Kmart: 440 NW Burnside Road Gresham, OR
Kmart: 101 Great Teays Blvd Scott Depot, WV
Kmart: 2150 South Douglas HWY Gillette, WY
Sears: Flagstaff Mall, 4800 N US HWY 89 Flagstaff, AZ
Sears: Capitola Mall, 4015 Capitola Road Santa Cruz, CA
Sears: 2424 Highway 6 And 50 Grand Junction, CO
Sears: 2266 University Square Mall Tampa - University, FL
Sears: 1625 NW 107th Avenue Doral / Miami, FL
Sears: Coastland Ctr, 2000 9th Street N Naples, FL
Sears: Oglethorpe Mall, 7810 Abercorn St Savannah, GA
Sears: 2860 Cumberland Mall Atlanta, GA
Sears: 100 Mall Blvd Ste 300 Brunswick, GA
Sears: 1631 E Empire Street Bloomington, IL
Sears: 4201 Coldwater Road Fort Wayne, IN
Sears: 3000 Mall Road Florence, KY
Sears: 1914 Hammond Square Drive Hammond, LA
Sears: 50 Holyoke Street Holyoke, MA
Sears: Silver City Galleria Taunton, MA
Sears: 1250 Jackson Xing I-94 Jackson, MI
Sears: 4601 Glenwood Avenue Raleigh - Crabtree, NC
Sears: 77 Rockingham Park Boulevard Salem, NH
Sears: 1500 South Willow Street Manchester, NH
Sears: 4409 Black Horse Pike Mays Landing, NJ
Sears: 200 Eastview Mall Victor, NY
Sears: 578 Aviation Road Queensbury / Glen Falls, NY
Sears: 1400 Union Turnpike New Hyde Park, NY
Sears: 2700 Miamisburg Centerville Road Dayton, OH
Sears: 9505 Colerain Avenue Cincinnati - Northgate, OH
Sears: 11800 SE 82nd Avenue Happy Valley / Portland, OR
Sears: 400 Memorial City Way Houston - Memorial, TX
Sears: Post Oak Mall College Station - Bryan, TX
Sears: 7453 S Plaza Center Drive West Jordan, UT
Sears: 12000 Fair Oaks Mall Fairfax, VA
Sears: 8800 NE Vancouver Mall Drive Vancouver, WA
Sears: 4720 Golf Road Eau Claire, WI
Sears: Valley View Mall, 4200 US HWY 16 La Crosse, WI