Spain passes China in total COVID-19 infections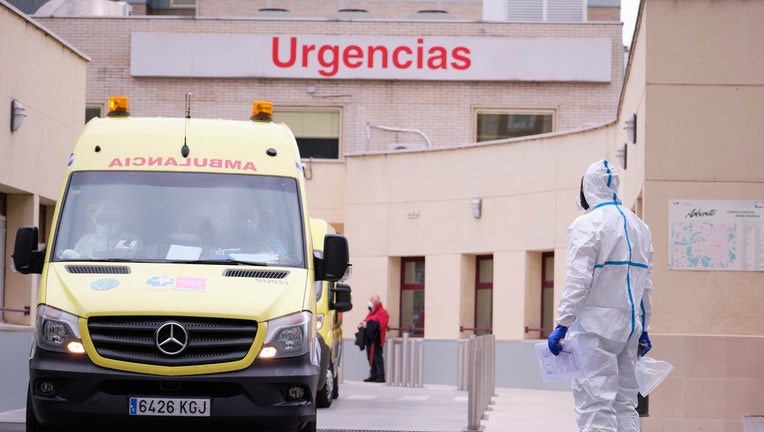 MADRID - Spain on Monday became the third country to surpass China in coronavirus infections after the United States and Italy.
With a population of only 47 million to China's 1.4 billion, Spain's tally of infections reached 85,195 on Monday, a rise of 8% from the previous day. Spain also reported 812 new deaths in the last day, raising its overall fatalities from the virus to 7,300.
The health systems in Italy and Spain have been crumbling under the weight of caring for so many desperately ill patients at once. The two European nations have more than half the world's 34,000 deaths from the virus that has upended the lives of billions of people and devastated world economies.
In a situation unimaginable only a month ago, Italian officials were cheered when they reported only 756 deaths in one day on Sunday.
RELATED: Fauci predicts 'millions' of US coronavirus cases, 100K-200K deaths
Moscow went on its own lockdown Monday as all of Russia braced for sweeping nationwide restrictions.
Russian President Vladimir Putin has asked all citizens to stay at home and Moscow Mayor Sergei Sobyanin began enforcing a strict lockdown for all city residents except those in essential sectors.
"The extremely negative turn of events we are seeing in the largest European and U.S. cities causes extreme concern about the life and health of our citizens," Sobyanin said.
He said an electronic monitoring system will be used to control residents' compliance with the lockdown and warned "we will steadily tighten the necessary controls."
Moscow, a city of 13 million, accounts for more than 1,000 of Russia's 1,836 coronavirus cases.
RELATED: Italian engineers help coronavirus patients by harnessing snorkel masks for CPAP machines
In Italy, which has by far the most deaths from the virus worldwide, officials expressed cautious optimism that the drastic measures they have taken to keep people apart are having an impact.
Italy has reported 97,689 infections and 10,779 deaths, but said the number of positive cases in the last day increased just 5.4%, and the number of deaths have shifted down about 10% a day since Friday.
''These are big changes that reflect the fact the health system is responding and of the impact of the measures that have been put in place,″ said Dr. Luca Richeldi, a lung specialist, told reporters. ''We are saving lives by staying at home, by maintaining social distance, by traveling less and by closing schools.″
Experts say the critical situations in hospitals in Italy and Spain will be soon heading toward the United States.