St. Pete man accused of stealing over 100 bronze vases from graves at cemetery
ST. PETERSBURG, Fla. - A Pinellas County man is accused of stealing $150,000 worth of memorial vases off grave sites in a St. Petersburg cemetery.  Detectives say he scrapped the heavy metal vases for cash, claiming he found them near the grounds.
Douglas Deck, Jr. is in the Pinellas County Jail, charged with six felonies, four counts of dealing in stolen property, damaging or removing a tomb or monument, and drug possession after a quarter-gram of fentanyl was found in a baggie in his pocket when he was arrested over the weekend.
Families at the cemetery say this crime is disrespectful.
July 25 would have been Joana Cruz's 37th birthday. Her mother and sister came to Memorial Park Cemetery in St. Petersburg for a visit.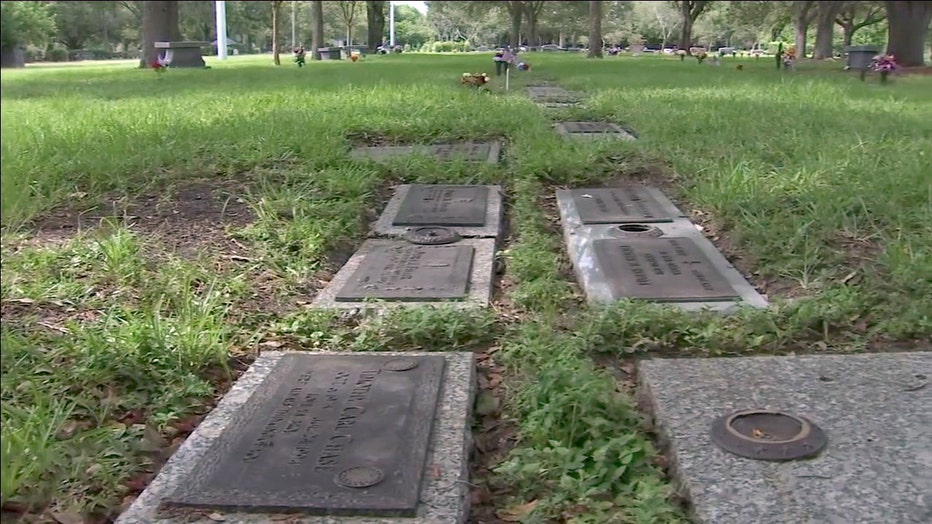 Brass vases stolen from St. Petersburg cemetery
"Oh, we come here quite often. I mean, Christmas, all the holidays," said Ingrid Londono. "Her birthday was a special one because she loved to celebrate her birthday. She'd never missed a birthday."
The metal vase mounted on Joana's headstone is a lasting memorial for a life taken too soon. Loved ones try to keep it filled with flowers and mementos.
"Yes, we do. And most of the people around here, they do, too," Londono said.
Earlier this month, some of the vases went missing.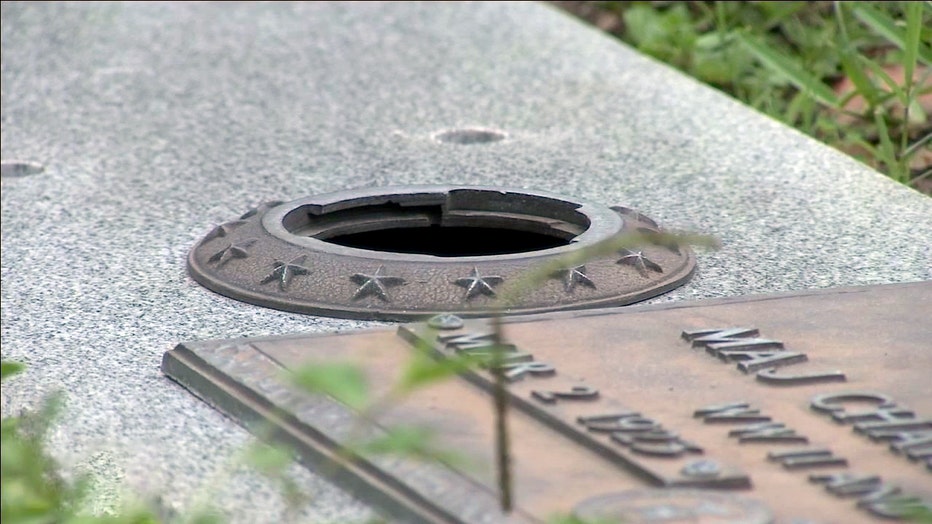 Brass vases stolen from St. Petersburg cemetery
The Pinellas County Sheriff's Office says from July 12-19, Douglas Deck, Jr. stole more than 125 vases off grave sites at the sprawling 104-acre cemetery. Arrest paperwork says the 31-year-old sold them to a secondhand scrap metal dealer on four occasions, pocketing $1,149.60 for 661-pounds of brass valued at around $150,000.
RELATED: Police: Man's burglary spree costs Pinellas air-conditioning companies more than $100,000
Deck did not have to go far to commit this crime, court documents show he lives just 150-feet from the cemetery.
"Why would they do that? You know what I mean? Like, it's terrible," said Londono.
She said this is not the first time the heavy metal vases have been swiped. Her sister's was stolen a few years ago and had to be replaced.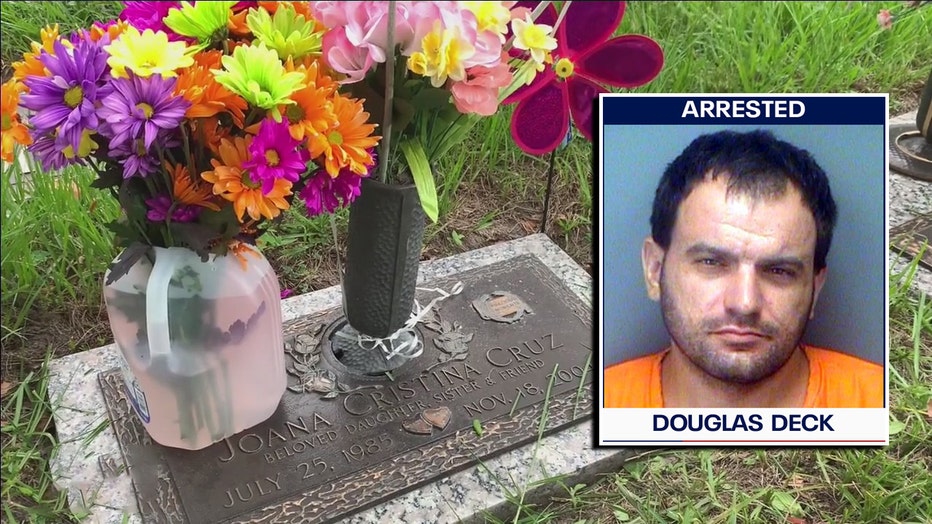 Douglas Deck, Jr. allegedly stole more than 100 brass vases from a Largo cemetery
"I was upset because, who wants to steal a vase that is somebody's, you know, one of your loved ones that is buried here."
Deck was connected to this latest crime from surveillance video at the scrap metal yard. Detectives recovered most of the vases he sold. Deck is set to be in court July 28 for a bond hearing.
The legal department for Memorial Park Cemetery released a statement to FOX 13 News, saying:
"Memorial Park strives to maintain a serene, peaceful and dignified setting for our visiting client families and visitors.  The privacy of our client families is paramount to the services we provide.  Accordingly, we prefer not to comment on recently reported events.  Memorial Park has always and continues to be a proud citizen of our community."