Tampa Bay area volunteers start Memorial Day weekend in a special way
TAMPA, Fla. - "We look at what's happening across the nation with our black cemeteries, the abandoned, the forgotten, the erased," Aileen Henderson with The Cemetery Society said. "This one wasn't. We got it. We're saving it. That's the value."
Volunteers throughout the Tampa Bay area, including police and fire union members, veterans, and community members, started their Memorial Day weekend bright and early in a truly special way. 
They grabbed their cleaning products and got to work on the graves in Memorial Park Cemetery.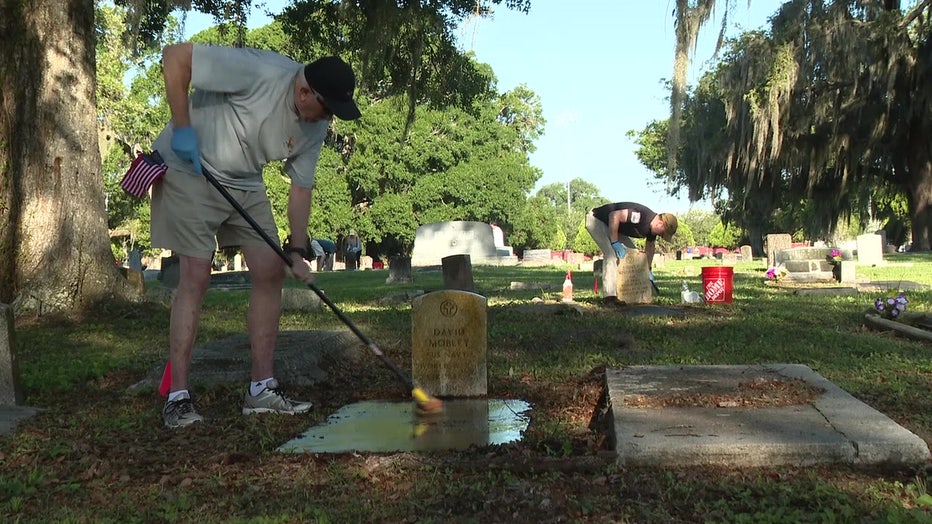 READ: Goldstar mother remembers her son's sacrifice on Memorial Day Weekend
After The City of Tampa re-purchased the 104-year-old segregation-era cemetery earlier this year, community members decided that there's no better way to honor those who gave the ultimate sacrifice than by cleaning their graves.  
"This is a cemetery where almost 1,000 African Americans who are veterans rest eternally as heroes." Luis Viera, City Councilman, said. "Many of these individuals served our country at a time when our country wouldn't stand for them."