Tampa Mayor Jane Castor names city's next top cop
TAMPA, Fla. - Tampa Interim Police Chief Lee Bercaw has been chosen to lead the Tampa Police Department.
Mayor Jane Castor made that announcement during a press conference Friday morning after forgoing a national search.
Castor said Bercaw has moved the department forward during his six months as interim chief. 
He's been a part of TPD since 1997 and has seen the changes the agency has gone through over the decades such as the RNC, the Super Bowl and the 2020 riots.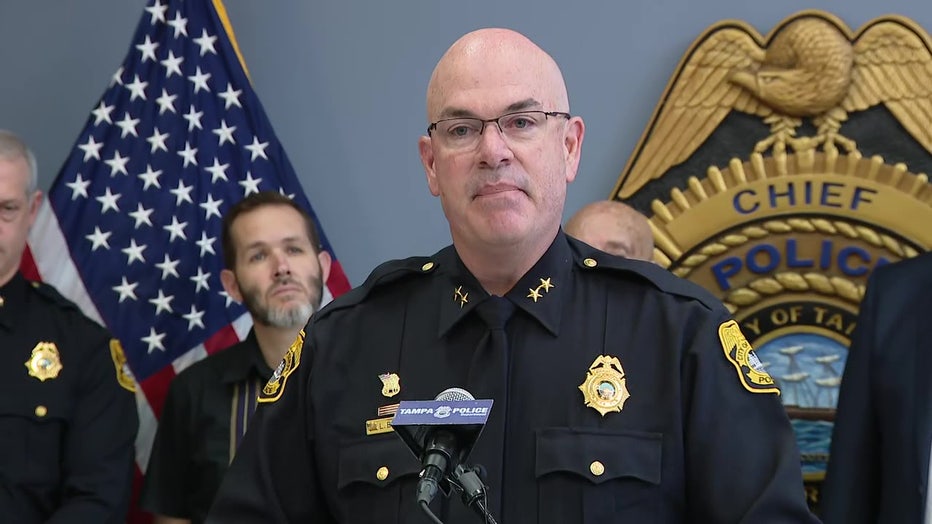 Lee Bercaw has been named as Tampa's next police chief. 
"He is more than ready for this position and it is an exciting day for me to announce, along with city council, to announce that Lee Bercaw, once he is confirmed will be the next police chief of the city," stated Castor.  
"For the last six months, I've been doing this job as interim and making decisions and making things happen for the better of the community and the organization," Bercaw shared. "The only thing that's going to change is taking that word interim off. It's been an honor to serve in every role in this department throughout my career, whether it was an officer, a supervisor or a detective. And I'll tell you, the one that most I lean back on the most is being a field training officer and training and inspiring the new and the next generation of the police department. And that's my goal, is to have those leaders ready to take that next step. I've spent my entire law enforcement career here in Tampa. I've basically grown up in this department for the past 27 years. As the mayor said, I've been through those times of turbulent times, changing times, and I've seen this organization go from good to great. And it's not just me and the mayor saying that when we host other agencies here from across the nation, they give that reflection back. And I'll tell you that I'm honored to work not only internally and externally with the community, but the other criminal justice stakeholders, the sheriff, Chad Chronister, the state attorney, Susie Lopez, the other chiefs from across the Tampa Bay area and across the nation. This is a collective effort, working together, very proud of the reputation of this department."
READ: 2023 Tampa PD CARES funding to help crime prevention efforts
Bercaw was appointed as interim chief following when former police chief Mary O'Connor resigned 10 months into the job after body camera footage surfaced showing her flashing her badge to a Pinellas County deputy during a traffic stop. With her husband behind the wheel of the golf cart, she asked the deputy to "let us go."
O'Connor was the second woman to ever hold the top position with the Tampa Police Department. Mayor Jane Castor, Tampa's first female police chief, served with O'Connor for more than a decade at TPD.
O'Connor spent 22 years with TPD, rising to the rank of assistant chief before her retirement in 2016.
Her appointment, however, was perhaps the most contentious in the history of the department.
Some of the biggest criticisms against her came from those who acknowledged they didn't actually have an issue with O'Connor herself but instead felt left out of a selection process they say lacked transparency.
RELATED: Tampa city council pushes changes to nomination process after TPD Chief Mary O'Connor's resignation
In 1995, O'Connor was arrested and charged with punching a Hillsborough County deputy during a DUI stop involving her eventual husband, both were Tampa police officers at the time.
O'Connor was fired, then re-hired by the department one year later and went on to have a decorated career.  
Yet, scandal struck again. Just 10 months into her leadership role, O'Connor was caught on camera flashing her badge to a Pinellas County deputy during a traffic stop and said, "I'm hoping that you'll just let us go tonight." 
She submitted her resignation several days after the video was made public. 
At the time, Mayor Castor said, "It is unacceptable for any public employee, and especially the city's top law enforcement leader, to ask for special treatment because of their position. Public trust in Tampa's police department is paramount to our success as a city and community," Castor said in a statement. "This is especially disappointing because I gave Mary O'Connor a second chance, as I believe in second chances for people. Which is one of the reasons that the disappointment today runs so deep."
"I had high hope for Chief O'Connor," she added. "She was off to such a strong start by reducing violent gun crime, proactively engaging with our community, and focusing on officer wellness. But these accomplishments pale in comparison to the priority I place on integrity."
READ: Tampa officer arrested for battery after 'bear' hugging woman and pushing her, police say
During Friday's press conference, Mayor Castor said she wants to move forward and not relive the past. 
Mayor Castor expects Chief Bercaw will go before the city council on June 15 to be confirmed as Tampa's next top cop.