TGH program brings hospital to patient's homes
TAMPA, Fla. - Tampa General Hospital is working to bring the hospital to more patients in the Bay Area. 
TGH's "Hospital at Home" program is looking to expand after less than a year. According to doctors, they've seen around 100 patients and are looking to widen the range of eligible patients.
The program brings hospital-level care to qualifying patients from the comfort of their homes.
Dr. Peter Chang, the Vice President of Healthcare Design at TGH, said the original driver of the program was to help alleviate some of the stress on hospital capacity.
READ: AdventHealth Tampa launches new OB-GYN residency program to address workforce issue in Bay Area
"All the hospital systems, not just Tampa General, but our partnering organizations have a lot of issues with capacity," he said. "Our emergency rooms are overflowing."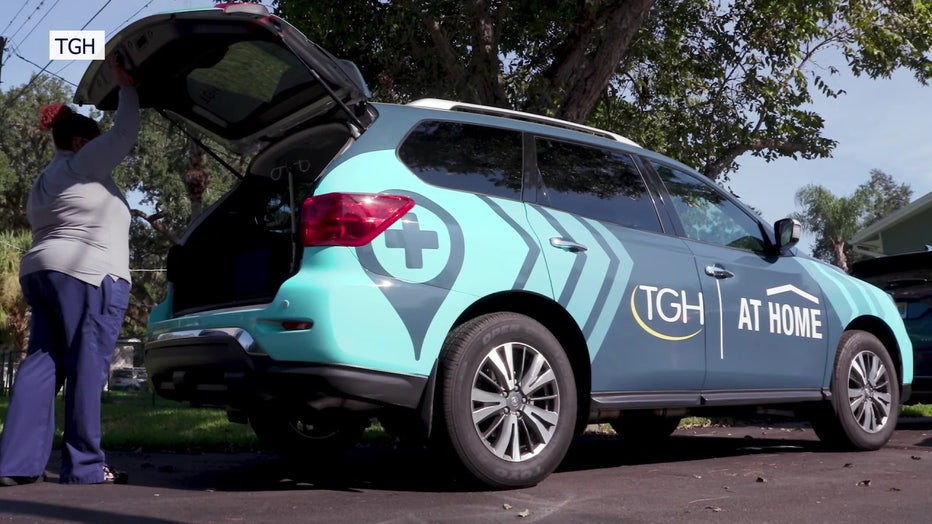 TGH offers the Hospital at Home program to better care for patients.
Dr. Chang said the program allows for personalized care to patients, without requiring them to stay in the hospital for extended periods of time.
"We really see this as the future of health care," he explained. "As hospitals become more expensive to build and maintain, there's still patients that need hospital level of care but don't need to be within the walls of the hospital."
Doctors are able to monitor patients 24/7 with the help of non-invasive technology.
READ: Tampa General uses artificial intelligence to help stroke patients regain range of motion
"We provide them with a cellular iPad," Dr. Chang shared. "And this allows us to do real-time video visits with the patient at any point in time. We also give them this patch that adheres to the chest. And what it allows us to do is noninvasively so no needles or sticks. We can measure blood pressure, heart rate, temperature, oxygen level and respiratory rate wirelessly."
Dr. Chang said they partner with area fire rescue crews in case there is a major emergency.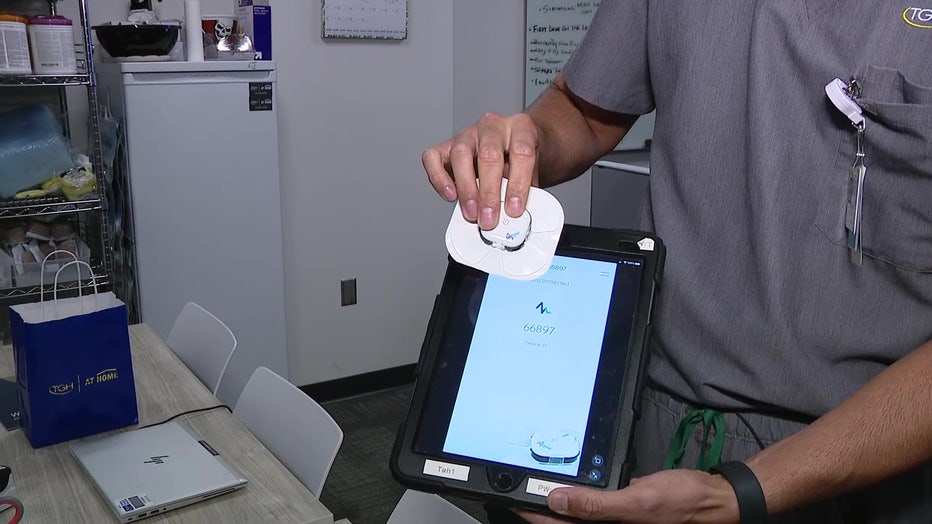 The non-invasive patch tracks blood pressure, heart rate, temperature, oxygen level and respiratory rate wirelessly.
He explained that two groups of patients qualify for the "Hospital at Home" program right now.
"Some patients with acute disorders, let's say an 85-year-old with a urinary tract infection that needs intravenous antibiotics," Dr. Chang said.
According to the doctor, patients with certain chronic diseases also qualify for the program.
Dr. Chang said the program has proven to have major benefits for the patients in multiple ways. He shared that it puts some of the control back in the patients hands, which is something they lose when they're inside the hospital.
READ: Fourth person dies from bacteria linked to recalled eye drops, CDC says
"When a patient is in their home setting," he explained. "Even your instructions on how to take medicines or how to do additional things from a therapy perspective, they're absorbed."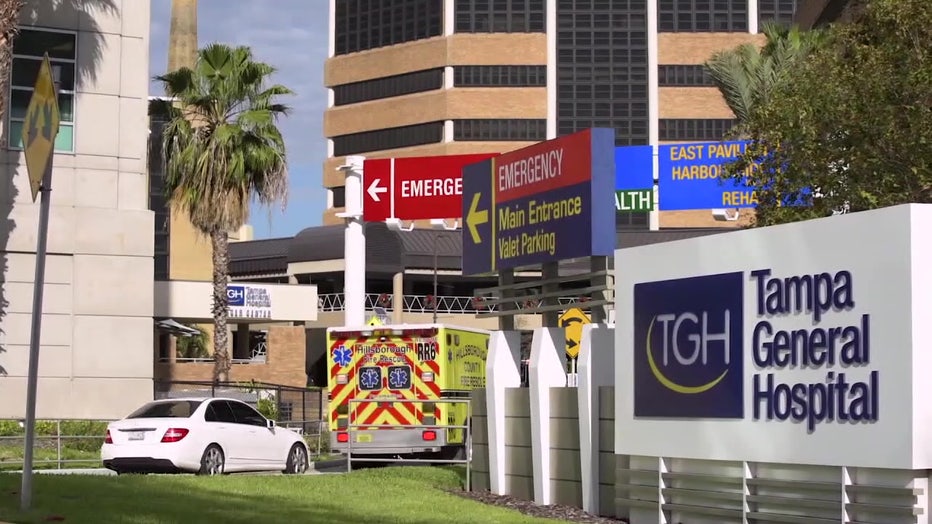 Medicare readmission rates for patients have decreased since the program began.
They've also seen the program's success through the numbers.
"If you look at Medicare readmission rates across the country, they range from 15 to 20%, depending on the hospital system where the patients we've seen so far, we're running at a 2% readmission rate," Dr. Chang said.
The hospital is hoping to expand the program to work with certain transplant patients.
"We're actually working with our liver transplant team," Dr. Chang said. "And if a liver transplant patient is going to spend eight or 10 days in the hospital, maybe they just spend the first four or five in the hospital, and then we can transition home for the remainder."
READ: Miniature therapy horse brings hugs, hope and healing to Tampa General Hospital
To qualify for the program, Dr. Chang said a patient must have Medicare or Medicare Advantage, live within 30 minutes of the hospital and either already be admitted in the hospital or be referred from the emergency department.
To find out more information about TGH's Hospital at Home program, click here.