Wind causes trees to come crashing down on Brooksville home
BROOKSVILLE, Fla. - Two large oak trees fell onto a home after strong winds roared through areas of Hernando County Thursday.
One of the owners of the home, Marie Sullivan, was there with her sister when the trees came crashing down.
"We heard the wind pick up, so we went to the front window and we were standing there just looking out, then all of a sudden my sister yells at me that the tree is falling," Sullivan said.  "It fell on our bedroom and it was just, freaky."
She says it sounded like a big crash. Then, after it fell, she went back into her bedroom to check out the damage.  There was a big hole in the ceiling.
"Water had started pouring out down through the roof into our bedroom and we just scrambled around and got some of the stuff out of the bedroom and that was pretty much it," said Sullivan.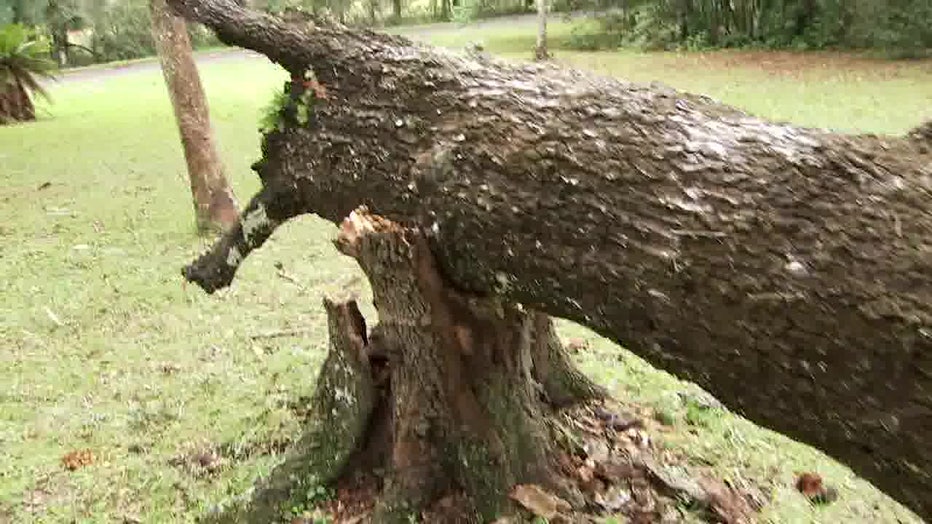 One of Sullivan's neighbors own a tree service company, so they came over shortly after the trees fell and got the branches off her house. They put a tarp on the roof to cover the home.
Despite the damage, Sullivan says she feels very lucky.
"We were standing right there at the window and the tree was not very far from us, so we're just thanking God that neither one of us were hurt," she said.