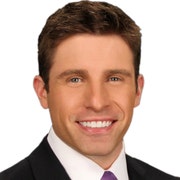 Walter Allen
Good Day anchor
Walter Allen joined FOX 13 in March 2014. Walter anchors Good Day Tampa Bay from 4 to 7 a.m. during the week.
Walter is a multi-talented journalist with anchoring, reporting, and producing abilities. He was born and raised in Denver, Colorado and studied in the Mile High City at Metropolitan State College of Denver. He spent two semesters interning at KCNC before launching his broadcasting career in 2007 at KCWY, the NBC affiliate in Casper, Wyoming. While there, Walter was named Best Reporter and Anchor Person of the Year by the Wyoming Association of Broadcasters.
After three years in Wyoming, Walter headed east and accepted a general assignment reporter position in Columbus, Ohio at the ABC/FOX station, WSYX. The reporter position led to co-anchoring opportunities in 2011 at WSYX. During his two years in Columbus, Walter covered breaking news events and spent valuable time behind the anchor desk. Those experiences in the Buckeye State helped him land a weekend morning co-anchor and reporting position at WISH in Indianapolis, Indiana.
While working in Columbus, Walter met his wife, fellow broadcaster Natalie Taylor. They are both excited to be living and working in the Sunshine State. Walter and his wife were married in Sanibel Harbour and are very excited to begin the next chapter of their lives in Florida.
The latest from Walter Allen
As an ice operations technician, Ali Murdock loves working for the Tampa Bay Lightning – and she better considering game days are long work days. 
Ali Murdock loves working for the Tampa Bay Lightning. In fact, there are only two female Zamboni operators in the NHl -- and she is one of them.
A growing number of seniors are on the move, finding purpose and passion in their golden years. 
Close to 30 years ago, Lindsay Helms' cancer went into remission, and her mom found a new mission. She helped start the 'Pediatric Cancer Foundation, which is now the National Pediatric Cancer Foundation. The goal is to fund research to eliminate childhood cancer.
The children of two Tampa moms were diagnosed with cancer, and they quickly realized the lack of research into pediatric cancer research, and decided to do something about it by creating a non-profit foundation. That was 28 years ago. Today, that organization is known as the National Pediatric Cancer Foundation.
After more than 200 hours, Michael Hoogsteden completed his journey across the country on his bike in memory of his late wife, Wendy.
Publix is a popular grocery store in Florida that carries many traditions, but there is one heavy-hitter that has remained with the grocery chain since the very beginning: the weight scale. 
A pastor in Plant City has taken up the art of pottery, and in the meantime, molding his life. It's a hobby that takes some of the steadiest of palms, but as a man with Parkinson's, he has mastered it.
A local organization's mission and operation is making sure those in the military know that they matter.