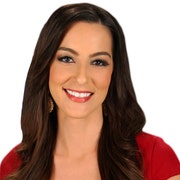 Jennifer Epstein
Good Day anchor
Jennifer Epstein joined the Good Day Tampa Bay team as traffic reporter in March 2006. Jen now anchors Good Day weekdays from 4 to 6 a.m. She also produces stories such as her weekly Hometown Hero reports.
Jen grew up in Bethlehem, Pennsylvania and graduated cum laude from Temple University in Philadelphia. She had her television debut on Temple Update, a weekly, half-hour news program produced, written, directed and anchored by students. Jen also received the Jessica Savitch Award for her excellence in journalism.
After graduation, she started her career in Allentown, PA with Metro Networks where she reported news and traffic for dozens of local radio stations. One year later, she landed a traffic-reporting job in Tampa.
Although Jen's family still lives up north, she says Tampa is her home. She prides herself on community involvement with the Make A Wish Foundation, National Eating Disorder Association and the Humane Society. In her free time, she enjoys yoga, reading, and soaking up the Florida sun. She is also blessed with two rescue dogs, Kote Boz and Otis, and her husband Jeremy.
If you would like to contact Jen you can email her at Jennifer.Epstein@fox.com. You can also connect with her on Facebook and follow her on Twitter @jenepsteinfox13.
The latest from Jennifer Epstein