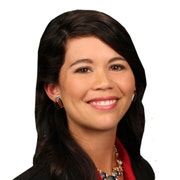 Kimberly Kuizon
Sarasota bureau
Kimberly Kuizon joined the FOX 13 Team in March 2013, reporting on the southern Bay Area, including Manatee and Sarasota counties.
Kimberly began as a photographer and soon was assigned to cover a variety of stories. With her photographer background, she is a natural for the multimedia journalist position. She shoots, writes, and edits all of her stories.
Born and raised in Anna Maria, Florida, she realized her love for news while anchoring the morning news at Anna Maria Elementary. After graduating from Manatee High School, she attended the University of Florida College of Journalism, receiving a degree in broadcast news.
Kimberly's broadcasting career began in Sarasota at WWSB and then WFTS in Tampa as a multimedia journalist. She was honored with the University of Florida Excellence in Broadcasting Award and is a three-time winner of the Florida Associated Press Award.
Kimberly enjoys scuba diving, fishing, and cheering for her Tampa Bay teams -- and, of course, the Florida Gators. 
If you would like to contact Kimberly, you can email her at Kimberly.Kuizon@fox.com. You can also connect with her on Facebook and follow her on Twitter @Kkuizon.
The latest from Kimberly Kuizon