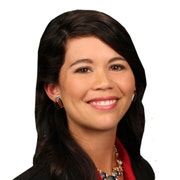 Kimberly Kuizon
Sarasota bureau
Kimberly Kuizon joined the FOX 13 Team in March of 2013. Kimberly is a multimedia journalist covering our southern viewing area.
Kimberly joined us as a photographer and soon was assigned to cover a variety of stories. With her photographer background, she is a natural for the multimedia journalist position. She shoots, writes, and edits all of her stories.
Born and raised in Anna Maria, Florida, she realized her love for news while anchoring the morning news at Anna Maria Elementary. After graduating from Manatee High School, she attended the University of Florida College of Journalism, receiving a degree in broadcast news.
Kimberly's broadcasting career began in Sarasota at WWSB and then WFTS in Tampa as a multimedia journalist. She was honored with the University of Florida Excellence in Broadcasting Award and is a three-time winner of the Florida Associated Press Award.
Kimberly enjoys scuba diving, fishing, and cheering for her Tampa Bay teams -- and, of course, the Florida Gators. 
If you would like to contact Kimberly, you can email her at Kimberly.Kuizon@foxtv.com. You can also connect with her on Facebook and follow her on Twitter @Kkuizon.
The latest from Kimberly Kuizon
In late February, Mercado brought her then 13-month-old son Amen'Ra to John Hopkin's All Children's Hospital for help transitioning from breastfeeding. More than a year later, her son is still in medical protective custody.
After more than a year of unknown, hope finally shines through at Doctors Hospital of Sarasota.
Governor Ron DeSantis announced Wednesday that firefighters, EMTs, paramedics, and law enforcement officer would be getting $1,000 pandemic bonuses, but 911 operators say the stress and demands of their jobs warrants putting them on that list.
The body-worn cameras were purchased for $3.2 million. The city approved funds covering training, hardware, and storage for five years. Sarasota police said the benefits far outweigh the price tag. 
Owen joined the Wolf Scouts in second grade. He's now a 16-year-old Eagle Scout and he's earned every merit badge possible. Since 1912, less than 500 scouts than out of 110 million have accomplished that feat.
North Port office space has been transformed into a prom boutique, with designer dresses, shoes, jewelry, corsages and even clothes for the guys.  Everything is free for seniors attending North Port's community prom. 
Masks could soon be added to the list of items not required in Manatee County schools. 
Behind barbed wire and bars, Victor Woods spends hours each week working with those in the inmate recovery pod. He used to be one of them. Now he listens, talks and works to uplift those serving time in jail. 
A Manatee County teen finally received what she's longed for -- a mother. And while she's 19 years old, she's proving you're never too old to find the love of a family.