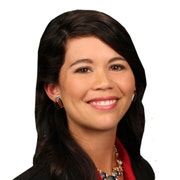 Kimberly Kuizon
Sarasota bureau
Kimberly Kuizon joined the FOX 13 Team in March 2013, reporting on the southern Bay Area, including Manatee and Sarasota counties.
Kimberly began as a photographer and soon was assigned to cover a variety of stories. With her photographer background, she is a natural for the multimedia journalist position. She shoots, writes, and edits all of her stories.
Born and raised in Anna Maria, Florida, she realized her love for news while anchoring the morning news at Anna Maria Elementary. After graduating from Manatee High School, she attended the University of Florida College of Journalism, receiving a degree in broadcast news.
Kimberly's broadcasting career began in Sarasota at WWSB and then WFTS in Tampa as a multimedia journalist. She was honored with the University of Florida Excellence in Broadcasting Award and is a three-time winner of the Florida Associated Press Award.
Kimberly enjoys scuba diving, fishing, and cheering for her Tampa Bay teams -- and, of course, the Florida Gators. 
If you would like to contact Kimberly, you can email her at Kimberly.Kuizon@fox.com. You can also connect with her on Facebook and follow her on Twitter @Kkuizon.
The latest from Kimberly Kuizon
On September 28th last year, as Hurricane Ian passed through the country, the Myakka River engulfed roadways and homes.
In court in South Sarasota County a video played showing Maya Kowalski letting out sobs as hospital staff from Johns Hopkins All Children's Hospital tried to get her up and walking.
The Salvation Army of Sarasota County has been a part of the community for 100 years. As Hurricane Ian passed through North Port, they activated and prepared for the unknown. 
When Hurricane Ian made landfall last year, it caused the Myakkahatchee Creek to spill over. Water engulfed homes and turned roadways into creeks, but during those trying times neighbors came out in droves to help one another. 
After a three-day weekend, witness testimony continued Tuesday in a $200 million lawsuit against Johns Hopkins All Children's Hospital that was featured in the Netflix documentary 'Take Care of Maya' with Maya taking the stand before the jury entered the courtroom. 
Hurricane Idalia damaged hundreds of homes along the gulf coast nearly a month ago, but as the cleanup continues, residents of the small Manatee County community of Rubonia face an uncertain future. 
On the first day of witness testimony in a $200 million case against Johns Hopkins All Children's Hospital, jurors heard from friends and relatives about Maya Kowalski's experience with a rare, debilitating condition called Complex Regional Pain Syndrome (CRPS) and how ketamine treatments impacted her health. 
One year ago, the Venice community gathered, sharing hugs and tears as sirens wailed in the background as the historic Venice Theatre sat exposed to elements, a shell of its former self. 
In one hour alone Hurricane Ian brought 18 inches of rain to Venice nearly one year ago.