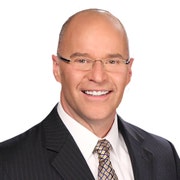 Russell Rhodes
Good Day anchor
Russell Rhodes anchors Good Day Tampa Bay every weekday morning on FOX 13 Tampa Bay.
Russell is an award-winning anchor/reporter with more than 30 years of experience in the television news business.
Twenty years of that has been spent at FOX 13.
Along the way, Russell has worked at television stations in Oklahoma, Texas, Minnesota and Florida.
Russell was born in Paris, Texas. It's the second largest Paris in the world, by the way.
From an early age, he loved the news. "I was that weird kid who always had to be at home at night to watch Walter Cronkite. Just something about the news that I always loved. I always dreamed of being the one who got to tell the story."
Russell attended the University of Oklahoma. He graduated with a degree in Journalism. Before anchoring Good Day Tampa Bay, Russell was the feature reporter for the program. He spent years traveling the Tampa Bay area and getting to know the people here.
"Those years gave me a unique perspective on where we live. I hope I bring that to my anchor work every morning on Good Day." 
If you would like to contact Russell, you can email him at Russell.Rhodes@FOXtv.com. You can also connect with him on Facebook and follow him on Twitter @RussRhodesFOX.
The latest from Russell Rhodes