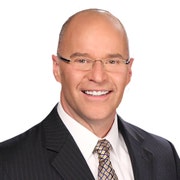 Russell Rhodes
Good Day anchor
Russell Rhodes anchors Good Day Tampa Bay every weekday morning on FOX 13 Tampa Bay.
Russell is an award-winning anchor/reporter with more than 30 years of experience in the television news business.
Twenty years of that has been spent at FOX 13.
Along the way, Russell has worked at television stations in Oklahoma, Texas, Minnesota and Florida.
Russell was born in Paris, Texas. It's the second-largest Paris in the world, by the way.
From an early age, he loved the news. 
"I was that weird kid who always had to be at home at night to watch Walter Cronkite. Just something about the news that I always loved. I always dreamed of being the one who got to tell the story."
Russell attended the University of Oklahoma. He graduated with a degree in Journalism. Before anchoring Good Day Tampa Bay, Russell was the feature reporter for the program. He spent years traveling the Tampa Bay area and getting to know the people here.
"Those years gave me a unique perspective on where we live. I hope I bring that to my anchor work every morning on Good Day." 
If you would like to contact Russell, you can email him at Russell.Rhodes@fox.com. You can also connect with him on Facebook and follow him on Twitter @RussRhodesFOX.
The latest from Russell Rhodes
From first responders answering seemingly endless calls for help at the height of the storm, to city officials working to repair roads and make them stronger for the future, the city of North Port has been through a lot since Hurricane Ian.
At the Saunders Planetarium at MOSI, you can see the stars, the planets and so much more -- even during the day -- without a worry about the weather.
If you're a parent of little ones, Jack Hartmann may be a household name, who reaches millions of YouTube viewers from his Largo studio.
Every Friday morning on Good Day Tampa Bay, Captain Dylan Hubbard gives viewers the outlook on the Good Catch fishing forecast. It's the continuation of a longtime family tradition.
The Publix-way of doing things may not be obvious when you shop, but every detail of how things look in a store is carefully thought through, adjusted over time, and still incorporates its founder's philosophy of customer service.
Maintaining a grocery store as a place where shopping is a pleasure is a regular motto for the beloved Florida business Publix. Keeping the customer and associates top of mind during the pandemic is a whole other story.
There are numerous medical professionals all over the world working to understand and treat the coronavirus. One of them lives in the Bay Area. 
"Artist residency" is one of the big trends in the art community, and there is one artist who has been soaking up the culture in Tampa Bay.
Inmate programs are designed to help jail inmates have better lives both in and out of incarceration. Hillsborough County has over forty of these programs – from substance abuse to youth services to financial literacy.