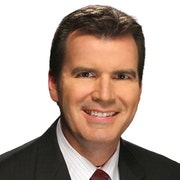 Mark Wilson, now in his 25th year at FOX 13 News Tampa Bay, anchors the 6 p.m. and 10 p.m. newscasts each weeknight, hosts FOX 13's "What's Right With Tampa Bay," and hosts and produces FOX 13's award-winning "Mak'n Waves," covering stories on and about the precious waterways connected to Tampa Bay. 
Mark is an Emmy Award-winning reporter and anchor with more than 30 years experience traveling the world and sharing the stories of the people of the Tampa Bay area.
He says he learned from the best. 
His father is former FOX 13 anchor John Wilson, who retired in 2014. 
Mark graduated with honors from Florida State University and then anchored the top-rated newscasts in Raleigh, NC, where he also worked as a regional correspondent for NBC News. 
Since joining FOX 13 in 1997, he's been honored for his reports from Ground Zero in New York, Hurricane Katrina, and the scene of the deadly Pulse nightclub shooting in Orlando. Mark was awarded an Emmy for his reports following a string of deadly tornadoes in Alabama.
He was the only Tampa Bay area reporter to travel to Iraq during the height of the war in 2005, embedding with a Clearwater-based Army Reserve unit flying Blackhawk helicopters in and around Baghdad. 
His reputation for fairness and passion for the big interview earned him one-on-one interviews with President Bush in 2000 and President Biden (VP at the time in 2012) and he was invited to the White House for an exclusive interview with President Obama in 2011.
Mark is active in several charities, including Wheelchairs4Kids, the March of Dimes and The Wilson Family Foundation, a non-profit that he started with his parents and brothers. And when he's not spending his free time with his wife and two grown daughters, he's probably chasing his two golden retrievers or fiddling with his guitar.
If you'd like to contact Mark, you may email him at mark.wilson@fox.com. You may also connect with him on Facebook and follow him on Twitter @MarkWilsonTV. 
The latest from Mark Wilson