Adu ready for fresh start with Rowdies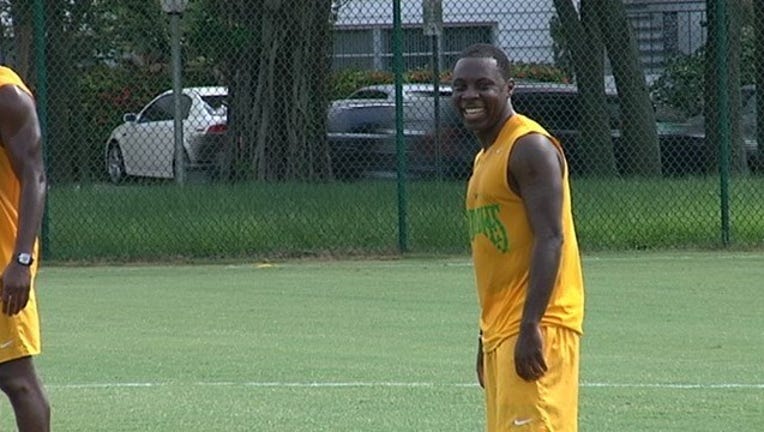 article
New Tampa Bay Rowdies midfielder Freddy Adu tries hard to deflect the attention away from himself. After all, he's had more than enough.
Adu has carried a heavy burden in his career. Chosen as the face of American soccer at the tender age of 14, he was dubbed the next Pele and became the youngest athlete to ever sign a professional contract.
The expectation proved impossible to reach.
"No matter what you did, it was never enough," said Adu. "You're expected you to score three goals every game and that's impossible."
Rowdies coach Thomas Rogen saw the toll that the astronomical expectations had on Adu. Rogen coached Freddy in 2007 on the U.S. under-20 World Cup team.
"Let's face it, if you're 17, 18, 19 -- which he only was -- that's very tough," said Rogen. "Away from home, that's lonely, that's very hard if you're not encouraged, which he was not. To perform is almost impossible. That happened to him and it spiraled down from there."
It's been 13 years since Adu came to the Bay Area to prepare himself to turn pro. Now he's back on familiar turf, playing for a coach that knows him well. Most importantly he's back with a coach, the type of coach he can trust.
"This is good for me," said Adu. "This is the best thing, in my opinion, that could happen for my career right now."
"I'm a fairly democratic coach, which is very hard in this business," offered Rogen.  "Most of us are dictators, use fear and intimidation to drive our players. I had some of those traits. Fortunately they have gone away."
Adu chose the Rowdies over other offers when he decided to return to the States and give up the foreign game. He knew the one coach that got the best out of him would be the place to be.
"He allows you to express yourself, to be yourself," continued Adu. "He's not one of those coaches that says, 'don't do this, don't do that.' No, he encourages you."
And it took a while for Adu to realize that's what he needed. It took failures in the MLS and playing for 10 teams in eight countries to Adu to realize he wasn't going to be the next Pele.
Now, at 26, Adu is just trying to be the best he can be and with the pressure off.
"I hope we're all going to say that was pretty awesome. That this kid, who was a phenom at 14, had pictures with Pele and commercials, lost his way a little bit. If he can make a comeback here....It's a bit of a no-brainer."
"I came here to win," added Adu. "Tampa is one of the best teams in the NASL. That's part of the reason that I wanted to come here. Playing for a winning team is nice. I've played for some losing teams and it's not fun."