Bucs finds a steal in running back Sean Tucker
TAMPA, Fla. - Flagged with a rare congenital heart defect at the NFL Combine, Bucs rookie running back Sean Tucker fell from a top 10 NFL running back prospect to undrafted.
His pro career dream was in question, but the Bucs took a chance by signing him as a free agent.
He wasn't cleared to run until days before training camp.
Tucker's troubled times are behind him, but he admits waiting to be cleared to play wasn't easy. 
READ: Bucs Rookie Draft pick Trey Palmer is making his name known
"I'll say it was a little tough," Tucker told Fox 13 Sports. "Just finally having that moment to think that the work that you put and everything was going to get some reward for it, but I just look at the bright side of things and I'm over that stuff now. I'm here now just trying to make the best of it."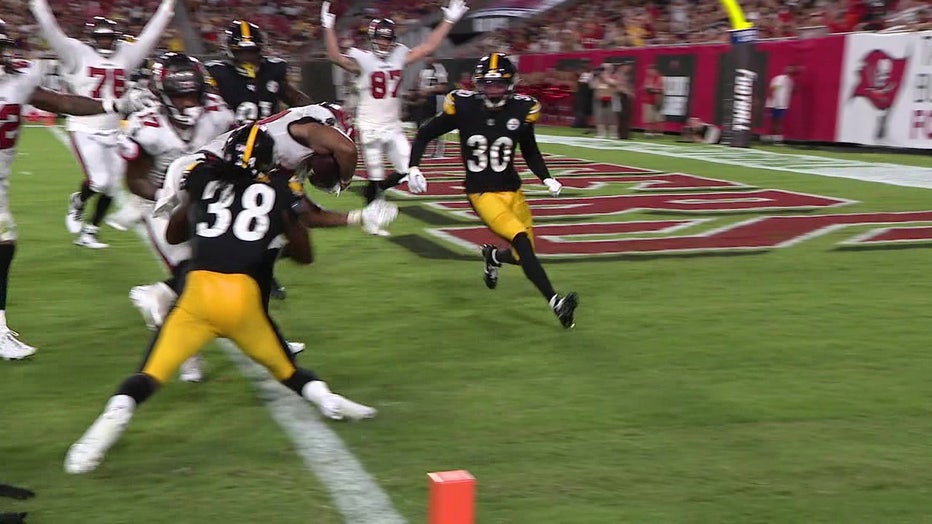 Tucker has quickly shown the Bucs his worth.
In his first preseason game, Tucker broke a tackle and burst 12 yards into the endzone, but the excitement of his first NFL TD was extinguished by a holding call away from the play.
"You know it felt good," said Tucker. "Just felt like I finally did something. I got my first NFL touchdown, but it got taken back, so got to wait to get my official one next week."
READ: Bucs' Deven Thompkins making his mark at training camp
"What I am noticing about him is that he has another gear," said Bucs offensive coordinator Dave Canales. "He is probably the fastest guy we have in the room. He really has some suddenness to him."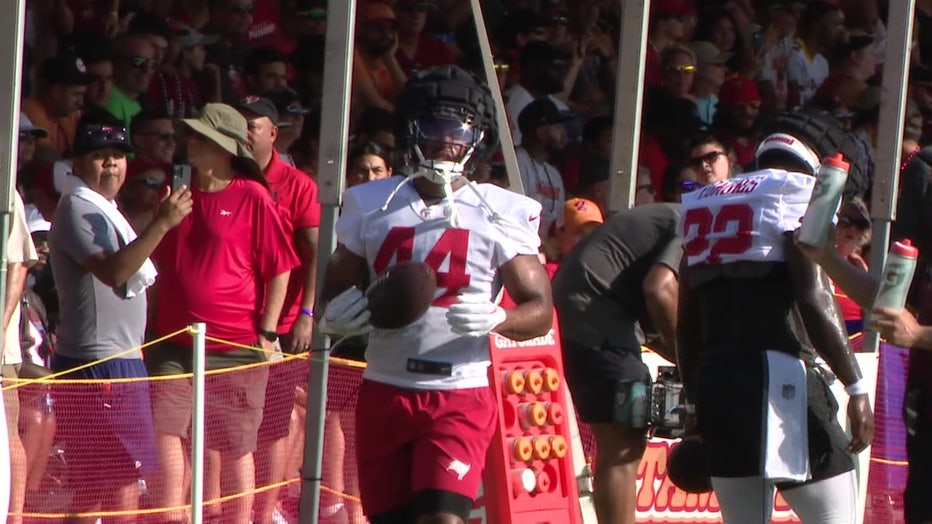 In his second season at Syracuse, Tucker broke the school's record for most rushing yards in a season by a player wearing 34.
Upon signing with the Bucs, Tucker was given the #44. While he didn't ask for it, it carries a special meaning.
Because 44 was worn by Syracuse's greats, including legendary Hall of Fame running back Jim Brown.
"Coming from Syracuse and all the legends that wore it, Jim Brown, Ernie Davis, Floyd Little," said Tucker. "44 and the legacy it has at Syracuse and obviously Jim Brown in the NFL wearing it. It definitely has a lot of value to it."
Tucker wants to bring his value to a Bucs running game that finished last in the NFL in 2022.
"I'm definitely bringing my hard work, my commitment to this team and looking forward to improve this team any way I can," said Tucker.