Dungy to enter Ring of Honor during MNF game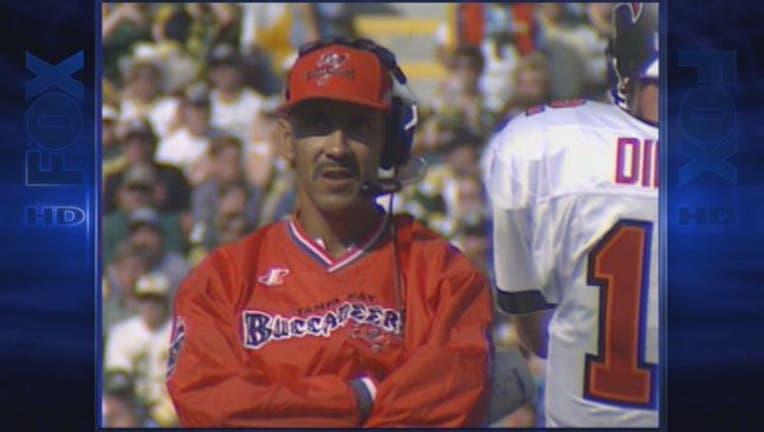 article
TAMPA (AP) - Tony Dungy will always be appreciative of the opportunity the Tampa Bay Buccaneers provided when no other NFL team was willing to take a chance on him as a head coach.
So long after transforming the Bucs from laughingstocks into championship contenders - only to be dismissed a year before the franchise won its only Super Bowl - the Hall of Famer is graciously returning to Raymond James Stadium to become the latest member of the club's Ring of Honor.
"I was fired from here, but I was also hired here," Dungy said, not a trace of bitterness in his voice. "I was hired when I never had been a head coach. None of the other 31 teams gave me a chance.
A coaching disciple of Chuck Noll, Dungy won a Super Bowl as a player with the Steelers and later became an assistant in Pittsburgh. Dungy was the defensive coordinator of the Minnesota Vikings when the Bucs called in 1996.
Tampa Bay hadn't had a winning record or made the playoffs since the 1982 strike-shortened season.
"We needed a head coach who could foster a winning culture," said owner/co-chairman Bryan Glazer, whose father, Malcolm, hired Dungy and remained supportive when the Bucs began the young coach's first season with five consecutive losses.
"Despite the losing record," Bryan Glazer added, "you could see we were building something special."
The Bucs won five of seven down the stretch to finish 6-10 in what turned out to be the only losing season Dungy would have during a highly successful 13-year run as coach of the Bucs and Indianapolis Colts.
In a way it's fitting he will enter the Ring of Honor on Monday night, when Tampa Bay (2-0) hosts the Steelers (0-1-1). Much of what he sought to do when he joined the Bucs he learned from his one-time mentor, Noll.
Dungy wanted a team that not only won games and contended for playoff berths, but in which players connected with the city, got involved in the community and were role models on and off the field - like the Steelers.
"He really shaped the identity of our whole organization," Bryan Glazer said.
The Bucs ended their long playoff drought in Dungy's second season. In 1999, they came within one victory of reaching the Super Bowl.
Two years later, the Glazer family fired Dungy, who was unable to get the team beyond the opening round of the postseason in 2000 and 2001.
A long, meandering coaching search ended with the Bucs trading four draft picks and cash to the Oakland Raiders for the right to sign Jon Gruden, who - led by a dominating defense built by Dungy - brought Tampa Bay its lone NFL title in the 2002 season.
Four members of that championship team - Hall of Famers Warren Sapp and Derrick Brooks, John Lynch and Mike Alstott, as well as Gruden and Malcom Glazer - are members of the Ring of Honor.
Dungy was disappointed to not have a chance to finish the job, but went on to greater heights in Indianapolis, which won the Super Bowl in the 2006 season.
His 54-42 regular-season record and .563 winning percentage with the Bucs are the best in franchise history. He led the team to four playoff appearances in six seasons and was inducted into the Pro Football Hall of Fame in 2016.
"You think about coaching, you think winning seasons, you think about getting to the playoffs, you think about getting to the Super Bowl, all those things you hope and dream about," Dungy said. "It's not even in your mind to go in the Ring of Honor. It's an awesome, awesome tribute and honor."
Five coaches whom Dungy hired as assistants in Tampa Bay - Mike Tomlin, Lovie Smith, Jim Caldwell, Herman Edwards and Rod Marinelli - went on to land NFL head coaching opportunities.
Dungy and Smith met in the Super Bowl won by the Colts. Tomlin led the Steelers to the NFL title two years later.
Tomlin, in his 12th season in Pittsburgh, was a young college assistant when Dungy brought him to the Bucs.
"I could talk, I wouldn't know when to shut up. Coach just provided a daily blueprint on how he approached it. He was himself every day. It was a steady focus and compass through unsteady waters that can be (encountered) in NFL seasons," Tomlin said.
"Guys knew where they stood with him. A clean communicator, and I think those are some of the key ingredients that allowed him to be successful," Tomlin added. "Successful in multiple places, successful for a period of time."
Dungy's impact on the Bucs is undeniable.
And, he was - and continues to be - even more influential in the Tampa Bay community through various charitable endeavors.
His name will be unveiled in the Ring of Honor on Monday night, however that's just a small part of his legacy.
"I hope they remember me as someone who helped shape the course of the franchise, got people excited about Tampa football again," said Dungy, who maintained his home in Tampa, even while coaching the Colts.
"I hope they remember me as a coach who had very good teams, but had some great young men playing and that I tried to lead those young men in the right way, in the right direction. That my focus wasn't just on winning games, but it was on being the best we could on and off the field," Dungy added. "If they think that, I'd be happy."
___
More AP NFL: https://apnews.com/tag/NFLfootball and https://twitter.com/AP_NFL