Improved Buccaneers insist fast start isn't a surprise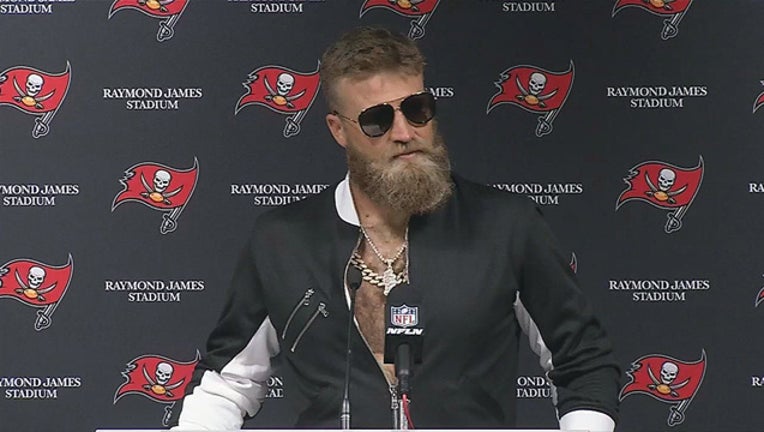 article
TAMPA (AP) - The red-hot Tampa Bay Buccaneers scoff at the notion that their first 2-0 start in eight years is a surprise.
"I think that's where we expected to be," quarterback Ryan Fitzpatrick said after throwing for 402 yards and four touchdowns in Sunday's 27-21 victory over the reigning Super Bowl champion Philadelphia Eagles.
"I don't know if everybody else expected us to be there," the 14th-year pro filling in for suspended starter Jameis Winston said, "but we're just going to continue to ride this momentum."
Next up is a prime-time matchup next Monday against the Pittsburgh Steelers.
Suddenly, what once looked like a potentially tough start to the season with Winston serving a three-game ban for violating the NFL's personal conduct policy is turning into one of the league's best feel-good stories.
The Bucs, coming off a 5-11 finish last season, haven't made the playoffs since 2007.
"You can't peak too early. We have a lot of football left," receiver DeSean Jackson said. "I just know this team and this locker room is a different team than how we were last year."
So are the Eagles (1-1), who fell behind on Jackson's 75-yard TD reception of the first play of the game and never fully recovered.
Nick Foles threw for 334 yards and one TD without an interception, however an injury-decimated offense hurt itself with turnovers, penalties and other mistakes.
The loss left Eagles coach Doug Pederson in no mood to draw comparisons to last season.
"I'm not going to go back and pull out old memories," Pederson said. "New team, new faces. We've got our own set of circumstances now."
Some things to know about the Bucs' victory over the defending Super Bowl champs:
FAST START
Fitzpatrick threw for more than 400 yards and four touchdowns for the second straight week. In addition to teaming with Jackson on the first play from scrimmage, the 35-year-old quarterback connected with tight end O.J. Howard on a 75-yard scoring play in the second quarter.
Chris Godwin and Mike Evans had TD catches, too, and Jackson finished with four receptions for 129 yards.
"It's unbelievable," Jackson said of Fitzpatrick, who thrown for 819 yards and accounted for nine TDs in two games. "He's playing out of this world right now."
SLOW START
Philadelphia's defense yielded 271 yards passing and three touchdowns in the first half. The offense, already playing without Carson Wentz, Alshon Jeffery and Darren Sproles, wasn't helped by losing running back Jay Ajayi, receiver Mike Wallace and left tackle Jason Peters in the first half.
Nick Foles wound up throwing for 334 yards, but by the time the Eagles began to move the ball consistently they trailed 27-7.
"A lot of self-inflicted wounds," Pederson said of his team's sloppy play early.
"Guys step up all the time and that's what we did," Foles said. "We gave ourselves an opportunity to win this game."
NO TIME TO PANIC
Foles, who stepped in for Wentz after the Eagles lost their starting quarterback to injury late last season, tried to put the loss and the team's offensive woes in perspective.
"We didn't win every single game last year. I think people forget that," Foles said. "There's a lot of expectations for us, but we can't put that kind of pressure on ourselves."
Nelson Agholor's 2-yard TD reception trimmed Philadelphia's deficit to 27-21 with 2:46 remaining.
"We had our shots. I just feel like if we had got that ball back one more time, we would have a chance to try to win it," Peters said. "But we were pinned back there with 20 seconds left and we didn't have a lot of options."
THE LAST TIME
The Bucs are 2-0 for only the second time since 2005, when they went on to finish 11-5. They also won their first two on the way to a 10-6 record in 2010, but did not earn a playoff berth.