In Tampa, Baylor hangs on for thrilling NCAA win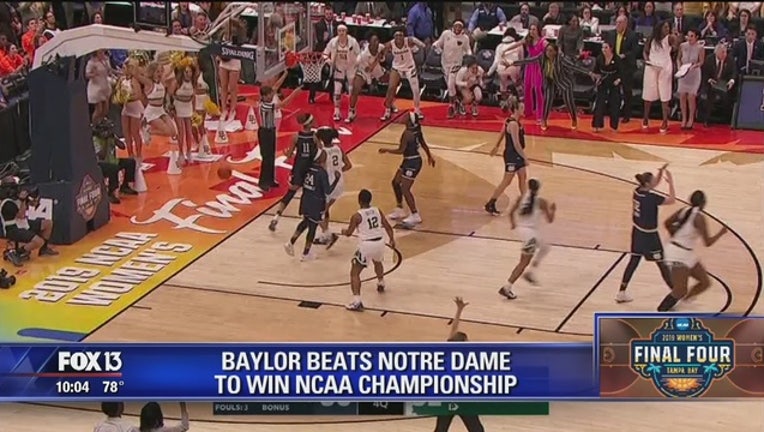 LARGO, Fla (FOX 13) - The Fighting Irish fans hoped to defend their title, but Baylor University didn't want to see another Notre Dame win.
Baylor fans were granted their wish: The Lady Bears defeated the Fighting Irish 82-81 in a thriller game that was suspenseful to the final seconds.
The two teams faced off Sunday in Amalie Arena for the NCAA Women's National Championship, drawing thousands of fans from around the country, including students who came to see the game.
"It's really exciting because there's been opportunities where they've been able to bring students here from Waco, and so just the chance of being one of the last two teams is chance of a lifetime, that only two teams get," said Baylor University senior Kendyl Waller. "So getting the chance to come here is really a blessing."
Even fans who've watched the team for decades came out, like 81 year-old Laura Hagan, who also watched the Fighting Irish play when the NCAA Women's Final Four was in Tampa in 2015.
"I bought the tickets back in August, and every time they play a game I text them and say way to go girls!" Hagan said.