Jackson bemoans missed opportunities in Bucs' loss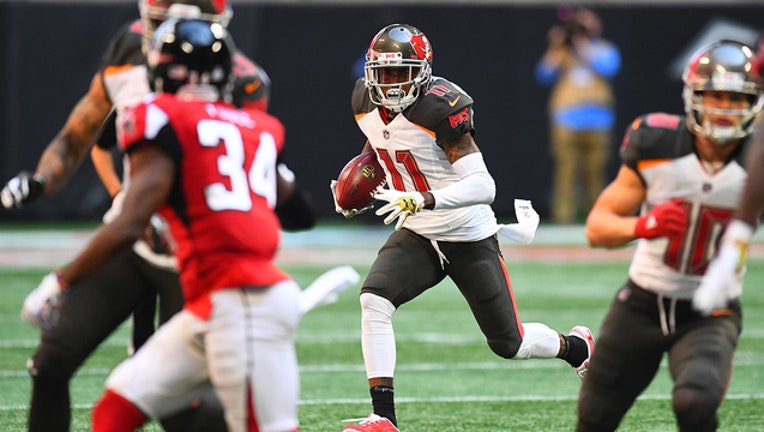 ATLANTA (AP) - DeSean Jackson wasn't looking forward to the film review of Tampa Bay's third straight loss.
He already knew the missed scoring opportunities would be the most painful part of the Buccaneers' 34-29 loss to the Atlanta Falcons on Sunday.
Too many times, the Buccaneers (2-3) whiffed when given an opportunity to keep up with the Falcons' scoring pace.
"If you want to win in the NFL, you can't afford that," Jackson said. "Once again, three consecutive games. A terrible feeling. I'm very disappointed and we've got to figure it out."
Three plays will be especially difficult for Jackson and his teammates to watch:
- In the second quarter, quarterback Jameis Winston tried to connect with Jackson on a deep pass from the Atlanta 47. Jackson had no chance on the overthrown pass that was intercepted by Damontae Kazee at the Atlanta 1.
- In the third quarter, Winston's pass from the Atlanta 7 intended for Chris Goodwin in the end zone was deflected and then intercepted by Brian Poole .
- Finally, with time for only one play from the Falcons 21, the Buccaneers pulled out a trick play instead of throwing to the end zone. Winston ran up the middle, close to the 10. He then pitched the ball to Adam Humphries, who bobbled and juggled the ball for a brief moment before pushing it to Mike Evans, who made a jump-pass on a bounce toward Jackson, but Jackson couldn't make the catch.
Jackson might have had an open lane to the end zone and a possible game-winning touchdown if the ball had bounced into his hands. Instead, it went out of bounds as the final seconds left the clock.
Jackson said he might have successfully fielded the ball "if I was playing baseball, if I was playing Major League Baseball."
His anguish was obvious as pulled off his helmet, kicked the pylon and kept walking to the end zone in front of cheering Falcons fans.
"No way we should have lost to this team," Jackson said. "We're a way better team than what we showed today. It's frustrating. We work so hard and we've got so many great, talented guys in here. We have to figure out a way. The last three games we haven't won so that's the frustrating part."
Winston said the Bucs wouldn't have had to depend on the wild, final play if they had taken advantage of other scoring chances.
"For me personally, it's just about execution, so we don't have to put ourselves in that position," Winston said. "We're going to have games where things go our way ... but you're going to have some of those bounces and those bumps. You have to overcome those bumps and I think that's what we can do with this game. We have to get over this. We have to put this game behind us."
Winston completed 30 of 41 passes for 395 yards and four touchdowns in his first start of the season, but he also threw two interceptions.
"Yes, it was a tough loss in the division, but we're still in a good spot," he said. "It's still the beginning of the season and we have to execute better, I have to protect the football and we will win games."
___
For more AP NFL coverage: https://apnews.com/tag/NFLfootball and www.twitter.com/AP_NFL