Kicker Connor Barth excited to rejoin Buccaneers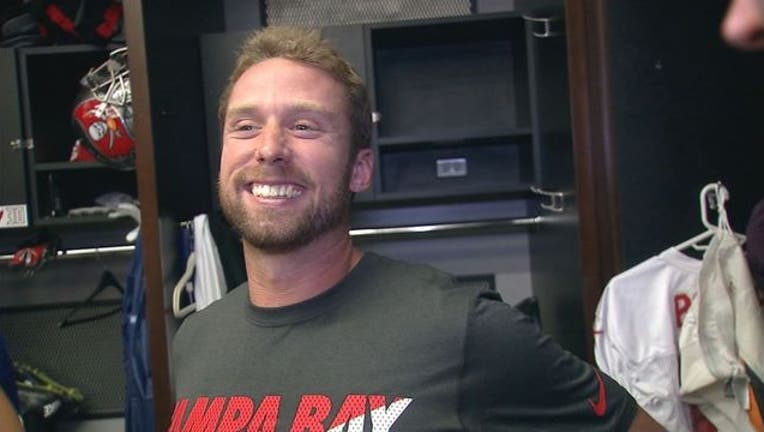 article
TAMPA, Fla. (AP) — Connor Barth didn't wait for a phone call to let the Tampa Bay Buccaneers know he was interested in being the answer to their kicking woes that have contributed to another slow start.
Instead, the eighth-year pro who's the most accurate field goal kicker in franchise history took to social media — all in fun, he insisted Wednesday — to let his old team know he was available for the right price.
"I'm a light-spirited guy," Barth said Wednesday. "I was sitting around with my dad, watching football. We were just having some fun."
The Bucs (1-3) are serious about trying to resolve problems with their kicking game after rookie Kyle Brindza performed poorly the past two games, going 2 for 7 on field-goal attempts and also missing a pair of extra points.
Barth signed for a third stint with Tampa Bay after a workout Tuesday. An 85.3 percent career field-goal kicker, the 29-year-old was with the Bucs from 2009-2012 before tearing his Achilles tendon during a charity basketball game and sitting out the 2013 season.
He spent a portion of last season with Denver, making 15 of 16 field goals, after losing the Bucs job to Patrick Murray in training camp. He returned to Tampa Bay for a brief stay this summer after the Broncos released him in August.
"It's a business. I'm just looking forward to coming in here and helping this team win some games," Barth said of a winding journey that eventually brought him back to the Bucs.
"I think it's pretty normal for a kicker. It's very rare these days you're going to stick with one team," he added. "You've got to look at as a business, and you're kind of a consultant. There are 32 jobs (in the NFL). It's just a blessing to play and be one of 32 guys."
Brindza, acquired from Detroit in a trade before the final preseason game, missed three field goals and an extra point during a 10-point loss at Houston two weeks ago.
With Tampa Bay trailing 17-10, he misfired on attempts of 29 and 43 yards against Carolina on Sunday. He also missed an extra point in the fourth quarter, and the Bucs wound up losing 37-23.
Barth voiced his interest via Twitter after the rookie's second miss.
The veteran kicker acknowledged Wednesday that the biggest reason he may have been available at all is he hasn't been as consistent on kickoffs as he's been on field goals during his career. In addition to making 116 of 136 field goals, he's converted all 149 of his extra points.
The Bucs were interested in Brindza because of his strong leg and the high percentage of touchbacks he delivered on kickoffs.
But after watching a potential 17 points slip away the past two weeks, coach Lovie Smith said accuracy was the first priority in signing a successor.
"First it's about being able to hit field goals and extra points," Smith said. "Yes, we would want him to put it out of the end zone on kickoffs, but we just aren't looking for a kickoff guy. We're looking for a guy that can hit field goals and be accurate with it first."
Barth said he excels at both, noting that for most of his initial stay in Tampa Bay he didn't have to because ex-Bucs punter Michael Koenen handled kickoffs at the time.
"I had the awesome luxury of having Mike here for three years," Barth said. "It wasn't because I couldn't kick off, I just didn't have to do it. ... People have kind of forgotten that I could. I did kick off the first two years here. It's just getting back in a rhythm."
___
AP NFL website: www.pro32.ap.org and http://twitter.com/AP_NFL