Tropical Storms Peter and Rose form in Atlantic; pose no threat to United States
TAMPA, Fla. - After short-lived Tropical Storm Odette became a post-tropical cyclone in the Atlantic, it didn't take long for Tropical Storm Peter to arrive and Tropical Storm Rose to follow.
As of Sunday evening, Tropical Storm Peter had maximum sustained winds of 45 miles per hour and was moving west-northwest at 17 miles per hour. The National Hurricane Center says the storm will continue northwest for a few days before turning north, likely remaining well off the East Coast.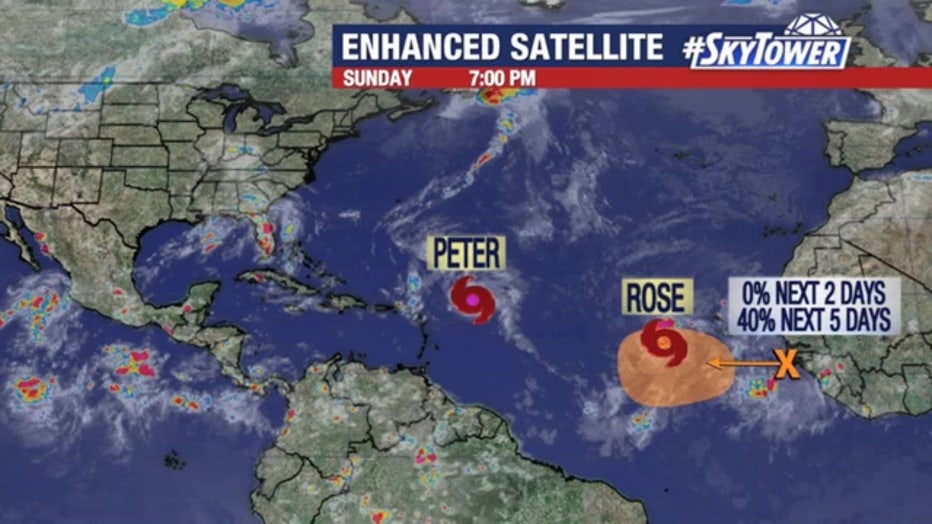 Tropical Storm Rose also formed on Sunday and is moving north-northwest at 16 miles per hour with maximum sustained winds of 40 miles per hour. As of Sunday night, there were no coastal watches or warnings in effect. 
The National Hurricane Center expects Tropical Storm Rose to strengthen through Monday and then begin a slow weakening trend.
Forecasters do not expect Tropical Storm Peter or Rose to hit the United States. Another system to watch has formed off the coast of Africa but poses no immediate threat.