Beloved Bradenton coach killed in crash that injured his kindergarten teacher wife: 'It's heartbreaking'
BRADENTON, Fla. - The Freedom Elementary School community in Bradenton is heartbroken after a crash in St. Petersburg over the weekend killed one teacher and left another injured.
According to St. Pete Police, Jeffrey Wilson was with his wife, Ariane, and their adult daughter Saturday. They were crossing 3rd Street North at the corner of Central Avenue when the two parents were hit by a car turning onto 3rd.
RELATED: Manatee County teacher hit and killed by car in St. Pete crosswalk: Police
"We saw a car try to beat the red light over there," said Hank Haddad, General Manager of Central Cigars, which is near the intersection. "I believe the father and his wife got hit, but he was the worst."
Haddad said security video from his business recorded the crash. Witnesses, including customers from his store, ran over to try to help.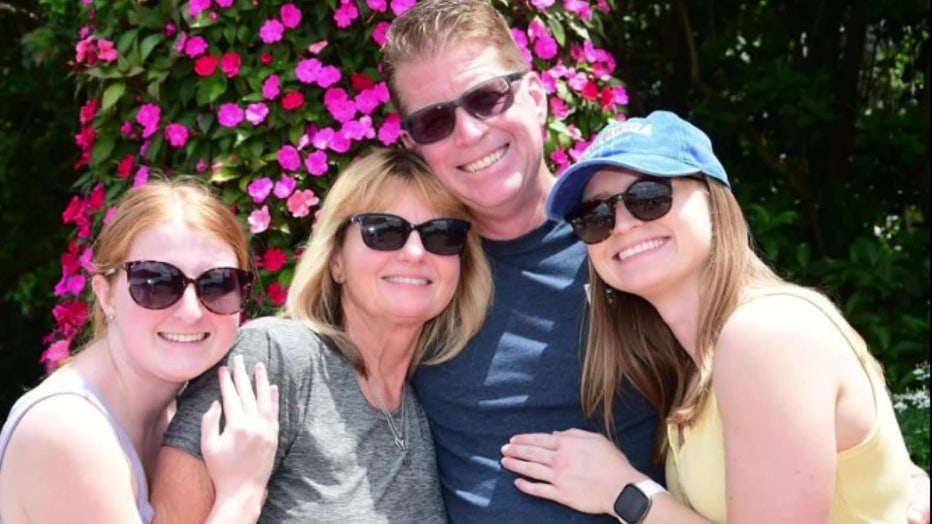 Jeffery Wilson in a family photo. Image is courtesy of Freedom Elementary School. 
Jeffrey Wilson, 54, passed away Tuesday. Arian Wilson, however, survived.
"Probably just a family just enjoying a Saturday night. Obviously did not expect that. It was just such a tragedy," said Haddad.
"It's heartbreaking," said Josh Cameron, owner of Where's Jubes pub, which is also at the intersection of the crash. "You can put yourself in that situation like someone goes downtown to have a little bit of fun, and then the next thing you know, it just ends in tragedy."
READ: FHP: 2 people killed, 1 seriously injured in Tampa crash
Jeffrey Wilson was a physical education teacher at Freedom Elementary school, who also coached soccer. His wife taught kindergarten at the school.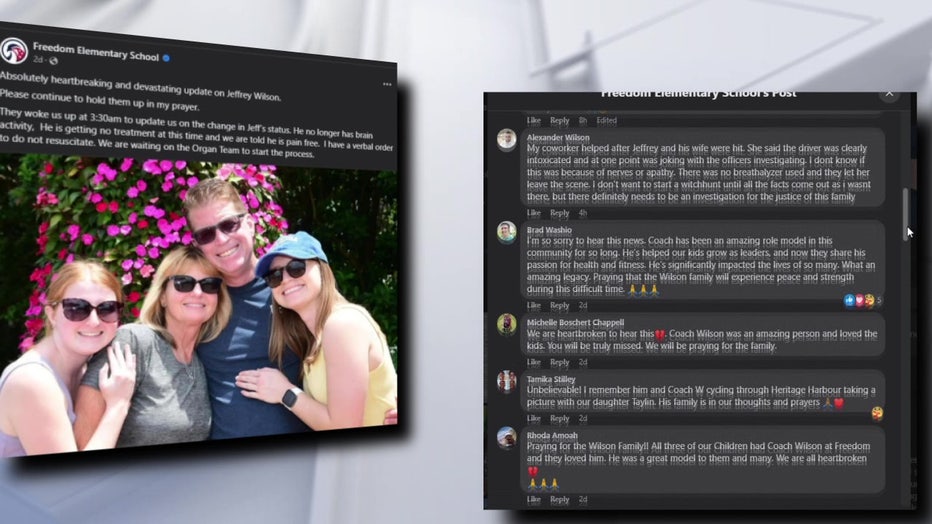 Social media tributes poured in following the deadly crash. 
The principal told FOX 13 roughly 200 people left handwritten notes at the school. Others posted tributes on social media.
"Coach Wilson was so, so kind to both our daughters. He was a wonderful role model to all," wrote one person.
Another parent wrote that Wilson helped her son, who has a developmental delay.
"He felt so safe with Coach Wilson, and we will forever be grateful."
St. Petersburg Police have not charged the 23-year-old driver, who is cooperating with investigators. Police haven't said whether speed was involved.