5 people found dead in vehicles torched by fire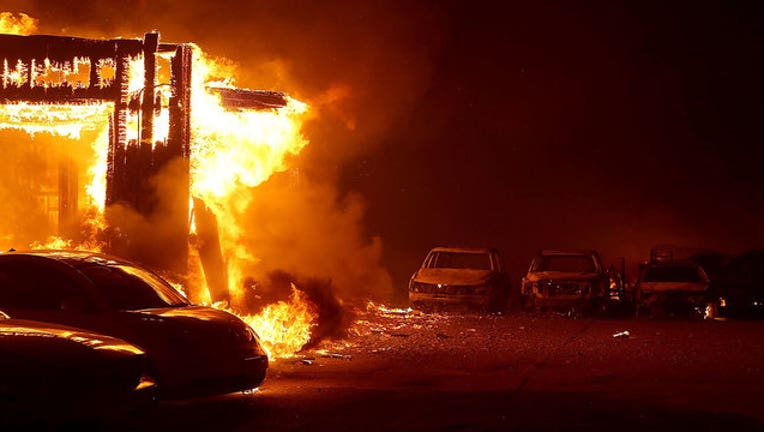 article
(AP)--Northern California officials say investigators found five people dead in vehicles that were torched by the flames of a ferocious wildfire.
The Butte County Sheriff's Office said Friday the victims were found in the same area in the town of Paradise, near a main thoroughfare heading out of town that was consumed by flames.  The fire has grown to nearly 110 square miles.  Paradise is 180 miles northeast of San Francisco.
The victims could not immediately be identified because of the burns they suffered.
A California fire official says six major fires are burning around the state, and characterized three of them as "critical."
California Department of Forestry and Fire Protection Director Ken Pimlott said Friday firefighters are focused on saving lives and are still rescuing people from fires.
A California National Guard official says 100 military police are headed to Northern California to help evacuate people.
Maj. Gen. David Baldwin says other military personnel are studying satellite imagery to assess the scope of the damage and map the fire.
Elsewhere, fire officials say evacuations due to a raging Southern California wildfire are expected to reach about 148,000 and structural losses are expected to be significant.
The so-called Woolsey Fire burning west of Los Angeles has surpassed 15 square miles  Friday morning and is continuing to grow.
Los Angeles County Deputy Fire Chief Dave Richardson says 45,000 people in Ventura County and 43,000 more in Los Angeles County were ordered to evacuate overnight.
Richardson estimates another 60,000 people will likely have to evacuate because the fire jumped U.S. 101 early Friday and is pushing toward the coast.
He says the fire's pace forced firefighters to focus on life-protection rather than saving structures and he expects that yet-to-be-determined number to be significant.
Another fire to the west has burned more than 9 square miles in Ventura County but has slowed since reaching the footprint of a fire stripped away vegetation in 2013.