Allegiant Air added new routes in the Bay Area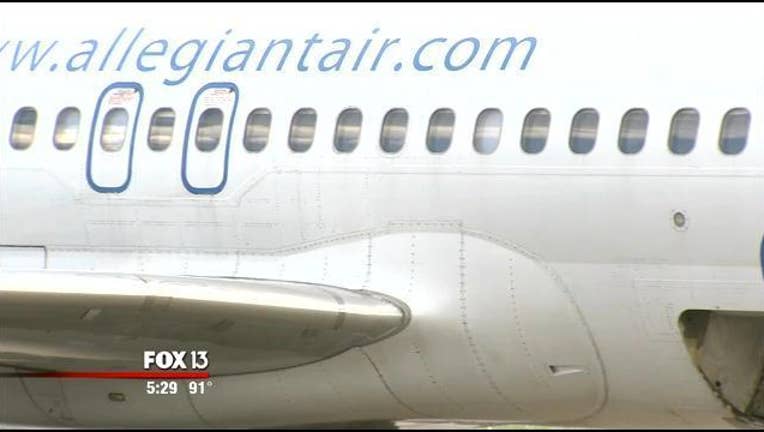 article
Allegiant Airlines added more flights in and out of St. Petersburg-Clearwater International, and the airport set a new monthly record for passengers in July. 
Now Allegiant plans to add three more non-stop connections later this year, and the airport is expanding passenger accommodations. 
"Gates 7 through 10, we're going to be expanding those hold rooms... so we'll have up to 750 more seats in that terminal area," airport spokesperson Michele Routh said Tuesday, adding the growth will be paid for with grants and user fees. 
"We are a pay as you go airport," Routh explained. "This airport has never been supported by local, federal or state tax dollars."
Allegiant now provides non-stop service to 44 small and mid-sized markets, and in November will add Appleton Wisconsin, Scranton Pennsylvania and Kansas City Missouri to the list. 
The airport is on track to see 1.7 million passengers this year, shattering the record of 1.33 million set in 2004. 
A decade ago the numbers came from several now-defunct or departed carriers. Now it is nearly all Allegiant, which overcomes persistent negative news of emergency landings and other mechanical issues with irreplaceable service.
"To be able to fly anyplace from a place like Springfield-Branson (Missouri)... non-stop is a real bonus -- you just don't get that very often," in-bound passenger Mick Unsell explained. 
"When we've flown we've never had any issues- and I haven't heard anything that's bad enough to make us stop flying it," added Sarasota-based passenger Angela Walker.
Visit St. Pete-Clearwater, the county's tourism bureau is also a partner.
In addition to flying airplanes, Allegiant packages vacations.
"They buy hotel product, high volume, and they match up a flight with a hotel here and they sell it," tourism director David Downing explained. "The Allegiant Airlines vacation product is the highest producer of room nights for Pinellas county associated with an airline." 
VSPC is currently running radio ads in several of Allegiant's northern markets.
Although significant, Allegiant Airlines is just one of many contributors to Pinellas tourism, and a relatively small part of the airport's operations.  Commercial passenger flights account for 5-percent of the operations [takeoffs and landings].  General aviation flights represent 80-percent of the operations and 12-percent come from the military:  The airport hosts a U.S. Coast Guard Air Station.