Apollo Beach man combines love of cars with Halloween
APOLLO BEACH, Fla. - It's a Great Ride fit for Dracula.
A 2003 Mazda Miata, owned by Bill O'Brien in Apollo Beach, is also known as the Vampire Miata.
"I've always, since  I was a little kid, I loved to dress up and always helped my parent do our house up with different things," Bill explained to FOX 13.
From early on, he was clearly a big Halloween guy.
"When I bought the car, I decided to put the plastic teeth in it to give it the Dracula look, and stuck it out the front of my garage and it just became an instant hit," Bill said.
Over the years, he's added more spooky details, like a pair of pillow stuffed pants and fake hands. The full setup makes Bill O'Brien's home the place to be on Halloween.
MORE: Owners of Ol Macs Farm couldn't resist buying cow-print Western Lido
"Fog machine and strobe lights," he added. "With social media nowadays, it's become a pretty popular spot to get the kids candy."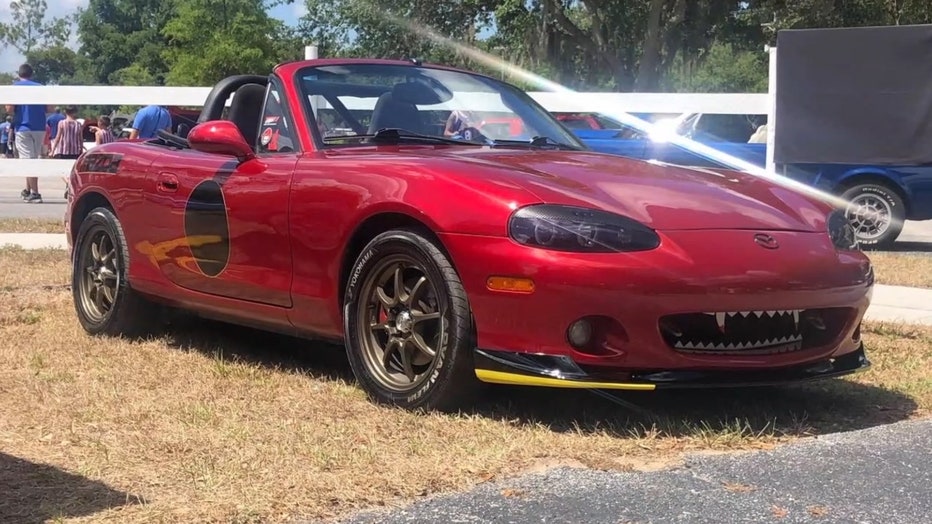 The Vampire Miata is a head-turner on the racetrack too.
"I run down to Fort Myers now, and sometimes at Daytona and Sebring when they have events," O'Brien explained. "You can really pretty much put it to its limits and get the tires squealing."
If you see this ride on the roadway, just make sure "Skully" is in the passenger seat.
"Since I put the skeleton in the front seat," Bill said. "I have a lot of people taking pictures."