As they reopen, restaurants insist diners' safety is top priority
TAMPA, Fla. - Restaurants across the state started serving dine-in customers again Monday, but with some changes including limited seating, disposable menus, and a heavy focus on sanitation.
"We were closed for 48 days, but who's counting?" said Jeff Gigante, owner of Forbici Modern Italian.
At the Hyde Park restaurant, more than 220 guests came out for a bite Monday.
"The energy's palpable; people really wanted to kinda get back out and start to rebuild a sense of normalcy in their life," Gigante said.
To help ease fears, tables are spaced 6-feet apart, and capacity is capped at 25%. Safety precautions are posted around the dining room, and both employees and guests have their temperatures taken then they arrive.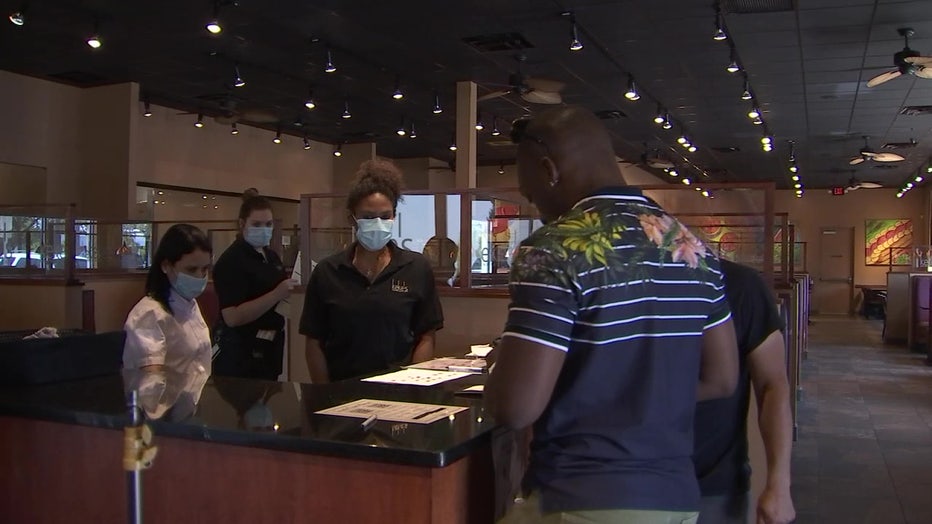 "Everyone touching any kind of plate or silverware or any interactions with guests will be wearing gloves," explained Gigante.
Even Monday morning, folks were ready to have a bite out. The dining area was open and ready Monday morning at Keke's Breakfast Cafe in Tampa and customers like James Ruefer showed up early.
RELATED: Citing financial and practical concerns, some restaurants opt keep dining rooms closed
"I'm actually happy to get out of the house and be able to explore and feel the fresh air again," he said.
Ruefer says he feels safe going out to eat.
"It feels good. Feels good to be back out. I think the energy is very positive," he explained.
Restaurant manager Jenny Rievera had 30 customers dine-in for breakfast and lunch. She says they are following all of the state guidelines to re-open, including limiting their seating capacity to 25%.
"My staff and everybody is really, really happy to get out of their homes right now," Rievera offered.
The staff are wearing face masks to protect themselves and customers. 
"We are prepared for you guys, but every single store, we make sure we follow the guidelines," explained Rievera.
At Outback Steakhouse, their dining area is opening for the first time in weeks. The management says seating plans have been tweaked a bit. They plan to close a certain number of tables at each restaurant to achieve social distancing rules. They will have one-time-use paper menus and disposable condiments.
RELATED: Florida official explains restaurant reopening rules
In Ybor City, staff at Zydeco Brew Werks are also focused on keeping things clean.
"We're doing all throwaway menus, staff are wearing masks when they're dealing with customers, we're using plastic ware, we have some sanitation stations, we're really vigilant about sanitizing tables and chairs as soon as people get up," said Head Brewer, Paul Ruthorford.
To try to help bring in more customers, the city of Tampa launched the Lift Up Local Economic Recovery Plan. The 14-day pilot allows restaurants to use sidewalks, parking lots and even the streets in eight areas for more seating. 7th Avenue between 15 and 21st Streets is one of those street activation zones.
"I think it will draw some more attention to our outside space," Ruthorford said.
There are some rules for the expanded outdoor space, like requiring reservations.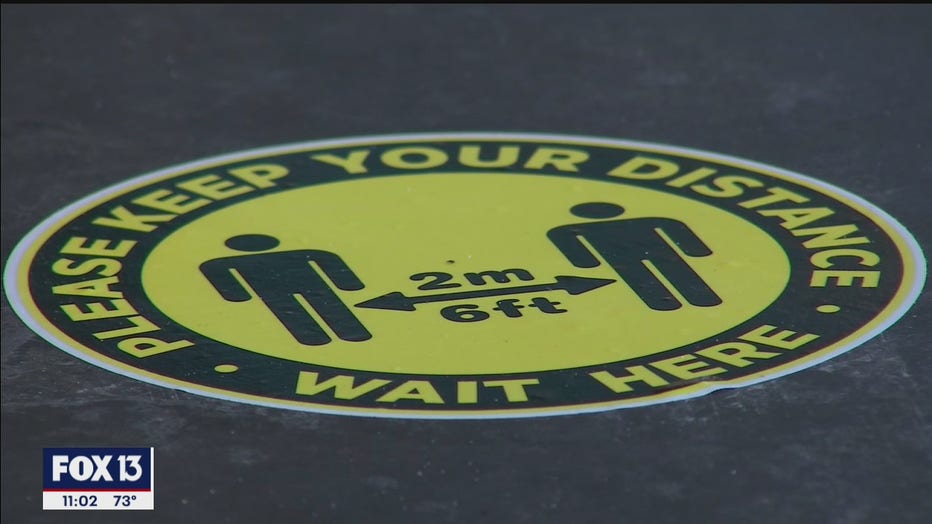 In the Hyde Park Zone, Gigante says they plan to erect a tent and make the area feel like a sidewalk café.
"The 25% limitations inside are hard for us to hit our revenues, so that's kinda a losing order for us," he said. "But having outside and more seating available it helps us kinda get back to some sort of normalcy with our revenues."
Code enforcement and Tampa police will be out in the city making sure restaurants follow the rules, and people are staying spaced out. Especially in the street activation zones.
If you feel sick:
The Florida Department of Health has opened a COVID-19 Call Center at 1-866-779-6121. Agents will answer questions around the clock. Questions may also be emailed to covid-19@flhealth.gov. Email responses will be sent during call center hours.
LINK: Florida's COVID-19 website
CORONAVIRUS IN FLORIDA: What you need to know
AROUND THE WORLD: CoronavirusNOW.com
Map of known COVID-19 cases:
MOBILE APP USERS: Click here for map