Bay Area retirement community rewards artist for pursuing his passion
TRINITY, Fla. - A Bay Area artist who's being painting since childhood is being rewarded for his work.  
Joe Farr is painting a familiar face. 
"This is a self-portrait," Farr explained. "This was actually a picture of me and Diana whale watching." 
His joy of painting started as a kid. 
"I drew cartoons and stuff and I would sketch different things," he shared. 
At, 84, Farr, still has an inkling to create. 
READ: Barber shop giving free cuts to kids in foster care
"I enjoy the fact that I'm enjoying it and I also I'm improving as I work. You know, each year I seem to get a little better than I was last year," he said.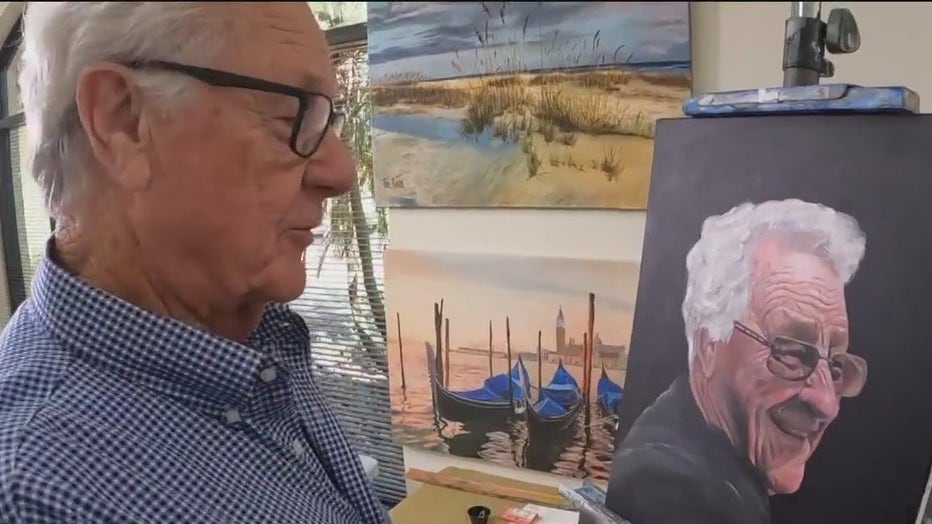 He's gotten so good that he was just featured in Watermark Retirement Communities annual 'Expressions Calendar'. 
Every year the retirement communities put out an award-winning full-color wall calendar that celebrates active aging and the arts.  
READ: Blog helps women over 40 realize their potential
"It's fun to get the recognition of being an artist. You know, everyone likes to be recognized," Farr added. His winning work is called 'Venice'. 
"I spent as much time on the background as I did on the water and the works of the water," Farr explained.
Farr is a self-taught artist who works primarily with oil paint on canvas. 
READ: Lutz man's dedication to helping community pays off, after 7 years
"I have to have a good photograph to copy from to do the realistic work that I do. This is all almost like photographically reproduced instead of like loose oil painting," Farr said. 
Work that is opening a window to the world of beauty. Although Farr did do a self-portrait, he paints mostly pictures of nature, landscapes, vegetation, flowers and plants.