Clearwater man accused of throwing fire extinguisher at Capitol officer may seek plea deal
CLEARWATER, Fla. - Federal prosecutors say on January 6, 2021, Robert Palmer was caught on cell phone video, wearing a distinctive American flag jacket, spraying Capitol police with a fire extinguisher, and then throwing the canister at them.
The Clearwater man remains out on bond while he fights the criminal charges. His attorney Bjorn Brunvand maintains it's a complex case. 
"The great majority, including my client, did not go there with evil intent," said Brunvand.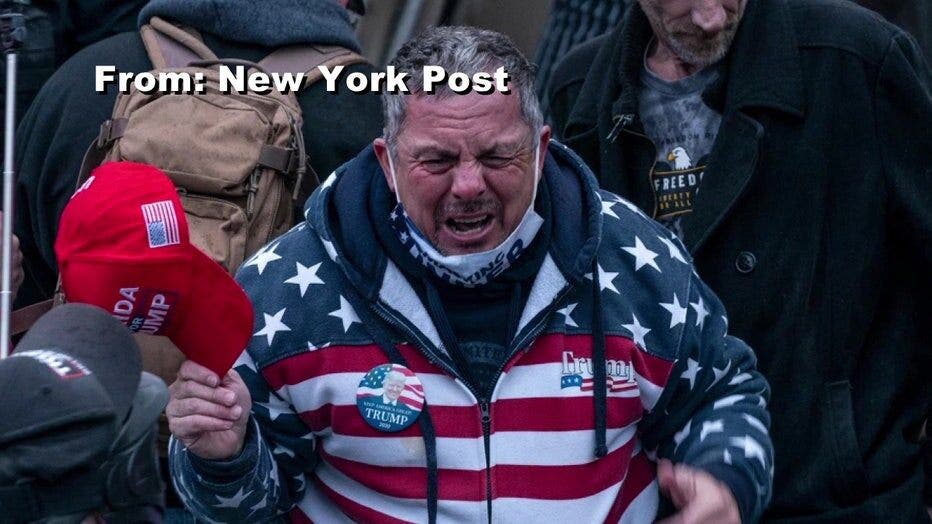 Robert Palmer (New York Post)
On Monday, Tampa resident Paul Hodgkins was the first to plead guilty to a felony charge of obstructing an official proceeding for his involvement in the deadly riot at the Capitol.
The judge handed down an 8-month prison sentence. Video of that day shows Hodgkins on the Senate floor, waving a Trump campaign flag.
Legal experts say Hodgkins' case is now a benchmark for the rest of the hundreds of cases against accused rioters, including Palmer's.
RELATED: Hillsborough GOP calls on Gov. DeSantis to keep US Capitol Police from opening Tampa field office
"It gives us some insight into what we might expect for those who have clients with similar charges and similar exposure," explained Brunvand. "It's very likely that, at some point, my client's case will be resolved with a plea, as well."
However, Brunvand recognizes every judge handles each case differently. There is no cookie-cutter outcome.
Palmer faces charges including two counts of assaulting a law enforcement officer; more serious charges than Hodgkins, but resolving it quickly may be the way to go. It worked for Hodgkins.
"Many times, early acceptance of responsibility is always looked upon favorably by the courts. That's a factor that we look at," Brunvand said. "The hope is some charges [will] be dropped or reduced that we can reach a resolution that everyone can live with."