Deputies search for missing elderly woman last seen 2 weeks ago at Publix in Highlands County
SEBRING, Fla. - Helen Becker has been by her husband's side for more than 42 years, and now she is gone. Detectives say the 81-year-old mysteriously vanished two weeks ago, and they have almost no leads to go on.
Deputies in Highlands County are now asking for the public's help to find her.
Investigators said 81-year-old Margaret Becker, who usually goes by the first name of Helen, was last seen at a Publix in Sebring on Jan. 16.
Initially, deputies had said Becker's last known location was the CVS at 2728 US 27 South around 4:19 p.m. that day. After picking up her prescriptions, she left the store at 4:48 p.m. A person who saw her in the CVS said she appeared confused. However, her family told authorities she has not been diagnosed with dementia.
The sheriff's office later said Becker was seen a little over an hour later in Publix, located at 2848 US 27 South, at 6:05 p.m. She purchased bananas and left the store at 6:17 p.m.
From there, the trail goes dark.
Investigators are trying to determine where she was in the 77 minutes between the stops at CVS and Publix.
Her entire family is at their wit's end.
"I want her to know I miss her very much," Fred Becker said during a news conference Tuesday.
Detectives have not been able to trace her cell phone or get a signal from her OnStar system.
"We're willing to do search parties. We'll do whatever it takes, but we just have no direction what to do," said the missing woman's stepdaughter, Sheri Becker Unger.
Video from inside Publix showed Becker wearing knee-length, light blue pants or jeans and a blue-checkered shirt. Deputies said she appeared a little unsteady on her feet.
 "We do know that, at the time, the military was conducting operations out at the Avon Park Bombing Range and they put out that there could be some disruptions from that operation. From what they were doing, that may account for the fact that there are no breadcrumbs," said Scott Dressel, spokesperson for the Highlands County Sheriff's Office.
Becker's vehicle is also missing. She was driving a 2018 blue Chevy Colorado pick-up with the Ohio tag HOB 214. The sheriff's office tried searching for the vehicle from the air to no avail.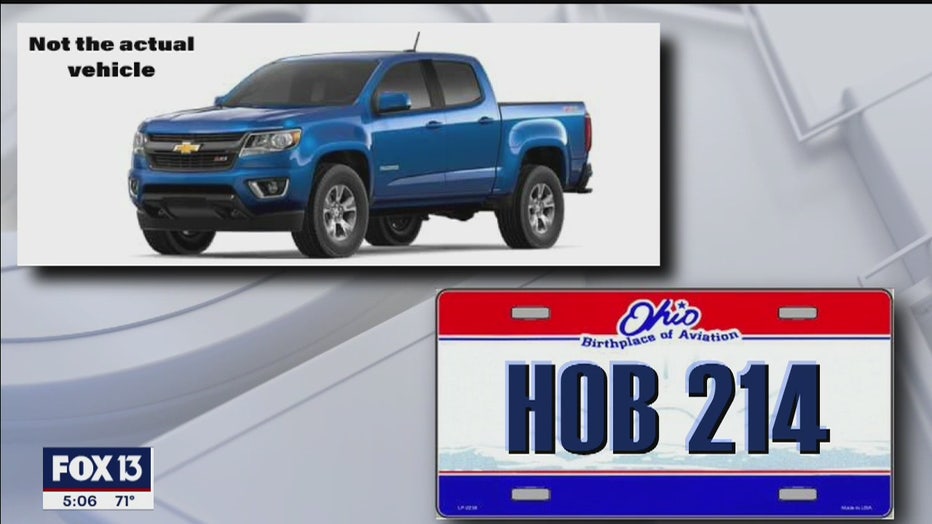 Dressel says they have no indications of foul play.
If anyone has seen Becker, call detectives at 863-402-7200.