Disruptions in food distribution complicate feeding students
TAMPA, Fla. - The general manager of student nutrition for Hillsborough County schools says they went short on entrees first.
"Chicken was a biggie, we have a lot of chicken on our menu," said Shani Hall. "And they couldn't get the chicken in. Then it was the fruits, couldn't get the canned fruits."
Each day, they serve 120,000 lunches, 65,000 breakfasts, and 59,000 dinners. Hall says the variety shortages continued from there – hitting pizzas, peanut butter and jelly sandwiches, and even paper products.
"There have been times where a manager has called me and said, 'OK, I'm lucky I've got the food, but I have nothing to put the food on," she said. "So we've had a shortage in our trays, in our bowls, and the things we put the food in."
Their supplier is Gordon Food Service, also used by Sarasota County schools, which is having similar issues.
MORE: Pasco schools consider 'far-reaching' schedule change due to bus driver shortage
"From what I'm hearing, the ingredients are there, but it's more about getting the ingredients to the actual customer, or they don't have drivers to drive trucks," said Sara Dan, Sarasota Schools Food and Nutrition Services director. The district serves more than 31,600 meals a day.
It's a struggle schools are seeing nationwide. In Alabama, one district told parents to feed their children breakfast at home and send them to school with snacks.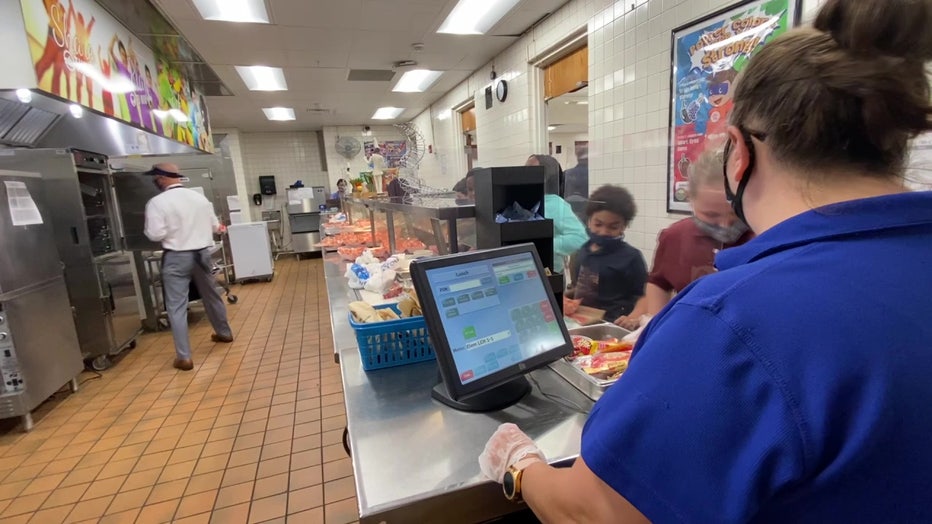 In June, some Florida school districts served by the distributor U.S. Good Service were told the company couldn't provide meals for this school year, leading districts scrambling to find new distributors.
Which makes leaders at districts like Hillsborough and Sarasota grateful.
"We're fortunate we have food, because we do know in other parts of the country they've had to go to once-a-month deliveries," said Dan. "It's some interesting times that are going on in our industry right now."
Hall urges families and students to be patient with the changes. She says even those with food allergies are seeing a lot of repeat meals, and less variety.
"We have really had to say to the managers, 'Please be flexible.' To the parents I talk to, 'please be flexible with us,'" she said. "Because our chef, we have a district chef and she looks at what's coming in and she tries to make it work in our existing recipes as much as we can."
FOX 13 reached out to Gordon Food Services for comment on the changes, but did not hear back.