Eliza Fletcher abduction: Suspect charged in jogger's murder spent 20 years in prison for kidnapping attorney
MEMPHIS, Tenn. - The man charged with kidnapping and murdering a Tennessee woman jogging near the University of Memphis last week spent 20 years behind bars for a previous kidnapping.
U.S. Marshals arrested 38-year-old Cleotha Abston on Saturday after police detected his DNA on a pair of sandals found near where Eliza Fletcher was last seen, according to an arrest affidavit. Police also linked the vehicle they believe was used in the kidnapping to a person at a residence where Abston was staying.
Memphis police said in the affidavit they believed she was seriously injured in the abduction, which was caught on surveillance video. Authorities have said Fletcher, 34, was jogging around 4 a.m. on Friday when a man approached her and forced her into an SUV after a brief struggle. Fletcher was reported missing when she did not return home that morning.
RELATED: Police identify body of kidnapped Memphis jogger Eliza Fletcher
Late Monday, police tweeted that a body had been found in a Memphis neighborhood but that the identity of that person and the cause of death was unconfirmed. The tweet made no reference to the Fletcher case, saying only that the investigation was ongoing. A large police presence was reported in the area where authorities reported finding the body just after 5 p.m., local news reports said.
Tuesday morning, Memphis police confirmed that the deceased body had been identified as Fletcher, and said Abston had additional charges added for first-degree murder and first-degree murder in perpetration of kidnapping.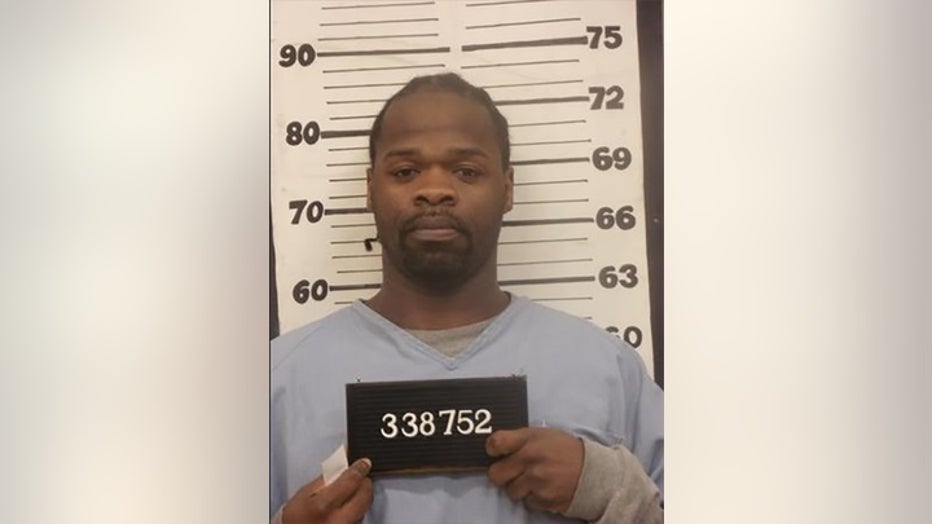 A photo of Cleotha Abston. (Tennessee Department of Corrections)
Previous kidnapping charge and conviction
Abston previously kidnapped a prominent Memphis attorney in 2000, the Commercial Appeal reported. 
When he was just 16 years old, Abston forced Kemper Durand into the trunk of his own car at gunpoint. After several hours, Abston took Durand out and forced him to drive to a Mapco gas station to withdraw money from an ATM. At the station, an armed Memphis Housing Authority guard walked in and Durand yelled for help. Abston ran away but was found and arrested. 
He pleaded guilty in 2001 to especially aggravated kidnapping and aggravated robbery, according to court records. He received a 24-year sentence.
Durand, in a victim impact statement, wrote, "I was extremely lucky that I was able to escape from the custody of Cleotha Abston. ... It is quite likely that I would have been killed had I not escaped," the Commercial Appeal reported. Durand noted that it took over a year for Abston to sign the guilty plea, calling the refusal "jailhouse braggadocio."
Durand also detailed Abston's lengthy history in the juvenile court system. In the years before the kidnapping, Abston had been charged with theft, aggravated assault, aggravated assault with a weapon, and rape, according to Durand's statement.
RELATED: Suspect in Eliza Fletcher's abduction allegedly cleaned 'vehicle of interest' prior to arrest, police say
Durand died in 2013, seven years before Abston would be released in November 2020 at age 36. In the two years since his release, there were no further documented charges against Abston in Shelby County prior to his Saturday arrest, the Commercial Appeal reported.
Online court records do not show if Abston has a lawyer who can comment on his behalf. An arraignment has been set for Tuesday.
Fletcher is the granddaughter of the late Joseph Orgill III, a Memphis hardware businessman and philanthropist. The family had released a video statement asking for help in finding Fletcher and offered a $50,000 reward for information in the case.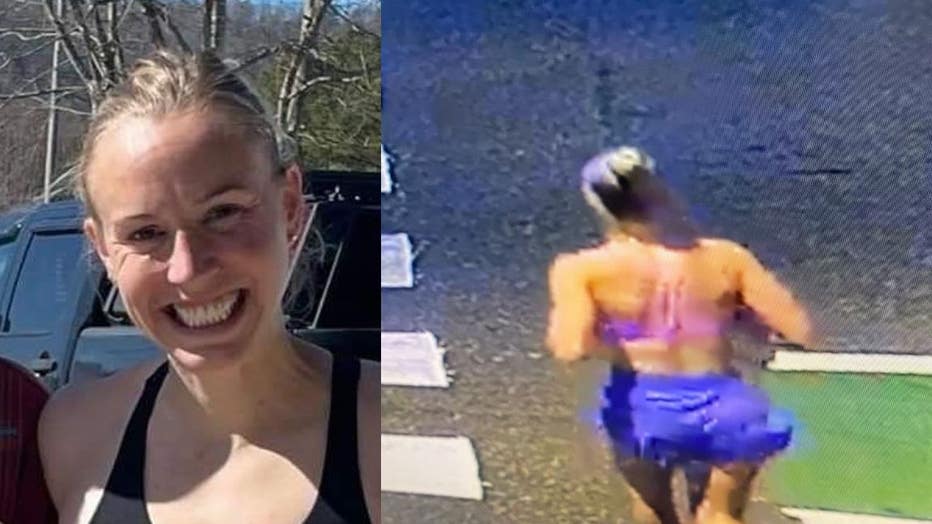 Photos provided by Memphis Police Department show Eliza Fletcher running early Friday morning (Memphis Police Department) 
Timeline of Fletcher's abduction
Eliza Fletcher, a Memphis kindergarten teacher and 34-year-old mother known as Liza to her loved ones, was abducted Friday while she was out for an early morning run.
Here's a timeline of events surrounding her disappearance:
Sept. 2 at 4 a.m.
Fletcher, an avid runner who has qualified for the Boston Marathon, goes for a run around 4 a.m. She takes her usual route near the University of Memphis, according to authorities.
While running down a stretch of Central Avenue around 4:20 a.m., she is "abducted and forced into" a dark-colored GMC Terrain.
According to an affidavit, investigators reviewed video surveillance from near 3876 Central Ave., which showed the GMC Terrain "passing and then waiting for the victim to run by."
Police say that a surveillance camera captured the same car in the area of the abduction 24 minutes before Eliza Fletcher was taken.
A male, later identified as Cleotha Abston, 38, then "ran aggressively" toward Fletcher and forced her into the passenger side of the SUV, court documents say.
Police also said that there "appeared to be a struggle" when Fletcher was pulled into the car.
Court documents state that the GMC Terrain sat in a nearby parking lot for four minutes with Eliza Fletcher inside before driving off.
Sept. 2 at 6:45 a.m.
Court documents state that a resident was riding his bike on Central Avenue and "found the victim's cellphone as well as a pair of Champion slides sandals laying in the street in the same area."
The resident gave these items to one of Eliza Fletcher's family members, who then turned them over to the police.
The Champion slides sandals were sent to a lab for DNA testing by the Tennessee Bureau of Investigation.
Sept. 2 at 7:45 a.m.
MPD receive two phone calls — one from Fletcher's husband, Richard Fletcher III, who reported her missing after she did not come home from her run — and one from the University of Memphis.
Police find some of Fletcher's belongings at the scene on Central Avenue. They are also told that a male approached Fletcher and forced her into a dark SUV after a struggle. 
Sept. 2, afternoon
MPD says in a Friday afternoon news briefing that the department is not aware of any connection between Fletcher's abduction and reports from the start of the semester that someone had been harassing members of the University of Memphis women's cross-country team as they ran in the area.
DNA samplings from the Champion slide sandals found a link to Cleotha Abston, who was named a person of interest in the Eliza Fletcher abduction case.
Using this information, investigators were able to obtain video surveillance from a Malco Theatres location on North Germantown Parkway that allegedly showed Abston wearing the Champion slides sandals.
Investigators also obtained cellphone records for Abston, which placed him near 3876 Central Ave. at the time that Eliza Fletcher was forced into the GMC Terrain, court records state.
Later on, authorities took a white Jeep Grand Wagoneer from in front of Fletcher's home, according to FOX 13 Memphis.
Sept. 3
On Saturday at 10:45 a.m., members of the U.S. Marshals Service located the GMC Terrain in a parking lot in the 5700 block of Waterstone Oak Way, where Abston lives, according to police, who then said that a male matching the description of the suspect was spotted.
He attempted to flee the area, but officials took him into custody.
Police said that two people, including Abston's brother, Mario, told officers that they had seen the suspect cleaning the GMC Terrain with floor cleaner, adding that he was washing clothes in the sink.
Mario Abston told police that his brother was acting "strange."
After the Memphis Police Department took Cleotha Abston into custody, he declined to tell investigators where Eliza Fletcher is.
Police also say that Eliza Fletcher "suffered serious injury" and "left evidence, e.g., blood, in the vehicle that the Defendant cleaned."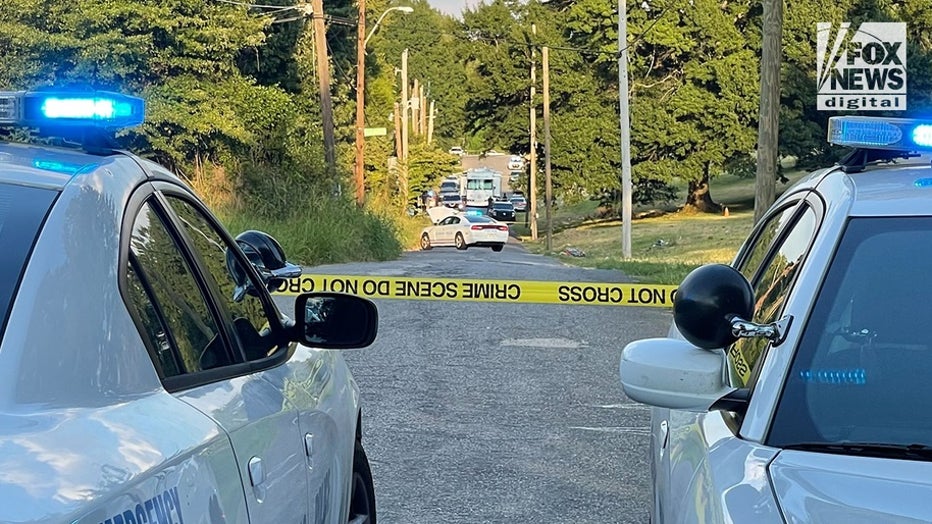 Police cars in a taped off crime scene in the search for Eliza Fletcher (Matt Symons for Fox News Digital)
Sept. 4
Law enforcement officials were seen throughout Memphis on Sunday and conducted searches at "various" locations in the search for Eliza Fletcher, according to a Memphis Police Department spokesperson. Memphis police had searched several locations with dogs, ATVs and a helicopter throughout the long weekend.
Sept. 5
The Memphis Police Department said officers in the 1600 block of Victor located a "deceased party" just after 5 p.m. Authorities did not identify the body or cause of death. A large police presence was reported in the area where authorities reported finding the body Monday evening.
The crime scene was less than a mile from the location where a witness told police they saw Abston cleaning blood out of a GMC Terrain with floor cleaner and washing his clothes. 
Sept. 6
Memphis police confirmed that the deceased body had been identified as Fletcher, and said Abston had additional charges added for first-degree murder and first-degree murder in perpetration of kidnapping.
Relatives of Fletcher and more than 20 media members were in the courtroom Tuesday morning for the arraignment, which was Abston's first appearance before a judge on charges of kidnapping, tampering with evidence, theft, identity theft, and fraudulent use of a credit card.
Abston was issued a $510,000 bond. Abston said he could not afford bond and he could not afford a lawyer. General Sessions Judge Louis Montesi appointed a public defender to represent Abston.
The Associated Press and FOX News contributed to this report.