Florida CFO offers Sunshine State as backup if Japan pulls out of summer Olympic games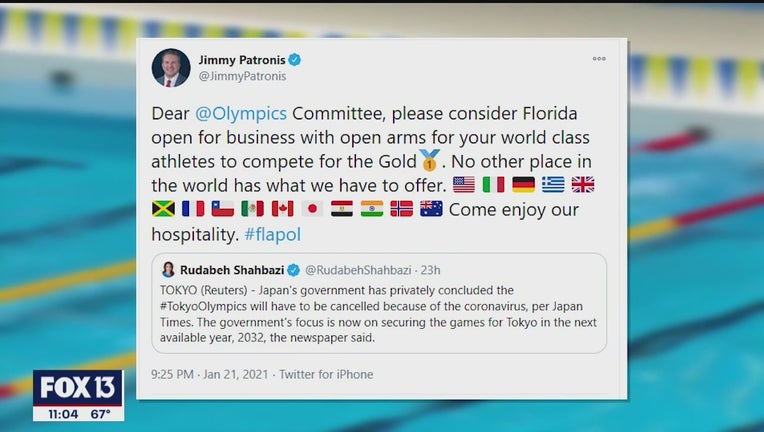 TAMPA, Fla. - A top state official is pushing for Florida to host the Summer Olympics if Tokyo cancels because of the coronavirus. Florida's CFO Jimmy Patronis made the offer in an official letter to the International Olympic Committee.
Some say hosting the Olympics may be a long shot, but in the eyes of Florida CFO Jimmy Patronis, it's worth a shot.
"To me the logistics to accommodate and pull it off in Florida. It's a reasonable offer to make," Patronis said.
Patronis' letter to the International Olympic Committee encourages it to reconsider locating the games to Florida. However, the Japanese government has called the reports it might pull out of the games "categorically untrue."
"What I dwell on is those athletes. Their time is fleeting. There is such a small window where they have the ability to stand up on a pedestal and collect the gold medal on these natural God-given skills they got that are fleeting," Patronis said.
In his pitch, Patronis highlighted major sporting events Florida has undertaken in the midst of COVID, including the Super Bowl, NBA games, a UFC Championship in Jacksonville and the NCAA College Football Championship in Miami.
While the list is extensive, it's hard to say whether it could impact decision-making, according to University of Central Florida Professor Richard Lapchick. He served on the New York City bid committee for the 2012 Olympics.
"It's all about the venues, and the timing and the logistics of how people would get around. If we have the Olympics here this year, are we going to have people in the stands," Lapchick said.
As Lapchick points out, there are still many unanswered questions.
"The chances of the Olympic games being held in Florida this summer is a long shot at best," Lapchick said.
FOX 13 reached out to the Tampa Sports Authority about the possibility of Florida hosting the games.
"We're aware of the letter, but are 100% focused on our hometown's fifth Super Bowl," a spokesperson wrote in a statement emailed to FOX 13 Tuesday evening.