How to get a ride with ease this New Year's Eve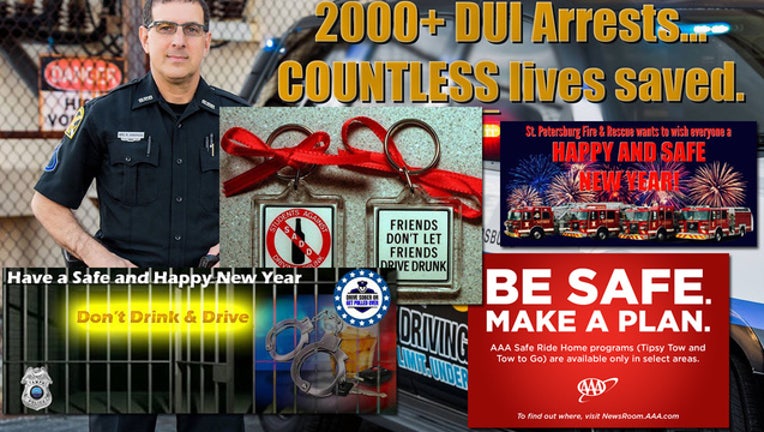 article
TAMPA (FOX 13) - Hopefully no one plans on drinking and driving, but if someone finds themselves without a ride New Year's Eve, officers say they will gladly provide a ride to jail.
The Florida Highway Patrol announced its multi-county DUI Wolfpack will run checkpoints New Year's Eve, into the morning of January 1, 2016.
Locations for the checkpoints include: 
Sarasota
Manatee
Desoto
Hardee
Highlands Counties
Troopers said they will be on the roads looking for drunk drivers starting at 9:30 New Year's Even into 4 a.m. Friday.
There are so many options for anyone who needs a ride. Uber is a popular ride-sharing app, but this year it will make a donation to Mothers Against Drunk Driving (MADD) each time a new rider downloads its app and hails a ride. 
Another ride-sharing service, Lyft, has options for a six-person ride or sharing a ride with someone going the same direction for a lower fare. 
Ride-sharing companies like Uber and Lyft do charge more during peak times - like New Year's Eve - so be ready to pay a little more than ususa. 
There are also several free rides available for New Year revelers, including Alert Cab. That's a partnership between Pepin Distributing and Hillsborough County Public Transportation.
Here's how it works. Anyone can ask a bartender at any participating business, and they'll call a taxi. And Pepin will pay the fare.
AAA has a similar service called Tow 2 Go, which has been running since Christmas Eve and ends New Year's morning. You just call 1-855-2-TOW-2-GO (1-855-286-9246) and a tow truck driver will take you and your vehicle anywhere within a ten mile radius, for free.