Lakeland community holds vigil to remember synagogue victims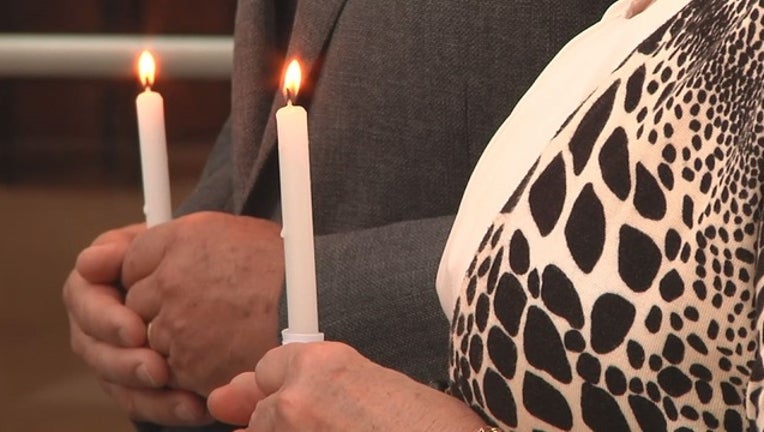 LAKELAND (FOX 13) - Community members in Lakeland paid tribute to victims of the Pittsburgh synagogue shooting by hosting a special interfaith vigil and prayer service Sunday evening. 
Hundreds of people, from all faiths, came together at The Temple Emanuel to honor the victims killed in the shooting, but also to condemn the hate and call for unity.
Those who attended spent the evening singing and praying, hoping it would help comfort the Lakeland community.
"What we are here is a community that is here for one reason," Congressman Dennis Ross said. "So that through the grace of God, good will prevail over evil."
Political leaders joined spiritual leaders in an attempt to make sense of the senseless, the slaying of 11 people.
"It's not so much a sense of disbelief as a sense of a dream breaking," Rabbi David Goldstein said. "The dream of America is liberty and justice. Whenever we see an act of violence, it destroys a little bit of that dream."
With candles in hand, and silence in the air, those gathered listened as Rabbi Goldstein read aloud the names of each victim. Among them were two brothers along with married couple, who were all attending the synagogue for a baby naming ceremony.
"When we start losing our safety places, we start losing the feeling of security, it becomes a much more dangerous world," Rabbi Goldstein told the crowd.
Law enforcement officials were on hand to offer protection and support. Sheriff Grady Judd assured the community that currently there is no credible threats to any area houses of worship.
"I'm angry that evil once again struck a house of warship," Sheriff Judd said. "I wanted to recommit myself to them, that we will do everything to protect them and keep them safe."