Mayors in Pinellas discuss concerns in 'State of Our Beaches' meeting
ST. PETE BEACH, Fla. - Mayors from around Pinellas County took a look at the state of their beaches.
The Institute for Strategic Policy and the Treasure Island and Madeira Beach Chamber of Commerce held its second annual "State of Our Beaches" community meeting and panel Thursday night.
Mayors from Indian Rocks Beach, Redington Beach, Treasure Island, North Redington Beach, Redington Shores, Gulfport and Madeira Beach took questions from the community and shared concerns of their own.
READ: Expansion plans for TradeWinds Island Resort released, residents worry it will cause traffic nightmare
Many mayors shared similar concerns, and discussed how they can work together to strengthen their beaches and communities.
"Home rule is one of the big ones," Gulfport Mayor Sam Henderson said. "That is municipalities. Local governments are very worried about those abilities being eroded at the state level."
Many of the mayors stressed the importance of maintaining governing power at the local level, especially when it comes to things like governing their waters and overseeing short-term rentals.
With the impending hurricane season, hurricane preparedness among residents was also a major concern. Despite the Tampa Bay area being largely spared of Hurricane Ian's destruction, leaders don't want residents to let their guards down.
MORE: Treasure Island aims to plant 1,000 sea oats to reduce beach erosion during severe storms
"My biggest concern is always complacency, because we've gone so long in the Tampa Bay region without a direct hit," Henderson said.
Leaders also discussed strengthening their beaches and building resiliency to withstand erosion. Many of the mayors said they're in dire need of help with beach renourishment.
"In Sunset Beach, we have -6.5% of the sand that was put on the beach in 2018 is still there," Treasure Island Mayor Tyler Payne said. "Negative. So all the sand that was put on the beach and more is gone."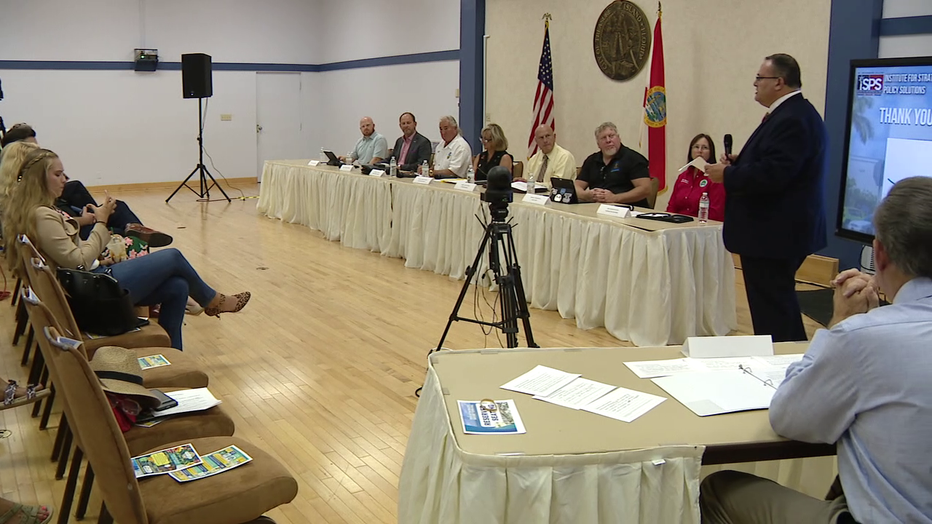 The mayor of Indian Rocks Beach says she has been working with the federal government to get the much-needed funding and assistance to work on renourishment projects.
"The federal government gives us 60% of our sand financing and the state gives us 20 and the county gives us 20," Indian Rocks Beach Mayor Joanne Cookie Kennedy said. "So. And then, of course, it has to be approved by the Corps of Engineers."
PREVIOUS: SunRunner bus service set to expand, add new station in St. Pete
In the meantime, some leaders said they're working with Pinellas County to help fund some of the renourishment projects.
"It's drastic, arbitrary nourishment," Kennedy said. "Many of our communities are down to zero sand. And so we're all working together to try to find and find avenues. And we are working on the things that we can with beach nourishment."
The leaders also renewed a push for long term state and federal support to not only strengthen, but preserve the beaches and coastline.
"The ability to have the state set up the programs that one of those that's on the table set up programs for resiliency grants to help us prepare for sea level rise and other things that come along with climate change, more intense storms," Henderson said.
There are several bills in the Florida Legislature right now regarding the powers of local government and short-term rentals.
"There's some items going through right now that have to do with local elections and how those could change development going forward. Water, our ability to govern our waters," Henderson said.
Many of the mayors said they hope to see each local municipality be able to make the decisions that are best for its own community.