Meet the captain of Ye Mystic Krewe of Gasparilla
TAMPA, Fla. - There wouldn't be Gasparilla without the pirates who invade the Bay each year. The history of Ye Mystic Krewe of Gasparilla dates back over a century and some of the members who try to capture the city have been a part of the tradition for decades.
Hundreds of swashbucklers from Ye Mystic Krewe of Gasparilla boarded the "Jose Gasparilla" pirate ship to capture the city of Tampa on Saturday led by Captain Truett Gardner. While it's his first year as captain, this is certainly not his first invasion.
"I remember as a child coming to Gasparilla, but I've been part of the Krewe for 25 years - It's just such a wonderful day for the city and it's a pleasure to be a part of it," Truett Gardner, captain of Ye Mystic Krewe of Gasparilla.
Gardner is not alone. It's common to meet YMKG members who've been a part of this tradition for most of their life. 
For brothers Dave and Bob Kelly, YMKG runs in the family.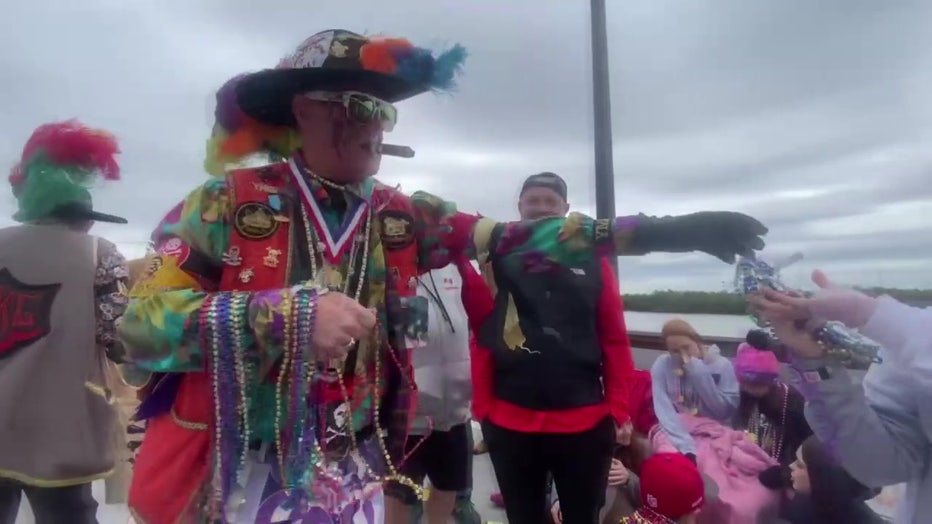 A pirate hands out beads during Gasparilla 2023. 
"My father was a pirate so we got in about 30 years ago and we've been doing it ever since, it's a blast," Dave Kelly stated.
READ: 300,000 expected in Tampa ahead of Gasparilla's pirate festivities
Bob Kelly, added, "Yup, 1993 was my first year!"
And getting to ride aboard the ship alongside each other in honor of their father makes it extra special.
"It's so much fun it was great when my dad it, and doing it together means everything in the world," Dave Kelly said.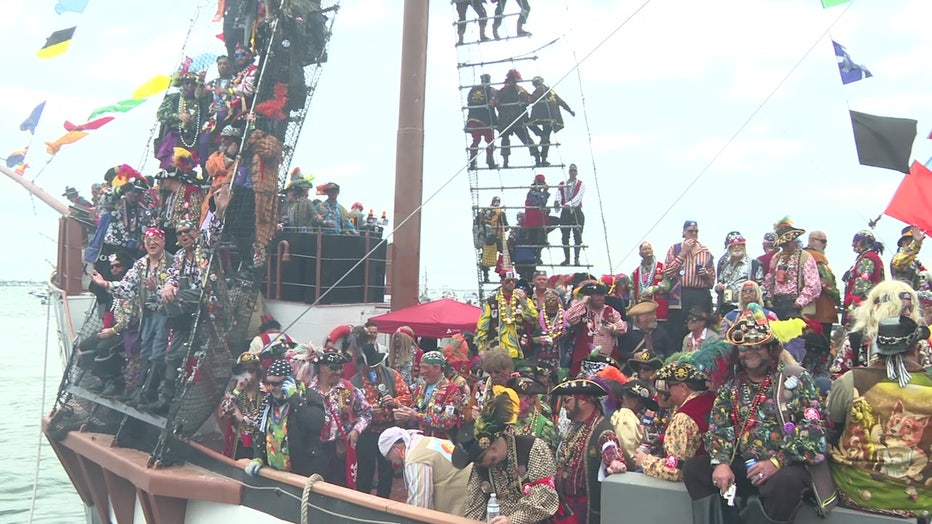 The pirates of Ye Mystic Krewe of Gasparilla board the Jose Gaspar pirate ship for the 2023 invasion. 
Every year YMKG revives the memory of Legendary Pirate Jose Gaspar, who terrorized the coastal waters of West Florida during the late 18th and early 19th century.
READ: WWE Hall of Famer Ric Flair ready to lead Gasparilla festivities as Grand Marshal
"The music is playing. The cannons are going off. It's really one of the unique things that makes Tampa, Tampa," explained Bob Kelly.
That's why they do it - to keep the history, tradition, and fun alive, which also comes with treasures and doubloons for all.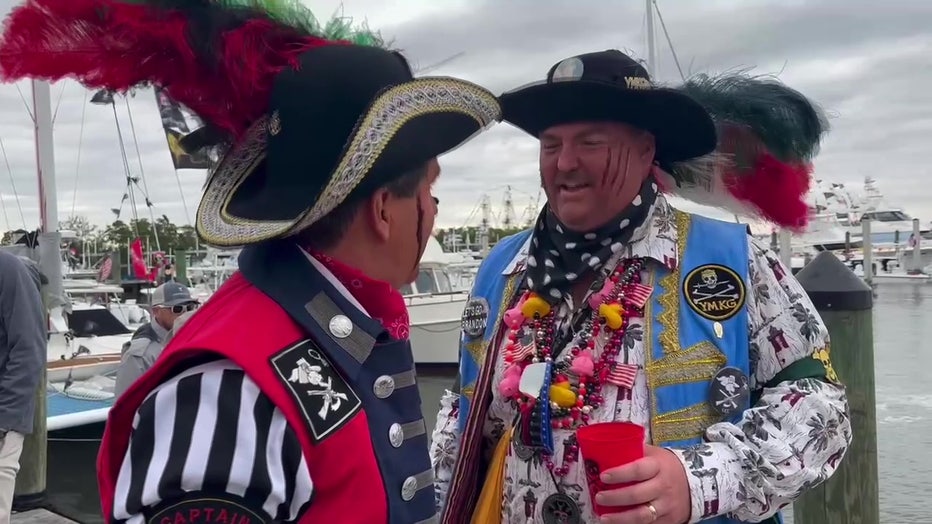 Captain Gardener and many people in YMKG have been a part of Gasparilla for most of their lives. 
"I think what's really neat is Mardis Gras is around the lent calendar, Rose Bowl parade is around a football game, this is about one thing and one thing only and that's celebrating the city of Tampa," Gardner said.
READ: Law enforcement pushes boating safety ahead of Gasparilla
When not hosting their annual Children's Parade and Pirate Invasion, YMKG promotes tourism by attending community events.
Artifacts and memorabilia of Ye Mystic Krewe of Gasparilla are on display throughout the year at the H.B. Plant Museum.