Monkey Island primates are vacationing at Boyett's Grove as their Homosassa River home gets an upgrade
HOMOSASSA, Fla. - Monkey Island is a must-see along the Homosassa River and a sight that never gets old for the locals. 
The hairy celebrities delight visitors near and far. 
Boaters have circled the small, sandy home to see the primate residents for themselves, while patrons of the Florida Cracker Monkey Bar witness their antics a few yards away on the mainland.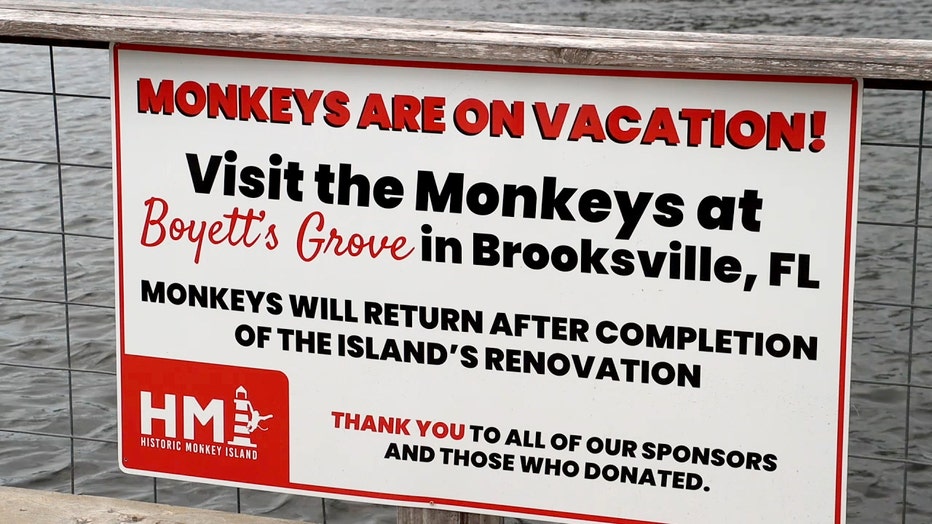 At the moment, Ralph, Ebony, and Emily aren't on the island – so, where are they?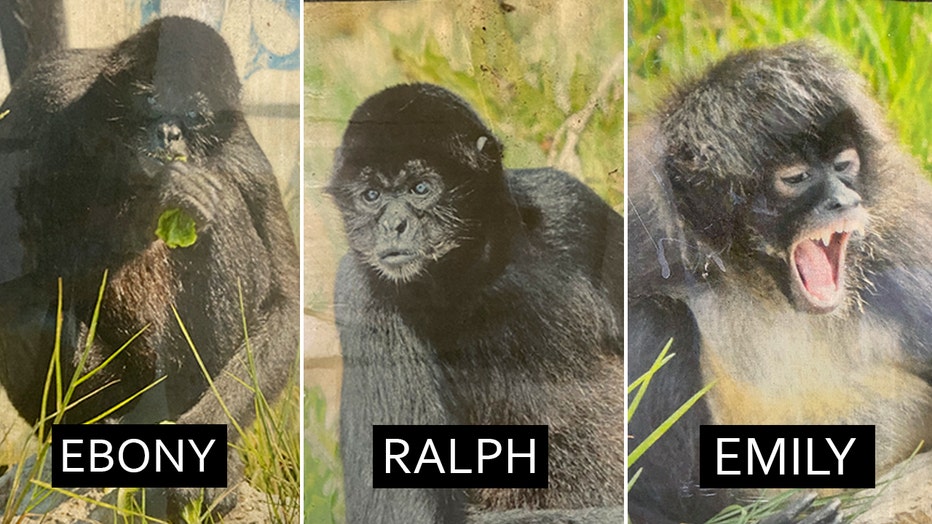 These photos show the current residents of Monkey Island: Ebony, Ralph and Emily. (Provided by Blake Lowman)
The famous island was created in the 1960s and has never had a proper upgrade. As a result, the spider monkeys are on vacation as construction progresses at their outdated home.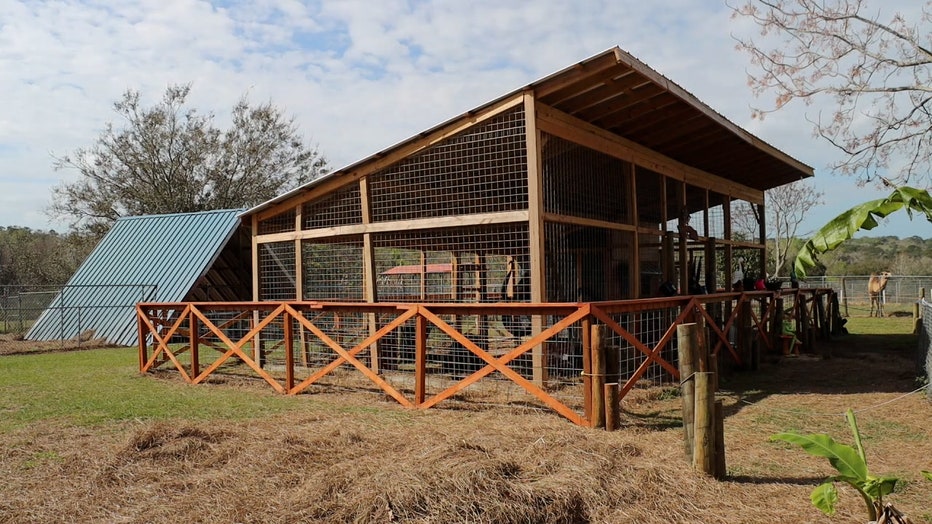 This temporary home was built just for Ralph, Ebony and Emily at Boyett's Grove in Brooksville. (FOX 13)
They are staying at Boyett's Grove, a quirky roadside attraction that sits on a hill in Brooksville, Florida.
The goal is to introduce the famous monkeys to their updated home in time for scalloping season in July.
MORE: Meet the primate residents of Florida's Monkey Island: Ralph, Emily, and Ebony
Construction began in mid-October. Ralph, Ebony, and Emily were moved to a home built just for them at Boyett's Grove.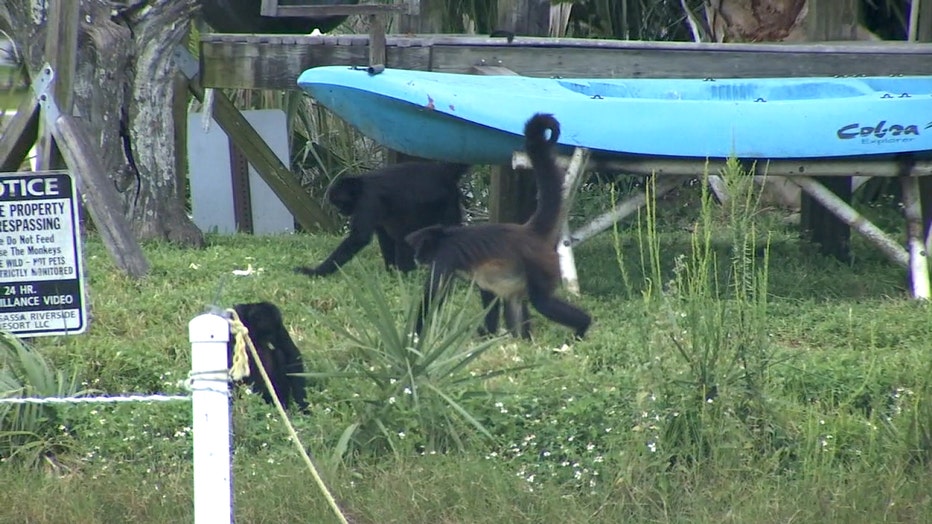 The monkeys roaming around their island before moving day.
Boyett's Grove owner Kathy Oleson said the monkeys were "surprisingly calm" during their temporary move.
"They are very, very easy to deal with," Oleson said. "I thought, coming from the island, that they might be frightened. They might go to the corner. They were all over everything. They learned about it. They went up to the top. It was a new surrounding. This is like a vacation."
A Monkey Island resident with a camel neighbor in the backdrop.
They are no longer surrounded by water, but with new animal friends – a camel, three geese, a mini-pony, and a donkey, which is half zebra, half donkey. 
But, they have to stay separate from the residents in order to preserve their habits.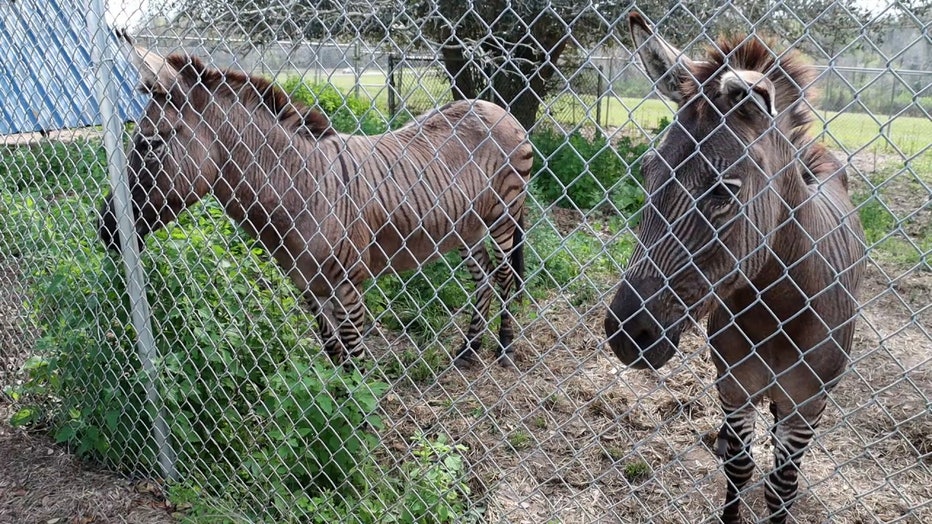 "We have not tried to socialize them too much," Kathy explained. "We don't want to change their behavior. They've done really well on the island, and we don't want to change them. Here, it would be very easy. We don't touch them or pet them."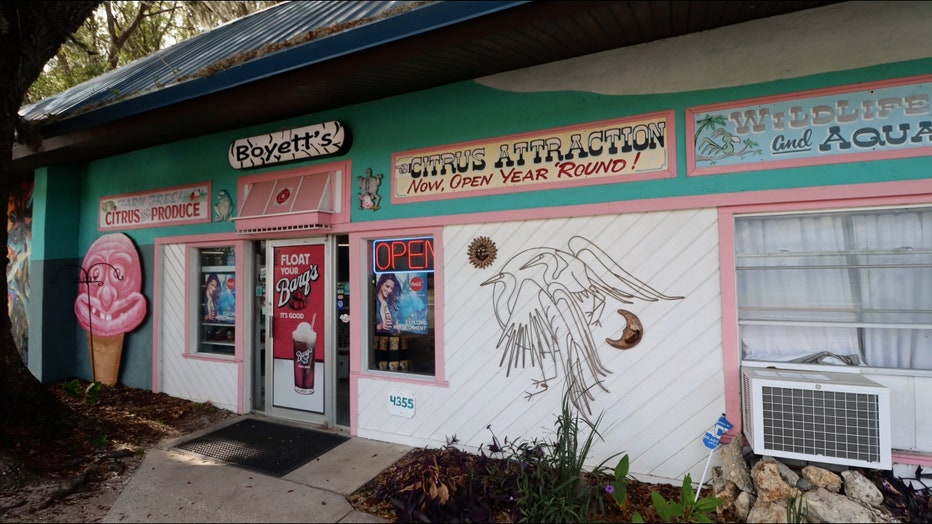 Entrance of Boyett's Grove & Citrus Attraction
Inside their short-term rental, the monkeys have tire swings, barrels to roll in, items to climb, and an enclosed area in the corner if they need alone time, which comes in handy if there is bickering between the three monkeys.
"It's a private space. It's a heated space as well… I think that's important for a couple of reasons, especially for animals that aren't used to having a whole lot of people around them," Kathy said. "Sometimes [there's fighting] even in your own family. You want to go into your own room, chill, play your video game, watch TV, you have your own space. I always believe that's very healthy for all animals. It gives them a chance to relax. When you're calm and quiet, you're healthy. Everybody needs to be able to relax."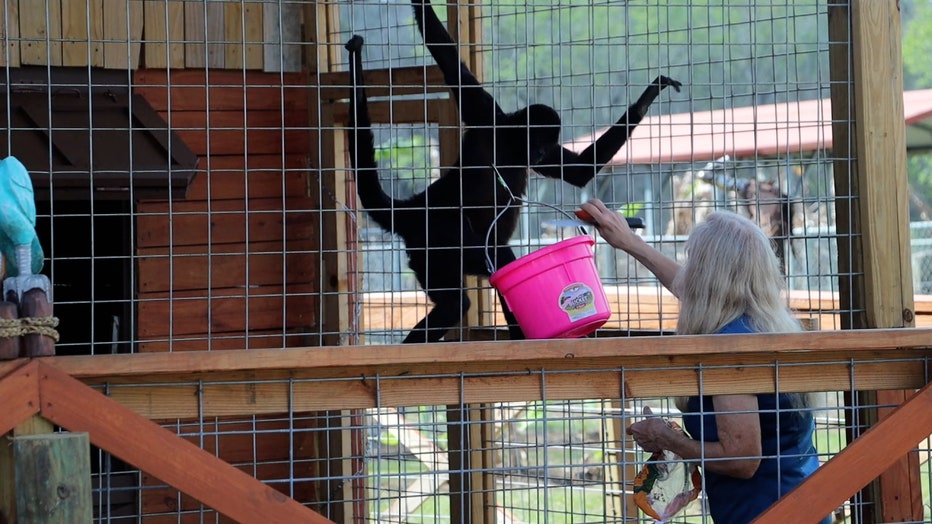 Sure, boaters used to circle the historic island and the curious spider monkeys would follow them along the sandy perimeter. Now, with no water barrier, the enclosure at Boyett's Grove is the closest you can get to them before they head back to Monkey Island. 
Learn more about Boyett's Grove & Citrus Attraction at their website: www.boyettsgrove.com.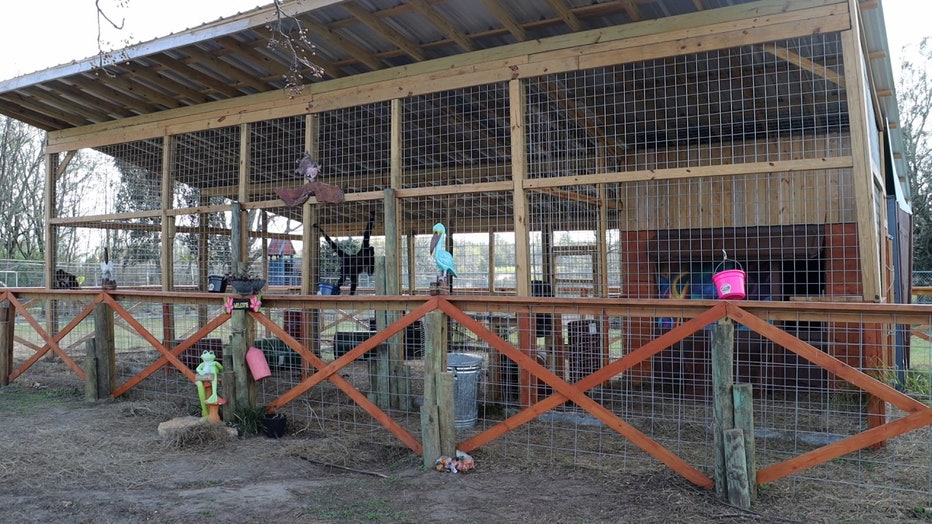 Kathy said new visitors have discovered Boyett's because they came to see the famous primates. On one February morning, a group of high schoolers dropped by.
"You can see them up close!" a teacher said. Students were smiling as they watched the monkeys use their tails and hands to travel across the metal wiring. Another student stood off to the side, capturing the primates on video with his cell phone.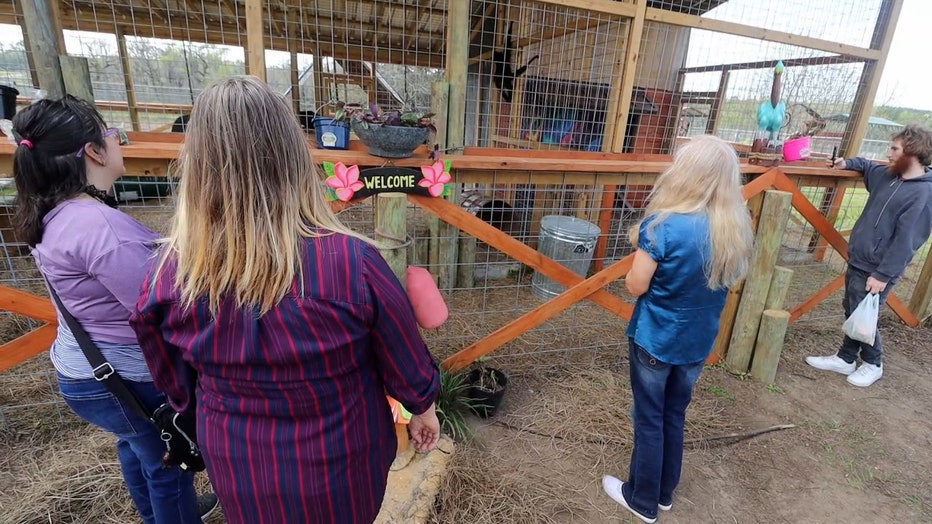 A high school field trip stopped to meet the famous monkeys of Monkey Island that are staying at Boyett's Grove.
On Monkey Island, Ralph, Ebony, and Emily are fed twice a day. It's the same at their Hernando County vacation home. 
In the morning, Kathy places buckets of fruits and vegetables inside the shelter. In the evenings, they have more "hearty" meals such as peanut butter sandwiches.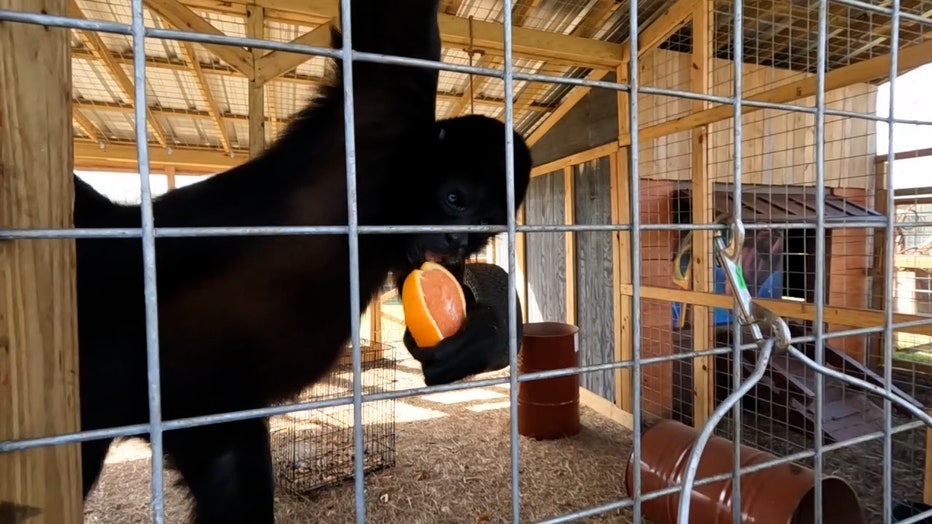 Each meal includes so-called monkey chow, which is USDA-approved and provides necessary nutrients for the trio.
Their favorite is the oranges.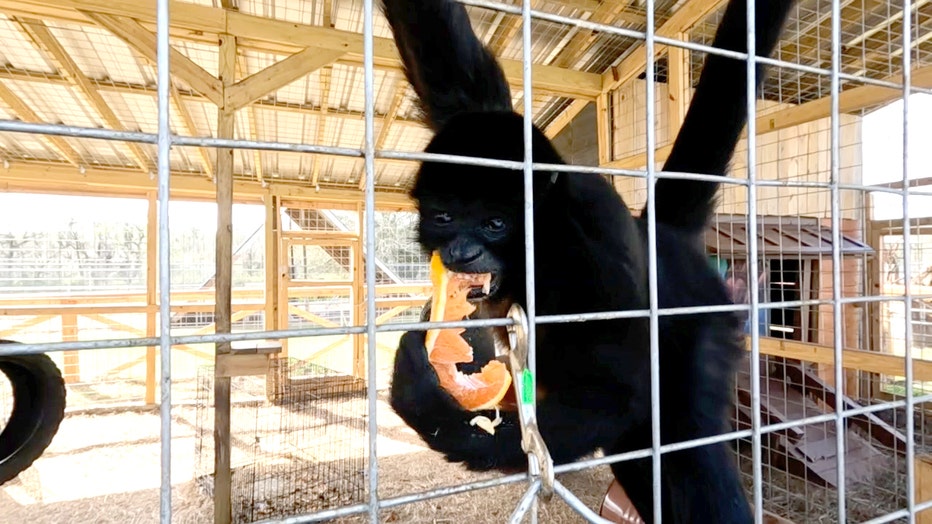 One of the spider monkeys rips apart orange slice
Ralph – known as the more dominant one – grabbed an orange slice, ripped the rind off with his teeth, and took a bite out of the fruit. The fresh juice dripped down his furry face. It didn't take long for Ebony and Emily to grab their own citrus meal.
Kathy later switched from the fruit entrée to apples – which Ralph was not entirely pleased with. He grabbed a sliced apple from the bucket – and dropped it.
He grabbed another slice and dropped it. 
Ralph gave up and turned away from the buckets with disappointment.
"It's not red oranges," Kathy said, noticing their displeasure. "They love those red oranges."
When the crowds are gone, time stands still for the monkeys as new structures are being built on their primary home. It's quiet out at Boyett's Grove when there aren't human visitors. They bask in the sun – like true Floridians. Sometimes, their mini-pony neighbor starts neighing or the geese group randomly honks for attention.
Otherwise, it appears to be a peaceful sabbatical for the Sunshine State's famous monkeys.
What's being done to Monkey Island?
If you've seen Monkey Island before, you may have noticed the barriers surrounding it are damaged or have partially sunk. The painting on the lighthouse was fading. Even their home was in disarray. 
The structures have been there for 60 years, after all.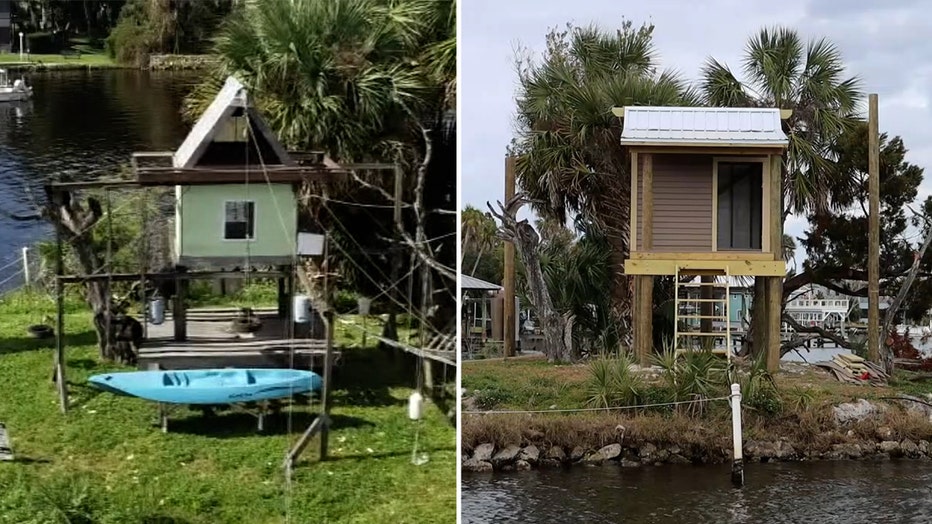 Original wooden hut on Monkey Island (left) and the newly constructed home (right).
"It was leaning. It was in bad shape," said Marie Straight, a Historic Monkey Island Inc. board member.
Right now, there's no electrical wiring on the island. But that's all about to change.
In 2019, the Lowmans, a well-known family in the Nature Coast, purchased the Florida Riverside Cracker Resort. Whoever owns the resort also owns Monkey Island. It's been that way for decades.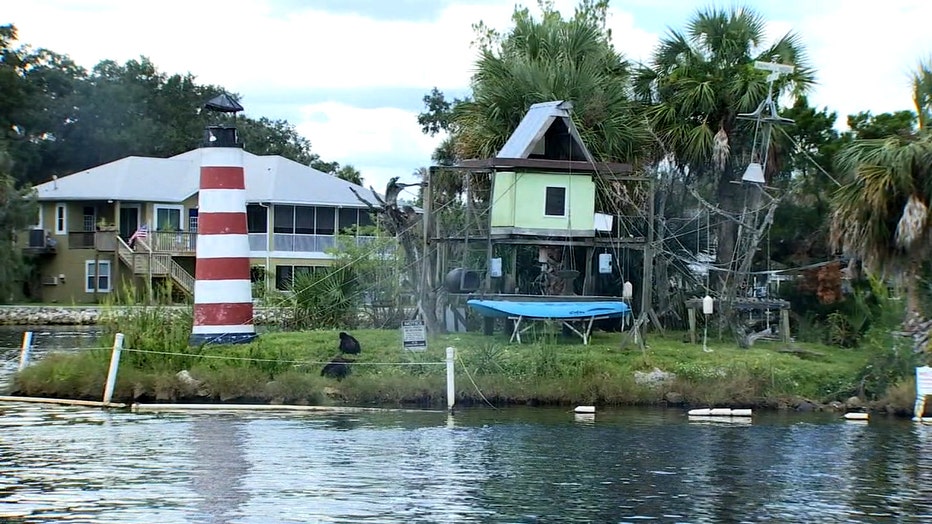 The view of Monkey Island before construction began.
"The owners recognized almost immediately that the island should belong to the community – not to them, not to the resort," Straight explained, adding that it led to the creation of Historic Monkey Island Inc., a non-profit with eight board members. Since then, they've been developing blueprints and drafting conceptual ideas for the island.
In 2022, board members presented a budget to the Crystal River Tourist Development Council in hopes they would match their funds to redevelop Monkey Island. They approved it and will provide $98,000.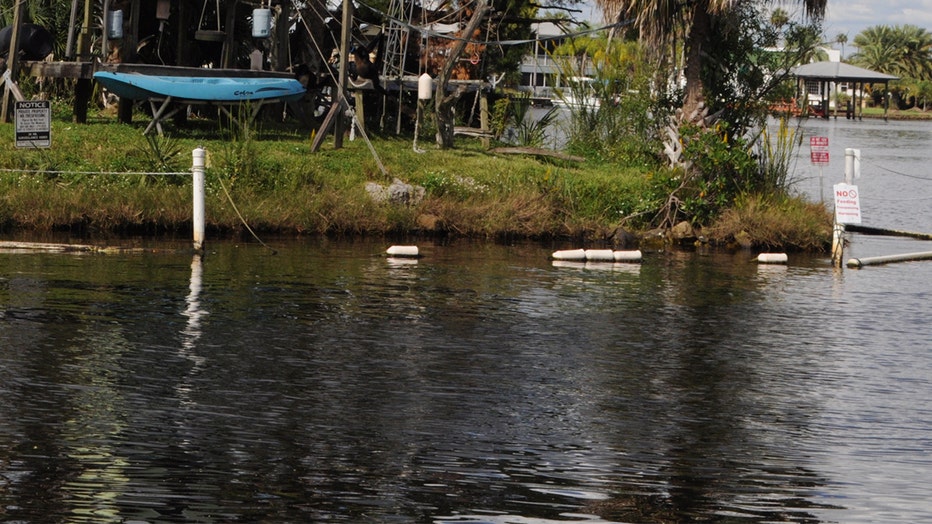 The barrier around Monkey Island -- meant to discourage boaters and kayakers from getting too close to the spider monkey residents -- is virtually non-existent. (FOX 13/File)
It was what the non-profit was hoping for, considering their budget was running close to $200,000.
"It's a cultural phenomenon, especially for people in this area," Straight said. "The locals so are supportive of what we are doing and the feedback we get on social media as we bring updates has all been positive. They can't wait for the monkeys to come back. They are loving the progress on the islands."
Since construction began in October, a new home was built.
"None of the furniture has been installed yet. Just kidding," Marie said while laughing. "I think they should put up a couple of Adirondack chairs up front on the porch. I think that would be fun."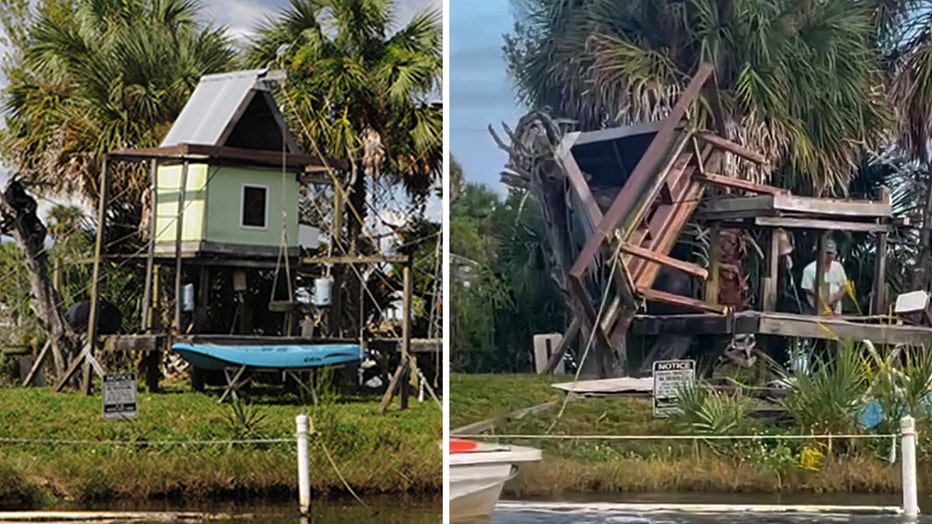 Before and after images showing the wooden home on Monkey Island (left) and after it was knocked down in October (right - image provided by Marie Straight)
Now, it just needs air conditioning, ventilation, and heating installed. That would require electric wiring to be installed under the river to connect the island to the mainland's power. 
Withlacochee River Electric Cooperative has stepped up to help. So far, they've installed electric poles. One will have an osprey nest at the top. Their equipment is vital to the construction considering they need to drill through rocks.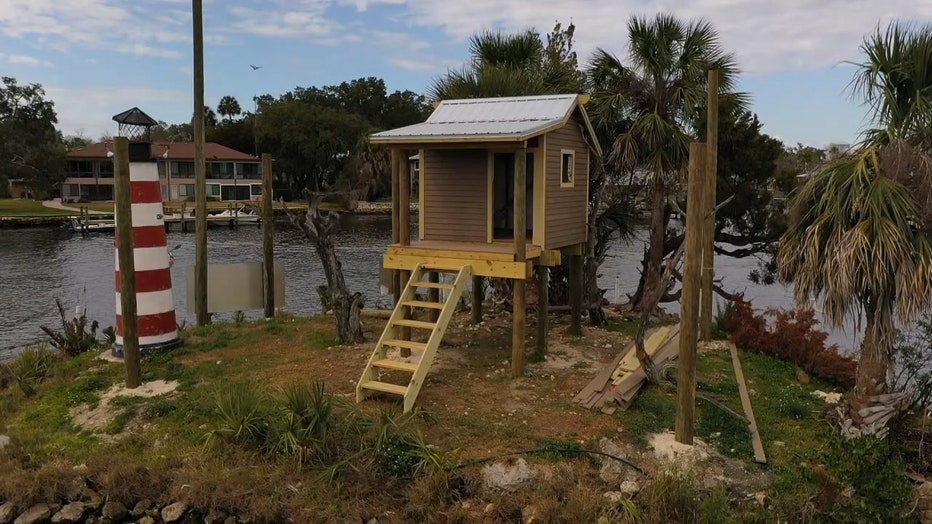 A view of Monkey Island from SkyFOX Drone as of February 2023.
Workers still need to refurbish the lighthouse. That is the only original structure that will remain. There will be a whole new system of ropes to entertain the monkeys. Plus, there will be cameras installed for people to see the osprey and monkeys from home.
The final step will be to install new barriers around the island.
"We have a ways to go," Marie said.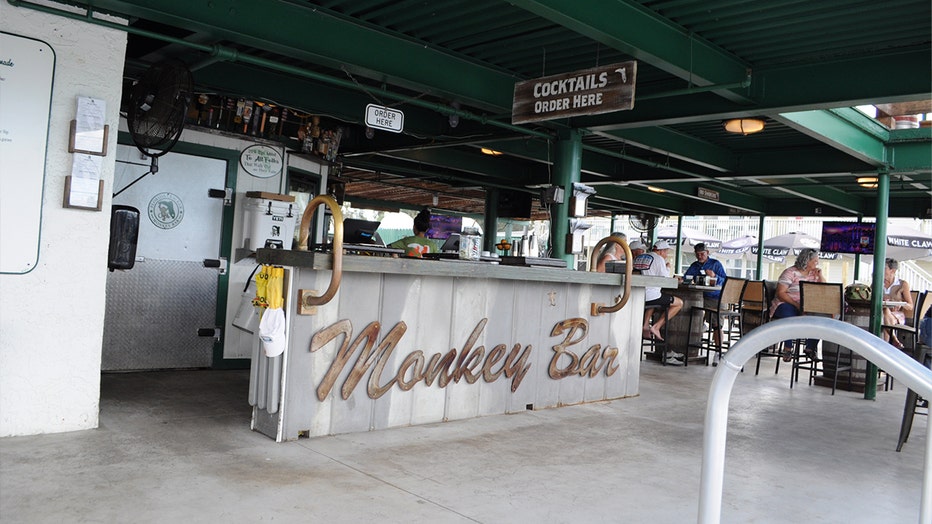 The Monkey Bar at Florida Cracker Riverside Resort
The goal is to reintroduce Ralph, Emily, and Ebony to their home by June 30 – the day before the scalloping season begins.
"That's when all the tourists descend on Homosassa," Marie said. "What they do besides seeing manatees is they come to see the monkeys. None of it is set in stone because of the supply issues in the construction industry have been plaguing every builder. We are hopeful that we ordered ahead."
When the board members started working on the project, they quickly realized the responsibility they took on.
"It's quite in some sense a burden to be responsible for the island. It's more than just throwing food out there a couple of times per day," explained John Ehlenbeck, a board member. "It needs special licenses, insurance, veterinary care, and so forth. It makes sense that since the community benefits from Historic Monkey Island, the community participates."
When the monkeys return to their revamped island, John and Marie both believe Ralph will be the first to enter the new house.
"Ralph is the dominant one," Marie noted. "That's going to be the fun part. We're all going to stand here and watch and see what they do."
"I can see him jumping in there," John stated, "and saying, 'Emily and Ebony, look what's here!'"
How was Monkey Island created?
G.A. Furgason – a.k.a. "Furgy" – was a developer in Citrus County. In the 1960s, he faced two unique problems.
Furgason kept hearing about a pile of rocks in the middle of the river. It was deep enough that fishermen couldn't spot them with the naked eye. So, he directed one of his dragline operators to pile some dirt around the rocks for boaters to spot them and avoid a collision.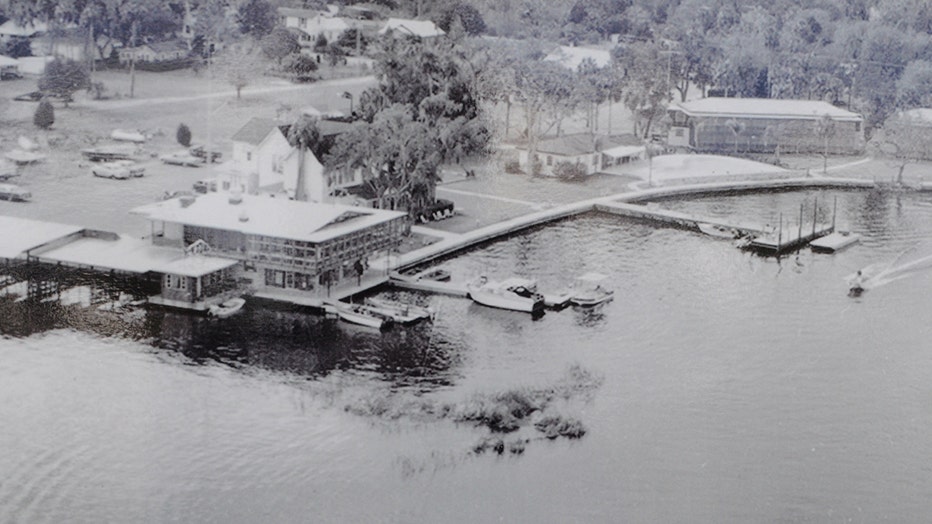 This photo shows what the area looked like before Monkey Island was created. Boaters drove into a pile of rocks near the resort. A drag line operator was directed to cover the rocks with dirt to make it more visible. 
MORE: Monkey Island of Homosassa, a Florida tale
"Well, as the legend has it, the dragline operator went overboard and created what we know as, Monkey Island," Marie explained. "How did the monkeys get here? Key question."
In a way, they were fugitives, John described.
Monkeys were brought to the area from Africa as scientists tried to perfect the polio vaccine. After they were done with their medical use, they were housed at the Homosassa Springs Wildlife Park, which Furgason developed.
"But they became nuisances at the wildlife park, attacking people, biting them, stealing purses out of cars," Marie said. "Furgy had to find a way to find an Alcatraz – and realized he had one right here. A team of people gathered them up. It just became historically known as Monkey Island."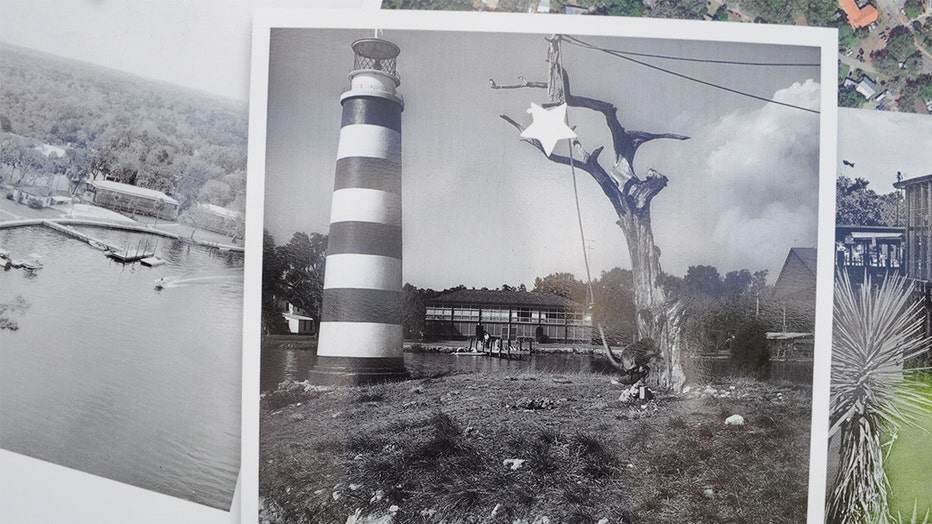 Monkey Island as it was in its early days is seen in this photo collage, which is on display at Florida Cracker Riverside Resort. (FOX 13/File)
There were initially seven residents: three spider monkeys and two squirrel monkeys. Two of the squirrel monkeys were Tim and Tiny, who passed away in 2006 and were replaced by Eve and Emily.
Emily came from a family in Kentucky. They initially moved to Fort Lauderdale but were unable to obtain a wildlife license. Jungle Friends Primate Sanctuary, based out of Gainesville, stepped in, playing the middle man between the resort and the family, and brought Emily to the island. 
One of the original spider monkeys, Sassy, died in 2017. She was described as the matriarch of the group. Eve passed away in 2020.  
Ebony is the daughter of Ralph and Sassy.
As the manmade island was being created, Furgason added a lighthouse for boaters to know there was an obstruction along the Homosassa River. Little did he know, the developer created an iconic part of the Nature Coast's identity that stuck around for decades later.
To learn more about conserving Monkey Island, head over to the Historic Monkey Island website or the Florida Cracker Riverside Resort website.