Nearly 18-foot Burmese python captured in South Florida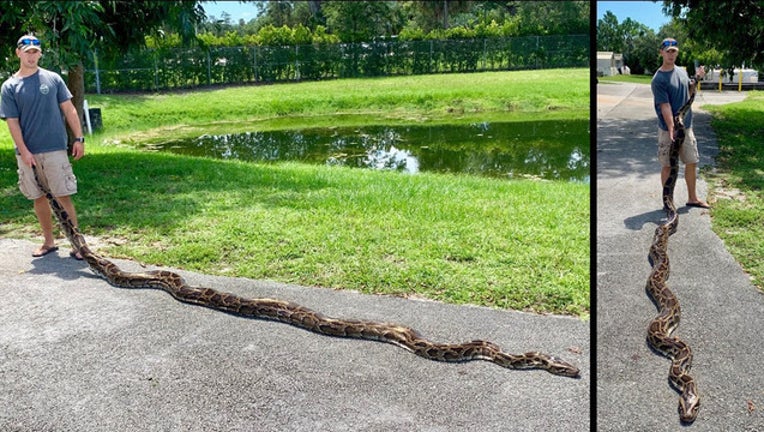 article
OCHOPEE, Fla. - The latest invasive Burmese python that was captured was nearly 18 feet long, according to the Florida Fish and Wildlife Conservation Commission.
Just after midnight Friday, Kevin Reich with FWC's Python Action Team captured a 17-foot, 9-inch Burmese python in the Big Cypress National Preserve. The female snake weighed in at 83 pounds, 12 ounces.
FWC officials said it is the second-largest Burmese python ever removed by the team, just three inches shorter than the program's largest python, which was captured last December in the Everglades. That female python was 18 feet long and weighed 147 pounds. 
The Python Action Team was created by FWC to respond to reported sightings of the non-native pythons, and are paid for their removal. For additional details about the team, head over to the FWC website. 
The largest python ever caught in Florida was back in 2013. The female python was over 18 feet, 8 inches long and weighed 128 pounds.
According to FWC, most Burmese pythons in Florida are between 6 to 10 feet long, but the largest can exceed 20 feet. As adults, they are larger than nearly all native snakes. In July, a 16-foot Burmese python – along with 50 hatched eggs – were discovered underneath a Broward County home. In April, a 17-foot python with 73 eggs were found in the Big Cypress National Preserve. 
Environmentalists say the invasive species is responsible for killing deer, alligators and other important wildlife in the area. Their presence is causing lasting damage to the ecosystem.