Philadelphia police officers arrested for alleged assault on Pinellas County deputy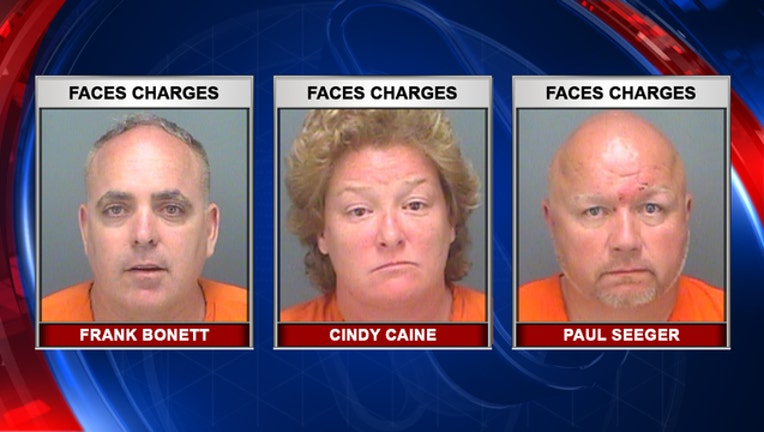 INDIAN ROCKS BEACH, Fla. (FOX 13) - Two law enforcement officers and one retired officer from Philadelphia have been arrested in Pinellas County, Florida for an alleged alcohol-fueled fight with a deputy.
The Pinellas County Sheriff's Office says it started as a domestic dispute outside of Crabby Bill's Restaurant. It ended with the arrest of two current and one retired city of Philadelphia police officers.
The incident happened Tuesday around 11 p.m. near 4th Avenue and 2nd Street in Indian Rocks Beach. Deputies were called after a witness reported seeing a man pushing a woman. 
The man was later identified as 55-year-old Paul Seeger, a retired officer from Philadelphia, and the woman as 44-year-old Cindy Caine, an off-duty officer from Philadelphia.
A Pinellas County deputy saw Seeger and Caine arguing on the side of the road. He started walking toward them. When the pair saw the deputy, they started walking away.
The deputy called out to them, giving Seeger multiple warnings to stop, but he kept walking.
The deputy said he grabbed Seeger's arm, but Seeger pulled away. That's when Caine pushed the deputy's arm away for Seeger to break free, according to the sheriff's office. 
The sheriff's office said a third person showed up, making verbal threats to the deputy. Frank Bonett, 44, allegedly took off his shirt, clinched his fists, and "shouted profanities at the deputy." 
Bonett is an off-duty Philadelphia officer, as well.
The sheriff's office said Bonett and Seeger started toward the deputy, who deployed his stun gun at Seeger. The shock was ineffective, so the deputy physically put Seeger on the ground. Seeger struggled violently to get away but the deputy was able to put him in handcuffs.
Bonett and Caine were also taken into custody.
Investigators said Caine and Seeger, who are also husband and wife, were uncooperative with the investigation. Deputies believe alcohol was a factor.
Caine, Bonett, and Seeger were taken to the Pinellas County Jail.
Caine, who has since been fired, was charged with one count of battery on a law enforcement officer. Bonett was charged with one count of assault on a law enforcement officer. Seeger was charged with one count of domestic battery and one count of resisting an officer with violence.