Police: Andrew Gillum at scene of possible drug overdose in Miami Beach hotel room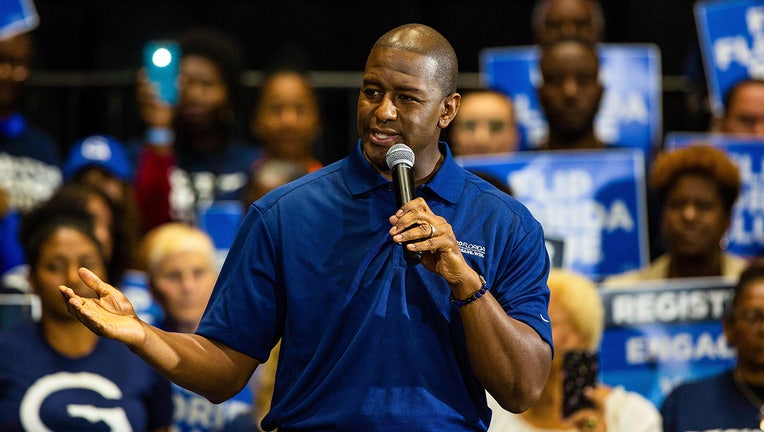 MIAMI BEACH, Fla. - Authorities found an "inebriated" Andrew Gillum, the former Florida Democratic gubernatorial nominee, in a South Beach hotel room with a man who reportedly overdosed late Thursday night, according to Miami Beach police.
Gillum, a former Tallahassee mayor who lost to Gov. Ron DeSantis in November 2018, was in a room with "three small clear plastic baggies of suspected crystal meth on both the bed and floor" at the upscale Mondrian South Beach hotel when police responded to a call for help, a police report said.
Fire-rescue officers were treating Travis Dyson, 30, "for a possible drug overdose," when police arrived, according to the report.
Police attempted to speak to Gillum, who "was unable to communicate with officers due to his inebriated state," the three-page report said.
In a prepared statement, Gillum, 40, said he was in Miami "for a wedding celebration when first responders were called to assist one of my friends" and denied doing drugs.
"While I had too much to drink, I want to be clear that I have never used methamphetamines. I apologize to the people of Florida for the distraction this has caused our movement," said Gillum, who is the head of Forward Florida Action, a political committee focused on registering voters. "I will spend the next few weeks with my family and appreciate privacy during this time."
The incident "is not being investigated as a criminal matter" at this time, Miami Beach spokeswoman Melissa Berthier said in an email.
The room had been paid for by 56-year-old Aldo Mejias, who told police he arrived at the hotel around 11 p.m., where he discovered Dyson and Gillum "inside the room under the influence of an unknown substance."
While Gillum was vomiting in the bathroom, Dyson collapsed and began having trouble breathing, Mejias said. He called police and fire-rescue after "conducting chest compressions on Mr. Dyson," according to the report.
Police impounded the "three small baggies of suspected narcotics" for destruction, and Gillum "left the hotel room and returned to his residence without incident," the report says.
Gillum's race against DeSantis was one of the most-watched contests in the country two years ago. He went to work as a political analyst for CNN following his loss.
During the campaign, DeSantis blasted the former Tallahassee mayor for taking trips with lobbyists and accepting a ticket to the Broadway hit, "Hamilton," from someone who did business with the city.
Last year, Gillum agreed to pay a $5,000 fine in a settlement in a Florida Commission on Ethics case. Four of five allegations of ethics violations were dropped in the case, which related to trips to Costa Rica and New York, a boat ride around the Statue of Liberty and the "Hamilton" ticket.
Prominent Orlando lawyer John Morgan, a major fundraiser for Democrats, has excoriated Gillum for sitting on more than $3 million ahead of the 2018 election.
A month before the election, Morgan contributed $250,000 to Gillum's political committee. Gillum refused to return the campaign contribution when Morgan demanded a refund.
On Friday, Morgan tweeted that he "took no joy" from reports of the Miami Beach incident.
"We all know what this means. At moments like this I prefer mercy. My prayers are for @AndrewGillum & his family. And yes it's time the money's returned. Send mine to @desmondmeade," Morgan tweeted, referring Desmond Meade, the head of an organization that pushed a constitutional amendment restoring voting rights to felons. The amendment passed in 2018.
"None of us are perfect, only God. #Matthew6," Morgan concluded.