Polk County traffic stop leads to arrest of brother of accused Capitol rioter, deputies say
LAKELAND, Fla. - The brother of a man accused in the Jan. 6 riot at the nation's Capitol was allegedly carrying a stock of illegal firearms "for his protection against law enforcement" when he was pulled over by a Florida Highway Patrol trooper in Polk County Thursday. 
Polk County Sheriff Grady Judd said 27-year-old Samuel Doolin, the older brother of Joshua Doolin, was driving an '85 Chevy truck on Kathleen Road, near Laurel Woods Lane, when he was pulled over. 
The trooper who stopped Doolin said there was a handgun on the seat between Doolin and his passenger, 23-year-old Tiffany Ann Beam, of Lakeland.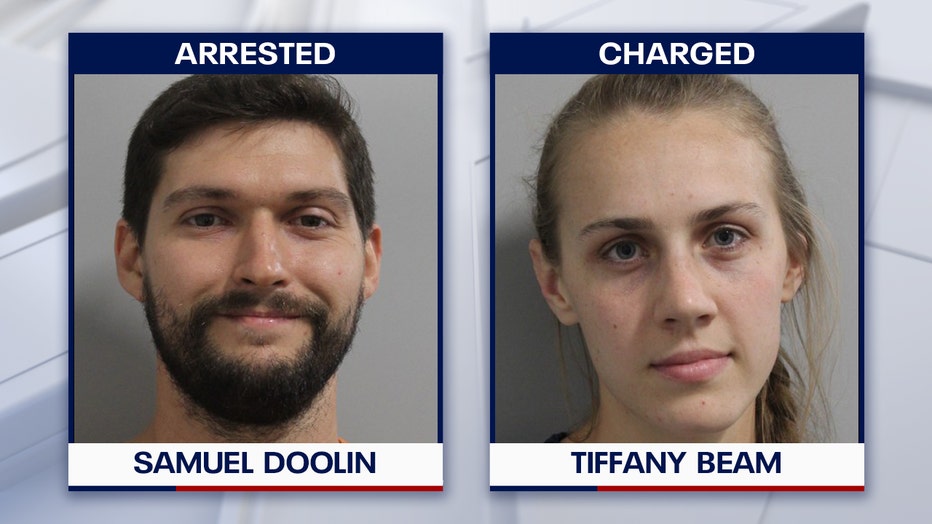 Samuel Doolin (L) and Tiffany Beam (R) arrested in Polk County
Doolin told the trooper it was for his protection against law enforcement, according to the sheriff's office. 
He later told officials that he considered himself to be a sovereign citizen.
RELATED: Accused Capitol rioter from Polk County wants 'inflammatory' labels kept out of trial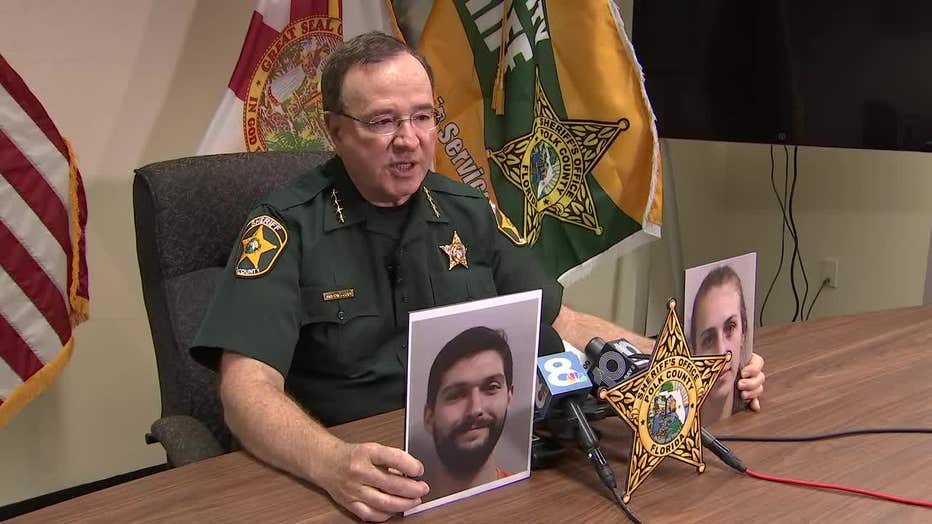 "He said, 'You didn't have a right to stop him. I have a triangle on the back of my vehicle because it's a farm vehicle, so I don't have to register it,'" the sheriff said, adding, "It's a registered pickup truck without a tag, and you can't operate that on a roadway."
The trooper called for backup from the Polk County Sheriff's Office. When deputies arrived, they tried to get Doolin and Beam to get out of the truck, but the pair refused. Deputies used a ballistic shield to walk toward the truck. They had to break the vehicle's rear glass and use a stun gun on Doolin to take him into custody.
MARCH 2022: Search intensifies for Lakeland man wanted in Jan. 6 Capitol riot
"Once the Taser struck him he became more compliant," Sheriff Judd said, adding that Samuel didn't want to identify himself. "When we asked him about all this he said, 'Well you know, I'm kind of a sovereign and I don't recognize state law enforcement. Newsflash, you do. The sovereigns who don't want to follow the law, get to learn it the hard way."
Judd said Beam did not resist after initially refusing to get out of the truck.
MORE: Accused Florida Capitol rioters may interact with each other, ordered to stay away from fugitive co-defendant
Inside the truck, investigators said they found five firearms, two of which were altered to be automatic weapons: a Glock 9mm handgun and a 14" barrel rifle with no serial number. Automatic weapons and rifles with a barrel under 16" are illegal.
Judd acknowledged that Samuel is related to Joshua Doolin, but couldn't speak to whether he was connected to the Capitol riot.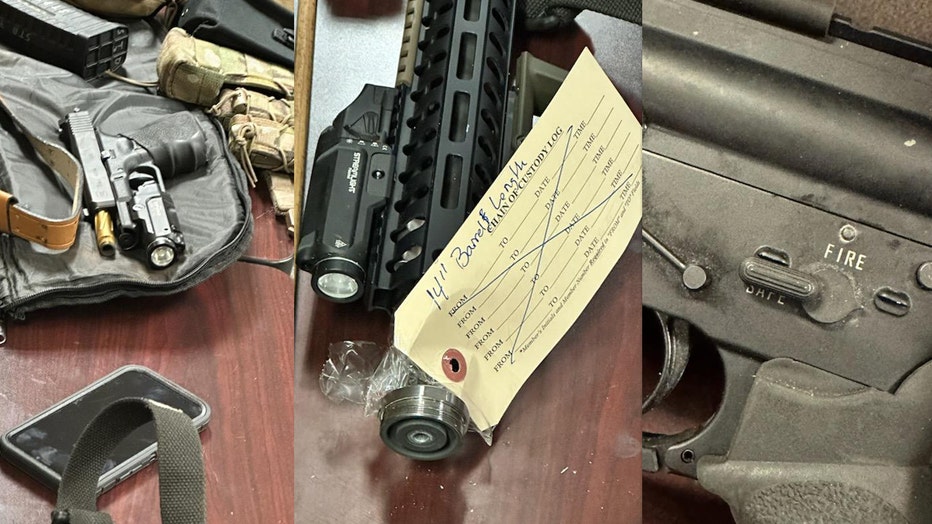 Firearms seized from Samuel Doolin during traffic stop (Polk County Sheriff's Office)
"Because of his relationship with his younger brother and him being under felony charges, we also notified the FBI," the sheriff noted.
Federal agents say former Polk County resident Joshua Doolin, like 2,000 others, stormed the US Capitol on January 6, 2021. His trial will begin March 6, 2023.
READ: Accused capitol rioter from Polk County wants 'inflammatory' labels kept out of trial
The Doolins are also the cousins of Jonathan Pollock, who remains on the run. Prosecutors said Pollock and Joshua were among the Capitol suspects who charged the fence at the US Capitol and started attacking police. Documents show Pollock is heard yelling, "Let's go." He was seen pulling and dragging one officer down the Capitol steps. Sixteen months later, he hasn't been caught.
Samuel Doolin was charged in Polk County with two counts of possession of a fully automatic firearm, possession of a short-barrel rifle, possession of a firearm with altered/removed serial number, carrying a concealed firearm, and resisting without violence.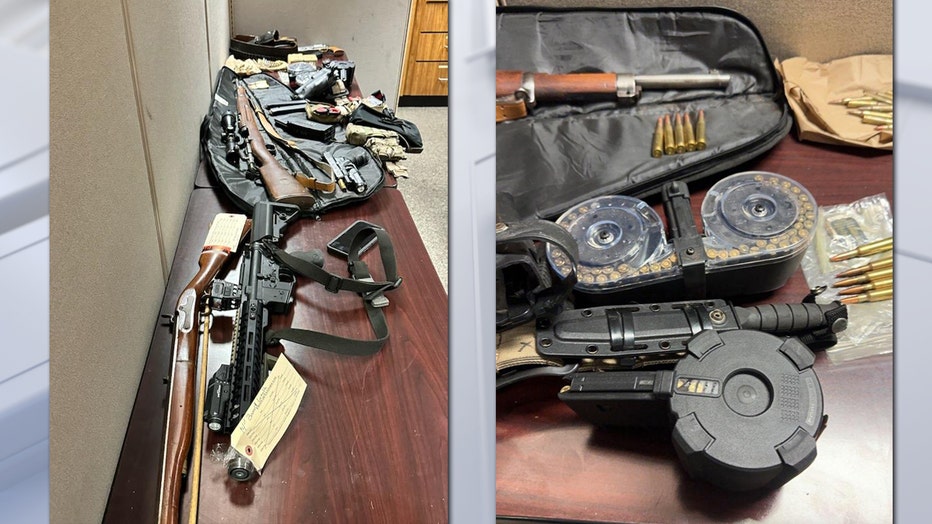 Firearms and items seized from Samuel Doolin during traffic stop (Polk County Sheriff's Office)
The Florida Highway Patrol also charged Doolin with resisting with violence and cited him for not displaying a proper tag, expired registration, failure to show proof of insurance, failure to show identification and failure to provide vehicle registration.
Tiffany Beam was charged in Polk County with resisting without violence.